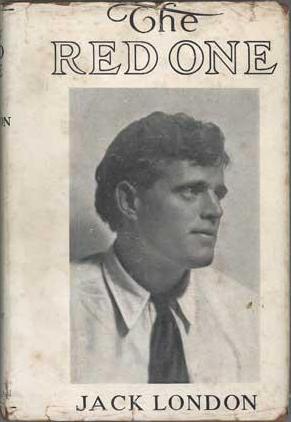 HiLobrow is pleased to present the second installment of our serialization of Jack London's Jungian science fiction story "The Red One." We have also serialized London's science fiction novel The Scarlet Plague, and published it in a gorgeous paperback edition with a new introduction by Matthew Battles.
Lured into the uncharted jungle of Guadalcanal by an otherworldly noise, the naturalist Bassett is attacked by cannibalistic bushmen who worship "The Red One" (or "The Star-Born"), a deity which turns out to hail from extraterrestrial parts. First published posthumously, in the October 1918 issue of Cosmopolitan, the story is now in public domain.
SUBSCRIBE to HiLobrow's serialized fiction via RSS.
ALL EXCERPTS: 1 | 2 | 3 | 4 | 5
***
Came the day of the grass lands. Abruptly, as if cloven by the sword of God in the hand of God, the jungle terminated. The edge of it, perpendicular and as black as the infamy of it, was a hundred feet up and down. And, beginning at the edge of it, grew the grass — sweet, soft, tender, pasture grass that would have delighted the eyes and beasts of any husbandman and that extended, on and on, for leagues and leagues of velvet verdure, to the backbone of the great island, the towering mountain range flung up by some ancient earth-cataclysm, serrated and gullied but not yet erased by the erosive tropic rains. But the grass! He had crawled into it a dozen yards, buried his face in it, smelled it, and broken down in a fit of involuntary weeping.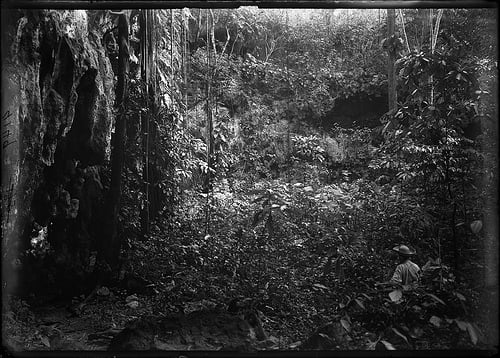 And, while he wept, the wonderful sound had pealed forth — if by peal, he had often thought since, an adequate description could be given of the enunciation of so vast a sound melting sweet. Sweet it was, as no sound ever heard. Vast it was, of so mighty a resonance that it might have proceeded from some brazen-throated monster. And yet it called to him across that leagues-wide savannah, and was like a benediction to his long-suffering, pain racked spirit.
He remembered how he lay there in the grass, wet-cheeked but no longer sobbing, listening to the sound and wondering that he had been able to hear it on the beach of Ringmanu. Some freak of air pressures and air currents, he reflected, had made it possible for the sound to carry so far. Such conditions might not happen again in a thousand days or ten thousand days, but the one day it had happened had been the day he landed from the Nari for several hours' collecting. Especially had he been in quest of the famed jungle butterfly, a foot across from wing-tip to wing-tip, as velvet-dusky of lack of colour as was the gloom of the roof, of such lofty arboreal habits that it resorted only to the jungle roof and could be brought down only by a dose of shot. It was for this purpose that Sagawa had carried the ten-gauge shot-gun.
Two days and nights he had spent crawling across that belt of grass land. He had suffered much, but pursuit had ceased at the jungle-edge. And he would have died of thirst had not a heavy thunderstorm revived him on the second day. And then had come Balatta. In the first shade, where the savannah yielded to the dense mountain jungle, he had collapsed to die. At first she had squealed with delight at sight of his helplessness, and was for beating his brain out with a stout forest branch. Perhaps it was his very utter helplessness that had appealed to her, and perhaps it was her human curiosity that made her refrain. At any rate, she had refrained, for he opened his eyes again under the impending blow, and saw her studying him intently. What especially struck her about him were his blue eyes and white skin. Coolly she had squatted on her hams, spat on his arm, and with her finger-tips scrubbed away the dirt of days and nights of muck and jungle that sullied the pristine whiteness of his skin.
And everything about her had struck him especially, although there was nothing conventional about her at all. He laughed weakly at the recollection, for she had been as innocent of garb as Eve before the fig-leaf adventure. Squat and lean at the same time, asymmetrically limbed, string-muscled as if with lengths of cordage, dirt-caked from infancy save for casual showers, she was as unbeautiful a prototype of woman as he, with a scientist's eye, had ever gazed upon. Her breasts advertised at the one time her maturity and youth; and, if by nothing else, her sex was advertised by the one article of finery with which she was adorned, namely a pig's tail, thrust though a hole in her left ear-lobe. So lately had the tail been severed, that its raw end still oozed blood that dried upon her shoulder like so much candle-droppings. And her face! A twisted and wizened complex of apish features, perforated by upturned, sky-open, Mongolian nostrils, by a mouth that sagged from a huge upper-lip and faded precipitately into a retreating chin, by peering querulous eyes that blinked as blink the eyes of denizens of monkey-cages.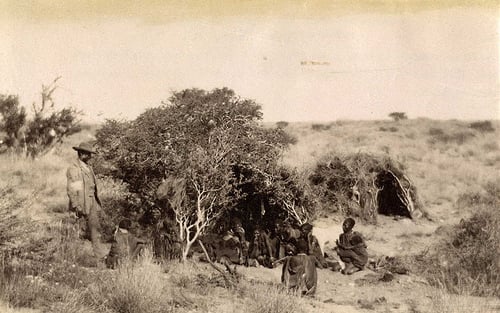 Not even the water she brought him in a forest-leaf, and the ancient and half-putrid chunk of roast pig, could redeem in the slightest the grotesque hideousness of her. When he had eaten weakly for a space, he closed his eyes in order not to see her, although again and again she poked them open to peer at the blue of them. Then had come the sound. Nearer, much nearer, he knew it to be; and he knew equally well, despite the weary way he had come, that it was still many hours distant. The effect of it on her had been startling. She cringed under it, with averted face, moaning and chattering with fear. But after it had lived its full life of an hour, he closed his eyes and fell asleep with Balatta brushing the flies from him.
When he awoke it was night, and she was gone. But he was aware of renewed strength, and, by then too thoroughly inoculated by the mosquito poison to suffer further inflammation, he closed his eyes and slept an unbroken stretch till sun-up. A little later Balatta had returned, bringing with her a half-dozen women who, unbeautiful as they were, were patently not so unbeautiful as she. She evidenced by her conduct that she considered him her find, her property, and the pride she took in showing him off would have been ludicrous had his situation not been so desperate.
Later, after what had been to him a terrible journey of miles, when he collapsed in front of the devil-devil house in the shadow of the breadfruit tree, she had shown very lively ideas on the matter of retaining possession of him. Ngurn, whom Bassett was to know afterward as the devil-devil doctor, priest, or medicine man of the village, had wanted his head. Others of the grinning and chattering monkey-men, all as stark of clothes and bestial of appearance as Balatta, had wanted his body for the roasting oven. At that time he had not understood their language, if by language might be dignified the uncouth sounds they made to represent ideas. But Bassett had thoroughly understood the matter of debate, especially when the men pressed and prodded and felt of the flesh of him as if he were so much commodity in a butcher's stall.
Balatta had been losing the debate rapidly, when the accident happened. One of the men, curiously examining Bassett's shot-gun, managed to cock and pull a trigger. The recoil of the butt into the pit of the man's stomach had not been the most sanguinary result, for the charge of shot, at a distance of a yard, had blown the head of one of the debaters into nothingness.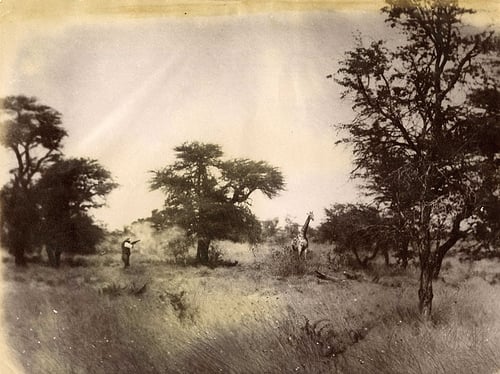 Even Balatta joined the others in flight, and, ere they returned, his senses already reeling from the oncoming fever-attack, Bassett had regained possession of the gun. Whereupon, although his teeth chattered with the ague and his swimming eyes could scarcely see, he held on to his fading consciousness until he could intimidate the bushmen with the simple magics of compass, watch, burning glass, and matches. At the last, with due emphasis, of solemnity and awfulness, he had killed a young pig with his shot-gun and promptly fainted.
Bassett flexed his arm-muscles in quest of what possible strength might reside in such weakness, and dragged himself slowly and totteringly to his feet. He was shockingly emaciated; yet, during the various convalescences of the many months of his long sickness, he had never regained quite the same degree of strength as this time. What he feared was another relapse such as he had already frequently experienced. Without drugs, without even quinine, he had managed so far to live through a combination of the most pernicious and most malignant of malarial and black-water fevers. But could he continue to endure? Such was his everlasting query. For, like the genuine scientist he was, he would not be content to die until he had solved the secret of the sound.
Supported by a staff, he staggered the few steps to the devil-devil house where death and Ngurn reigned in gloom. Almost as infamously dark and evil-stinking as the jungle was the devil-devil house — in Bassett's opinion. Yet therein was usually to be found his favourite crony and gossip, Ngurn, always willing for a yarn or a discussion, the while he sat in the ashes of death and in a slow smoke shrewdly revolved curing human heads suspended from the rafters. For, through the months' interval of consciousness of his long sickness, Bassett had mastered the psychological simplicities and lingual difficulties of the language of the tribe of Ngurn and Balatta and Vngngn — the latter the addle-headed young chief who was ruled by Ngurn, and who, whispered intrigue had it, was the son of Ngurn.
"Will the Red One speak to-day?" Bassett asked, by this time so accustomed to the old man's gruesome occupation as to take even an interest in the progress of the smoke-curing.
With the eye of an expert Ngurn examined the particular head he was at work upon.
"It will be ten days before I can say 'finish,'" he said. "Never has any man fixed heads like these."
Bassett smiled inwardly at the old fellow's reluctance to talk with him of the Red One. It had always been so. Never, by any chance, had Ngurn or any other member of the weird tribe divulged the slightest hint of any physical characteristic of the Red One. Physical the Red One must be, to emit the wonderful sound, and though it was called the Red One, Bassett could not be sure that red represented the colour of it. Red enough were the deeds and powers of it, from what abstract clues he had gleaned. Not alone, had Ngurn informed him, was the Red One more bestial powerful than the neighbour tribal gods, ever athirst for the red blood of living human sacrifices, but the neighbour gods themselves were sacrificed and tormented before him. He was the god of a dozen allied villages similar to this one, which was the central and commanding village of the federation. By virtue of the Red One many alien villages had been devastated and even wiped out, the prisoners sacrificed to the Red One. This was true to-day, and it extended back into old history carried down by word of mouth through the generations. When he, Ngurn, had been a young man, the tribes beyond the grass lands had made a war raid. In the counter raid, Ngurn and his fighting folk had made many prisoners. Of children alone over five score living had been bled white before the Red One, and many, many more men and women.
The Thunderer was another of Ngurn's names for the mysterious deity. Also at times was he called The Loud Shouter, The God-Voiced, The Bird-Throated, The One with the Throat Sweet as the Throat of the Honey-Bird, The Sun Singer, and The Star-Born.
***
***
RADIUM AGE SCIENCE FICTION: "Radium Age" is HiLobrow's name for the 1904–33 era, which saw the discovery of radioactivity, the revelation that matter itself is constantly in movement — a fitting metaphor for the first decades of the 20th century, during which old scientific, religious, political, and social certainties were shattered. This era also saw the publication of genre-shattering writing by Edgar Rice Burroughs, Sax Rohmer, E.E. "Doc" Smith, Jack London, Arthur Conan Doyle, Aldous Huxley, Olaf Stapledon, Karel Čapek, H.P. Lovecraft, Charlotte Perkins Gilman, Yevgeny Zamyatin, Philip Gordon Wylie, and other pioneers of post-Verne/Wells, pre-Golden Age "science fiction." More info here.
HILOBOOKS: The mission of HiLoBooks is to serialize novels on HiLobrow; and also, as of 2012, operating as an imprint of Richard Nash's Cursor, to reissue Radium Age science fiction in beautiful new print editions. So far, we have published Jack London's The Scarlet Plague, Rudyard Kipling's With the Night Mail (and "As Easy as A.B.C."), Arthur Conan Doyle's The Poison Belt, H. Rider Haggard's When the World Shook, Edward Shanks's The People of the Ruins, William Hope Hodgson's The Night Land, and J.D. Beresford's Goslings. Forthcoming: E.V. Odle's The Clockwork Man, Cicely Hamilton's Theodore Savage, and Muriel Jaeger's The Man with Six Senses. For more information, visit the HiLoBooks homepage.
READ: Jack London's The Scarlet Plague, serialized between January and April 2012; Rudyard Kipling's With the Night Mail (and "As Easy as A.B.C."), serialized between March and June 2012; Arthur Conan Doyle's The Poison Belt, serialized between April and July 2012; H. Rider Haggard's When the World Shook, serialized between March and August 2012; Edward Shanks' The People of the Ruins, serialized between May and September 2012; William Hope Hodgson's The Night Land, serialized between June and December 2012; and J.D. Beresford's Goslings, serialized between September 2012 and May 2013.