RADIOVISION FESTIVAL
By: Joshua Glenn
October 19, 2012
Almost exactly eight years ago, I interviewed then-WZBC deejay Benjamen Walker for my "Examined Life" IDEAS column about his theory that the future of public radio journalism was in what he called "investigative fiction." Since then, Walker has gone on to better and better projects, including his WFMU show and podcast "Too Much Information" (full disclosure: I sometimes appear on his show).
Last year, WFMU held its first RADIOVISION festival — hosting speakers like Ira Glass, Brooke Gladstone, Marc Maron, Kenneth Goldsmith and Tom Scharpling. Earlier this month, I spoke with Walker (for the Boston Globe's Ideas blog, Brainiac) to find out all about this year's festival — today and tomorrow at the Kraine Theater in New York (19th) and at the New York headquarters of Scholastic (20th).
Parenthetical: WFMU, in case you didn't know, is a legendary free-form radio station broadcasting from Jersey City. It is one of a handful of the country's truly independent stations managed by current and former WFMU staff members and listeners. Even cooler, the station has a long-running history as an early adopter of web technologies: WFMU launched a website in 1993, began webcasting in 1997, launched its popular Beware of the Blog and was one of the first podcasters in 2005. In 2007, WFMU was the first station with an iPhone stream, and WFMU launched real-time web commenting on its online playlists in 2008. WFMU's mobile apps for both the iPhone and Android contain interactive features that are still unparalleled.
*

BRAINIAC: I notice you have a lot of podcasters speaking this year, but isn't podcasting over?
WALKER: One of our speakers, Roman Mars, just raised 170,000 dollars on Kickstarter for his podcast "99% invisible." Another one of our speakers, Jesse Thorn, has built a whole empire of podcasts [Maximum Fun — ed.]. Our keynote speaker, Mark Frauenfelder, has a podcast ("GWEEK") that has become a key component of [the massively popular Internet culture and maker blog] BoingBoing. So, no, podcasting isn't over.
At WFMU, many of the popular programs have large podcasting audiences. I would say that like radio shows, podcasts take time to grow the audience. As much as old media wants to hate on podcasts — they are part of the future.
BRAINIAC: If "video killed the radio star," then what did the Internet do — set fire to the corpse?
WALKER: There is still a lot of confusion over what "internet radio" is. Many stations set up studio webcams which — at worst — highlight the station's amateurishness, and — at best — make light of station's amateurishness. The comic "Mid Morning Matters" Alan Partridge series is a good example of how pathetically funny these studio cams can be.) WFMU's station manager Ken Freedman and radio ARTE's Silvain Gire will be in conversation to talk about some of the internet radio they've both created — streaming GIFs, animation, soundwave art — nothing really TV-like at all.
BRAINIAC: People used to carry around little radios with them. Today, we carry around powerful mobile computers. How do broadcasters make use of such mobile devices?
WALKER: There is a lot of innovation happening on the mobile platform. Francesca Pannetta created an immersive audio app about her neighborhood in London called "HackneyHear," and many radio programs now have pretty intense apps. "Radiolab"'s executive producer Ellen Horne will [at the Radiovision Festival] show off the "Radiolab app." Radio is taking on many new exciting forms.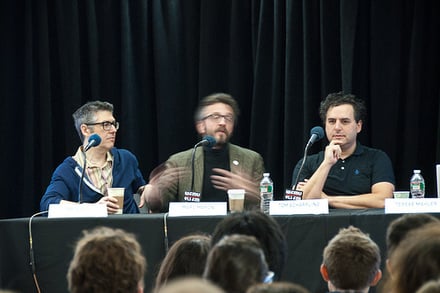 Above: Radio giants Ira Glass ("This American Life"), Marc Maron ("WTF with Marc Maron"), and Tom Scharpling ("The Best Show on WFMU") at last year's Radiovision Festival
BRAINIAC: Here's a softball question. What are you most excited about this year's festival?
WALKER: Pirates! We invited the president of the Swedish Pirate Party Anna Troberg and the writer Alexa Clay and an administrator of a secret pirate website to learn about how online pirates share content, build communities and enforce rules and norms. The goal is to move past the never-ending debate over the morality of piracy and instead have a conversation about what pirates are actually doing.