Goslings (2)
By: J.D. Beresford
September 14, 2012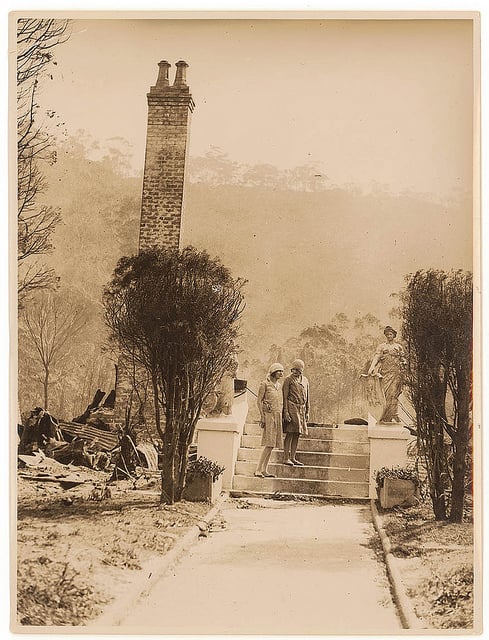 HiLobrow is pleased to present the second installment of our serialization of J.D. Beresford's Goslings (also known as A World of Women). New installments will appear each Friday for 23 weeks.
When a plague kills off most of England's male population, the proper bourgeois Mr. Gosling abandons his family for a life of lechery. His daughters — who have never been permitted to learn self-reliance — in turn escape London for the countryside, where they find meaningful roles in a female-dominated agricultural commune. That is, until the Goslings' idyll is threatened by their elders' prejudices about free love!
J.D. Beresford's friend the poet and novelist Walter de la Mare consulted on Goslings, which was first published in 1913. In May 2013, HiLoBooks will publish a beautiful new edition of the book. "A fantastic commentary upon life," wrote W.L. George in The Bookman (1914). "Mr. Beresford possesses the rare gift of divination," wrote The Living Age (1916). "It is piece of the most vivid imaginative realism, as well as a challenge to our vaunted civilization." "At once a postapocalyptic adventure, a comedy of manners, and a tract on sexual and social equality, Goslings is by turns funny, horrifying, and politically stirring," says Benjamin Kunkel in a blurb for HiLoBooks. "Most remarkable of all may be that it has not yet been recognized as a classic."
SUBSCRIBE to HiLobrow's serialized fiction via RSS.
ALL EXCERPTS: 1 | 2 | 3 | 4 | 5 | 6 | 7 | 8 | 9 | 10 | 11 | 12 | 13 | 14 | 15 | 16 | 17 | 18 | 19 | 20 | 21 | 22 | 23
***
"Oh! dear, our Mr Fastidious," commented Blanche, "I thought he was dead long ago."
"It must be over four years since 'e left," put in Mrs Gosling.
"Getting on for five," corrected Blanche. "I remember I put my hair up while he was here."
"What's he say?" asked Millie.
"'E says, 'Dear Mr Gosling, I expect you will be surprised to 'ear from me after my five years' silence–'"
"I said it was five years," put in Blanche. "Go on, dad!"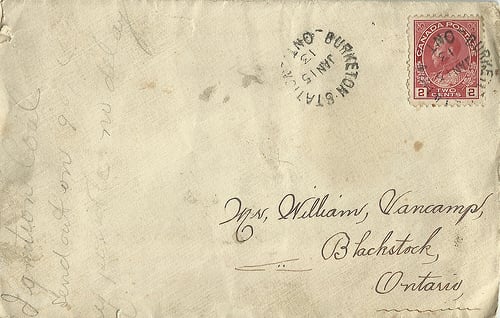 Dad resumed "…'but I 'ave been in various parts of the world and it 'as been quite impossible to keep up a correspondence. I am writing now to tell you that I shall be back in London in a few days, and to ask you whether you can find a room for me in Wisteria Grove?'"
"Well! I should 'ave thought he'd 'ave written to me to ask that!" said Mrs Gosling.
"So 'e should 'ave, by rights," agreed Gosling. "But 'e's a queer card is Mr Thrale."
"Bit dotty, if you ask me," said Blanche.
"'S that all?" asked Mrs Gosling.
"No, 'e says: 'I can't give you an address as I go on to Berlin immediately, but I will look you up the evening after I arrive. Eastern Europe is not safe at the present time. There 'ave been several cases of the new plague in Moscow, but the authorities are doing everything they can — which is much in Russia — to keep the news out of the press, yours sincerely, Jasper Thrale,' and that's the lot," concluded Gosling.
"I do think he's a cool hand," commented Blanche. "Of course you won't have him as a paying guest now?"
Gosling and his wife looked at each other, thoughtfully.
"Well —" hesitated Gosling.
"'E might bring the infection," suggested Mrs Gosling.
"Oh! no fear of that," returned her husband, "but I dunno as we want a boarder now. Five years ago I 'adn't got my big rise —"
"Oh, no, father; what would the neighbours think of us if we started to take boarders again?" protested Blanche.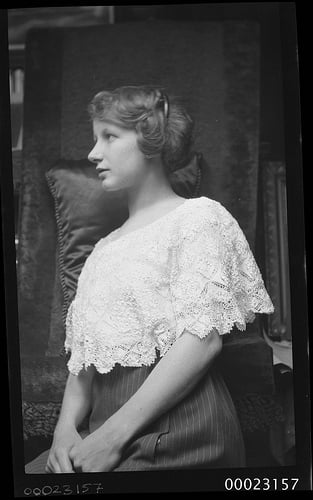 "It wouldn't look well," agreed Mrs Gosling.
"Jus' what I was thinking," said the head of the house. "'Owever, there's no 'arm in payin' us a friendly visit."
"O' course not," said Mrs Gosling, "though I do think it odd 'e shouldn't 'ave written to me in the first place."
"He's dotty!" said Blanche.
Gosling shook his head. "Not by a very long chalk 'e ain't," was his firm pronouncement….
"Well, girls, what about bed?" asked Mrs Gosling, putting away the "bit of mending" she had been engaged upon.
Gosling yawned again, stretched himself, and rose grunting to his feet. "I'm about ready for my bed," he remarked, and after another yawn he started his nightly round of inspection.
When he returned to the sitting-room the others were all ready to retire. Gosling kissed his daughters, and the two girls and their mother went upstairs. Gosling carefully took off the larger pieces of coal from the fire and put them under the grate, rolled up the hearthrug, saw that the window was securely fastened, extinguished the lamp and followed his "womenfolk."
As he was undressing his thoughts turned once more to the threat of the new disease which was devastating China.
"Rum thing about that new plague," he remarked to his wife. "Seems as it's only men as get it."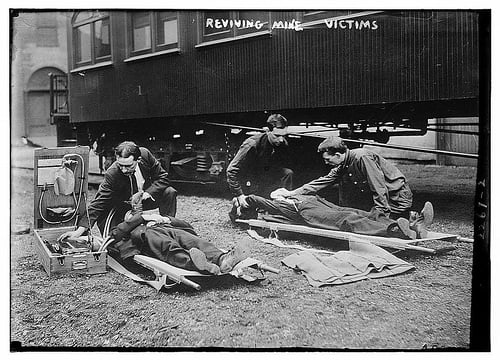 "They'd never let it spread to England," replied Mrs Gosling.
"Oh! there's no fear of that, none whatever," said Gosling, "but it's rum that about women never catching it."
The attitude of the Goslings faithfully reflected that of the immense majority of English people. The faith in the hygienic and scientific resources which were at the disposal of the authorities, and the implicit trust in the vigilance and energy of those authorities, were sufficient to allay any fears that were not too imminent. It was some one's duty to look after these things, and if they were not looked after there would be letters in the papers about it. At last, without question, the authorities would be roused to a sense of duty and the trouble, whatever it was, would be stopped. Precisely what authority managed these affairs none of the huge Gosling family knew. Vaguely they pictured Medical Boards, or Health Committees; dimly they connected these things with local government; at the top, doubtless, was some managing authority — in Whitehall probably — something to do with the supreme head of affairs, the much abused but eminently paternal Government.
II
THE OPINIONS OF JASPER THRALE
1
"LORD, HOW I DO envy you," said Morgan Gurney.
Jasper Thrale sat forward in his chair. "There's no reason why you shouldn't do what I've done — and more," he said.
"Theoretically, I suppose not," replied Gurney. "It's just making the big effort to start with. You see I've got a very decent berth and good prospects, and it's comfortable and all that. Only when some fellow like you comes along and tells one yarns of the world outside, I get sort of hankerings after the sea and adventure, and seeing the big things. It's only now and then — ordinary times I'm contented enough." He stuck his pipe in the corner of his mouth and stared into the fire.
"The only things that really count are feeling clean and strong and able," said Thrale. "You never really have that feeling if you live in the big cities."
"I've felt like that sometimes after a long bicycle ride," interpolated Gurney.
"But then the feeling is wasted, you see," said Thrale. "When you feel like that and there is something tremendous to spend it upon, you get the great emotion as well."
"Like the glimmer of St Agnes' light, after you'd been eight weeks out of sight of land?" reflected Gurney, going back to one of Thrale's reminiscences.
"To feel that you are a part of life, not this dead, stale life of the city, but the life of the whole universe," said Thrale.
"I know," replied Gurney. "To-night I've half a mind to chuck my job and go out looking for mystery."
"But you won't do it," said Thrale.
Gurney sighed and began to analyse the instinct within himself, to find precisely why he wanted to do it.
"Well, I must go," said Thrale, getting to his feet, "I've got to find some sort of lodging."
"I thought you were going to stay with those Gosling people of yours," said Gurney.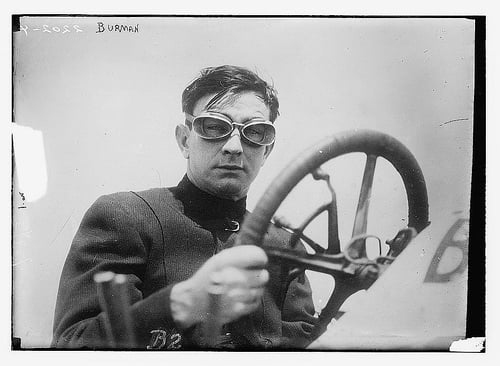 "No! That's off. I went to see them last night and they won't have me. The old man's making his £300 a year now, and the family's too respectable to take boarders." Thrale picked up his hat and held out his hand.
"But, look here, old chap, why the devil can't you stay here?" asked Gurney.
"I didn't know that you'd anywhere to put me," said Thrale.
"Oh, yes. There's always a room to be had downstairs," said Gurney.
After a brief discussion the arrangement was made.
"It's understood I'm to pay my whack," said Thrale.
"Of course, if you insist —"
When Thrale had gone to fetch his luggage from the hotel, Gurney sat pondering over the fire. He was debating whether he had been altogether wise in pressing his invitation. He was wondering whether the curiously rousing personality of Thrale, and the stories of those still existent corners of the world outside the rules of civilization were good for a civil servant with an income of £600 a year. Gurney, faced with the plain alternatives, could only decide that he would be a fool to throw up a congenial and lucrative occupation such as his own, in order to face present physical discomfort and future penury. He knew that the discomforts would be very real to him at first. His friends would think him mad. And all for the sake of experiencing some high emotion now and again, in order to feel clean and fresh and be able to discover something of the unknown mystery of life.
"I suppose there is something of the poet in me," reflected Gurney. "And I expect I should hate the discomforts. One's imagination gets led away…"
2
During the next few evenings the conversations between these two friends were many and protracted.
Thrale was the teacher, and Gurney was content to sit at his feet and learn. He had a receptive mind, he was interested in all life, but Uppingham, Trinity Hall, and the Home Civil had constricted his mental processes. At twenty-nine he was losing flexibility. Thrale gave him back his power to think, set him outside the formulas of his school, taught him that however sound his deductions, there was not one of his premises which could not be disputed.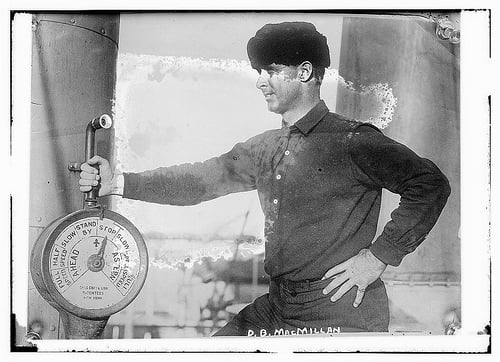 Thrale was Gurney's senior by three years, and when Thrale left Uppingham at eighteen, he had gone out into the world. He had a patrimony of some £200 a year; but he had taken only a lump sum of £100 and had started out to appease his furious curiosity concerning life. He had laboured as a miner in the Klondike; had sailed, working his passage as an ordinary seaman, from San Francisco to Southampton; he had been a stockman in Australia, assistant to a planter in Ceylon, a furnace minder in Kimberley and a tally clerk in Hong Kong. For nearly nine years, indeed, he had earned a living in every country of the world except Europe, and then he had come back to London and invested the accumulation of income that his trustee had amassed for him. The mere spending of money had no fascination for him. During the six months he had remained in London he had lived very simply, lodging with the Goslings in Kilburn, and, because he could not live idly, exploring every corner of the great city and writing articles for the journals. He might have earned a large income by this latter means, for he had an originality of outlook and a freshness of style that made his contributions eagerly sought after once he had obtained a hearing — no difficult matter in London for anyone who has something new to say. But experience, not income, was his desire, and at the end of six months he had accepted an offer from the Daily Post as a correspondent — on space. He was offered £600 a year, but he preferred to be free, and he had no wish to be confined to one capital or country.
In those five years he had traversed Europe, sending in his articles irregularly, as he required money. And during that time his chief trustee — a lawyer of the soundest reputation — had absconded, and Thrale found his private income reduced to about £40 a year, the interest on one of the investments he had made, in his own name only, with his former accumulation — two other investments made at the same time had proved unsound.
This loss had not troubled him in any way. When he had read in a London journal of his trustee's abscondence — he was later sentenced to fourteen years' penal servitude —Thrale had smiled and dismissed the matter from his mind. He could always earn all the money he required, and had never, not even subconsciously, relied upon his private fortune.
He had now come back to London with a definite purpose, he had come to warn England of a great danger….
One other distinguishing mark of Jasper Thrale's life must be understood, a mark which differentiated him from the overwhelming majority of his fellow men — women had no fascination for him. Once in his life, and once only, had he approached and tasted experience — with a pretty little Melbourne cocotte. That experience he had undertaken deliberately, because he felt that until it had been undergone one great factor of life would be unknown to him. He had come away from it filled with a disgust of himself that had endured for months….
3
Fragments of the long conversations between Thrale and Gurney, the exchange of a few germane ideas among the irrelevant mass, had a bearing upon their immediate future. There was, for instance, a criticism of the Goslings, introduced on one occasion, which had a certain significance in relation to subsequent developments.
Some question of Gurney's prompted Thrale to the opinion that the Goslings were in the main precisely like half a million other families of the same class.
"But that's just what makes them so interesting," said Gurney, not because he believed it, but because at the moment he wanted to lead the conversation into safe ground, away from the too appealing attractions of the big world outside the little village of London.
Thrale laughed. "That's truer than you guess," he said. "Every large generalization, however trite, is a valuable contribution to knowledge — if it's more or less accurate."
"Generalize, then, mon vieux," suggested Gurney, "from the characters and doings of your little geese."
"I've seen glimmerings of the immortal god in the old man," said Thrale, "like the hint of sunlight seen through a filthy pane of obscured glass. He's a prurient-minded old beast leading what's called a respectable life, but if lie could indulge his ruling desire with absolute secrecy, no woman would be safe with him. In his world he can't do that, or thinks he can't, which comes to precisely the same thing. He is too much afraid of being caught, he sees danger where none exists, he looks to all sorts of possibilities, and won't take a million-to-one chance because he is risking his all — which is included in the one word, respectability."
"Jolly good thing. What?" remarked Gurney.
"Good for society as a whole, apparently," replied Thrale, "but surely not good for the man. I've told you that I have seen glimmerings of the god in him, but outside the routine of his work the man's mind is clogged. He's not much over fifty, and he has no outlet, now, for his desires. He's like a man with choked pores, and his body is poisoned. And in this particular Gosling is certainly no exception either to his class or to the great mass of civilized man. Well, what I wonder is whether in a society which is built up of interdependent units the whole can be sound when the greater number of the constituent units are rotten."
"But look here, old chap," protested Gurney, "if things are as you say, and men rule the country, why shouldn't they alter public opinion, and so open the way to do as they jolly well please?"
"Because the majority are too much ashamed of their desires to dare the attempt in the first place, and in the second because they don't wish to open the way for other men. They aren't united in this; they are as jealous as women. If they once opened the way to free love, their own belongings wouldn't be safe."
"What's your remedy, then?"
"Oh! a few thousand more years of moral development," said Thrale, carelessly, "an evolution towards self-consciousness, a fuller understanding of the meaning of life, and a finer altruism."
"You don't look far ahead," remarked Gurney.
"Do you think anyone can look even a year ahead?" asked Thrale.
"There have been some pretty good attempts in some ways —Swedenborg, for instance, and Samuel Butler…."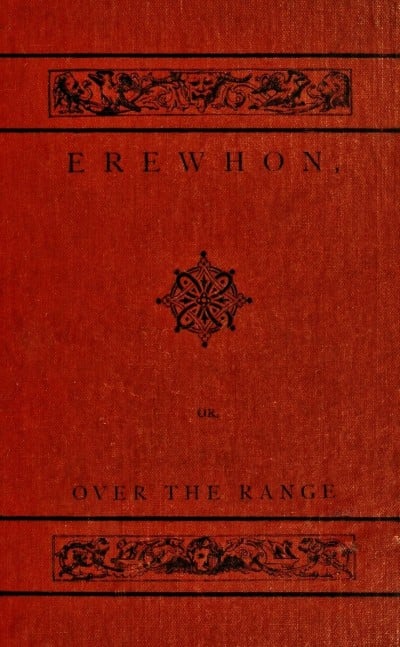 "Yes, yes, that's all right, in some ways — the development of certain sorts of knowledge, for example. But there is always the chance of the unpredictable element coming in and upsetting the whole calculation. Some invention may do it, an unforeseen clash of opinions or an epidemic…."
For a time they drifted further away from their original topic till some remark reminded Gurney that he had meant to ask a question and had forgotten it.
"By the way," he said, "I wanted to ask you what you meant when you said you had seen a god in old Gosling?"
"Just a touch of imagination and wonder, now and again," replied Thrale. "Something he was quite unconscious of himself. I remember standing with him on Blackfriars Bridge, and he looked down at the river and said: 'I s'pose it was clean once, banks and sand and so on, before all this muck came.' Then he looked at me quickly to see if I was laughing at him. That was the god in him trying to create purity out of filth, even though it was only a casual thought. It was smothered again at once. His training reasserted itself. 'Lot better for trade the way it is, though,' was his next remark."
"But how can you alter it?" asked Gurney.
"My dear chap, you can't alter these things by any cut-and-dried plan, any more than you can dam the Gulf Stream. We can only lay a brick or two in the right place. We aren't the architects; the best of us are only bricklayers, and the best of the best can only lay two or three bricks in a lifetime. Our job is to do that if we can. We can only guess very feebly at the design of the building; and often it is our duty partly to pull down the work that our forefathers built…."
Presently Gurney asked if his companion had ever seen a god in Mrs Gosling.
Thrale shook his head. "It didn't come within my experience," he said. "Don't condemn her on that account, but she, like all the women I have ever met, has been too intent upon the facts of life ever to see its mystery. Mrs Gosling hadn't the power to conceive an abstract idea; she had to make some application of it to her own particular experience before she could understand the simplest concept. Morality to her signified people who behaved as she and her family did; wickedness meant vaguely, criminals, Sarah Jones who was an unmarried mother, and anyone who didn't believe in the God of the Established Church. Always people, you see, in this connexion; in others it might be things; but ideas apart from people or things she couldn't grasp. Her two daughters thought in precisely the same way…."
***
RADIUM AGE SCIENCE FICTION: "Radium Age" is HiLobrow's name for the 1904–33 era, which saw the discovery of radioactivity, the revelation that matter itself is constantly in movement — a fitting metaphor for the first decades of the 20th century, during which old scientific, religious, political, and social certainties were shattered. This era also saw the publication of genre-shattering writing by Edgar Rice Burroughs, Sax Rohmer, E.E. "Doc" Smith, Jack London, Arthur Conan Doyle, Aldous Huxley, Olaf Stapledon, Karel Čapek, H.P. Lovecraft, Charlotte Perkins Gilman, Yevgeny Zamyatin, Philip Gordon Wylie, and other pioneers of post-Verne/Wells, pre-Golden Age "science fiction." More info here.
HILOBOOKS: The mission of HiLoBooks is to serialize novels on HiLobrow; and also, as of 2012, operating as an imprint of Richard Nash's Cursor, to reissue Radium Age science fiction in beautiful new print editions. So far, we have published Jack London's The Scarlet Plague, Rudyard Kipling's With the Night Mail (and "As Easy as A.B.C."), Arthur Conan Doyle's The Poison Belt, H. Rider Haggard's When the World Shook, Edward Shanks's The People of the Ruins, William Hope Hodgson's The Night Land, and J.D. Beresford's Goslings. Forthcoming: E.V. Odle's The Clockwork Man, Cicely Hamilton's Theodore Savage, and Muriel Jaeger's The Man with Six Senses. For more information, visit the HiLoBooks homepage.
SERIALIZED BY HILOBOOKS: Jack London's The Scarlet Plague | Rudyard Kipling's With the Night Mail (and "As Easy as A.B.C.") | Arthur Conan Doyle's The Poison Belt | H. Rider Haggard's When the World Shook | Edward Shanks' The People of the Ruins | William Hope Hodgson's The Night Land | J.D. Beresford's Goslings | E.V. Odle's The Clockwork Man | Cicely Hamilton's Theodore Savage | Muriel Jaeger's The Man With Six Senses | Jack London's "The Red One" | Philip Francis Nowlan's Armageddon 2419 A.D. | Homer Eon Flint's The Devolutionist | W.E.B. DuBois's "The Comet" | Edgar Rice Burroughs's The Moon Men | Charlotte Perkins Gilman's Herland | Sax Rohmer's "The Zayat Kiss" | Eimar O'Duffy's King Goshawk and the Birds | Frances Hodgson Burnett's The Lost Prince | Morley Roberts's The Fugitives | Helen MacInnes's The Unconquerable | Geoffrey Household's Watcher in the Shadows | William Haggard's The High Wire | Hammond Innes's Air Bridge | James Branch Cabell's Jurgen | John Buchan's "No Man's Land" | John Russell's "The Fourth Man" | E.M. Forster's "The Machine Stops" | John Buchan's Huntingtower | Arthur Conan Doyle's When the World Screamed | Victor Bridges' A Rogue By Compulsion | Jack London's The Iron Heel | H. De Vere Stacpoole's The Man Who Lost Himself.
ORIGINAL FICTION: HiLobrow has serialized three novels: James Parker's The Ballad of Cocky The Fox ("a proof-of-concept that serialization can work on the Internet" — The Atlantic); Karinne Keithley Syers's Linda Linda Linda (which includes original music); and Robert Waldron's roman à clef The School on the Fens. We also publish original stories and comics. These include: Matthew Battles's stories "Gita Nova", "Makes the Man," "Imago," "Camera Lucida," "A Simple Message", "Children of the Volcano", "The Gnomon", "Billable Memories", "For Provisional Description of Superficial Features", "The Dogs in the Trees", "The Sovereignties of Invention", and "Survivor: The Island of Dr. Moreau"; several of these later appeared in the collection The Sovereignties of Invention | Peggy Nelson's "Mood Indigo", "Top Kill Fail", and "Mercerism" | Annalee Newitz's "The Great Oxygen Race" | Charlie Mitchell's "A Fantasy Land" | Joshua Glenn's "The Lawless One", and the mashup story "Zarathustra vs. Swamp Thing" | Adam McGovern and Paolo Leandri's Idoru Jones comics | John Holbo's "Sugarplum Squeampunk" | "Another Corporate Death" (1) and "Another Corporate Death" (2) by Mike Fleisch | Kathryn Kuitenbrouwer and Frank Fiorentino's graphic novel "The Song of Otto" (excerpt) | John Holbo's graphic novel On Beyond Zarathustra (excerpt) | "Manoj" and "Josh" by Vijay Balakrishnan | "Verge" by Chris Rossi, and his audio novel Low Priority Hero | EPIC WINS: THE ILIAD (1.408-415) by Flourish Klink | EPIC WINS: THE KALEVALA (3.1-278) by James Parker | EPIC WINS: THE ARGONAUTICA (2.815-834) by Joshua Glenn | EPIC WINS: THE MYTH OF THE ELK by Matthew Battles | TROUBLED SUPERHUMAN CONTEST: Charles Pappas, "The Law" | CATASTROPHE CONTEST: Timothy Raymond, "Hem and the Flood" | TELEPATHY CONTEST: Rachel Ellis Adams, "Fatima, Can You Hear Me?" | OIL SPILL CONTEST: A.E. Smith, "Sound Thinking | LITTLE NEMO CAPTION CONTEST: Joe Lyons, "Necronomicon" | SPOOKY-KOOKY CONTEST: Tucker Cummings, "Well Marbled" | INVENT-A-HERO CONTEST: TG Gibbon, "The Firefly" | FANFICTION CONTEST: Lyette Mercier's "Sex and the Single Superhero"