HiLoBooks to publish GOSLINGS!
By: HILOBROW
September 6, 2012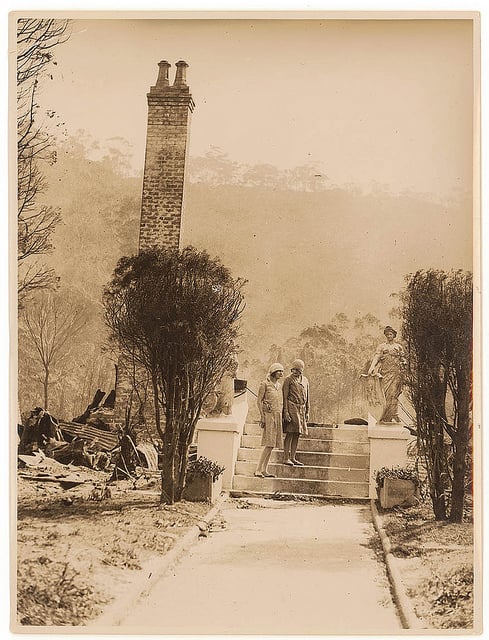 HiLobrow is pleased to announce our serialization of J.D. Beresford's Goslings (also known as A World of Women). New installments will appear each Friday, beginning this week, for 23 weeks.
When a plague kills off most of England's male population, the proper bourgeois Mr. Gosling abandons his family for a life of lechery. His daughters — who have never been permitted to learn self-reliance — in turn escape London for the countryside, where they find meaningful roles in a female-dominated agricultural commune. That is, until the Goslings' idyll is threatened by their elders' prejudices about free love!
J.D. Beresford (1873–1947) was an English dramatist, journalist, and author; he was also a socialist and feminist. Besides Goslings, his science fiction novels include The Hampdenshire Wonder (1911), about a super-genius child; and The Riddle of the Tower (1944, with Esme Wynne-Tyson), about a hive-like dystopia. His daughter Elisabeth was author of a series of children's books about The Wombles.
Beresford's friend the poet and novelist Walter de la Mare consulted on Goslings, which was first published in 1913. In May 2013, HiLoBooks will publish a beautiful centennial edition of this long-unattainable book. (First draft of cover below.)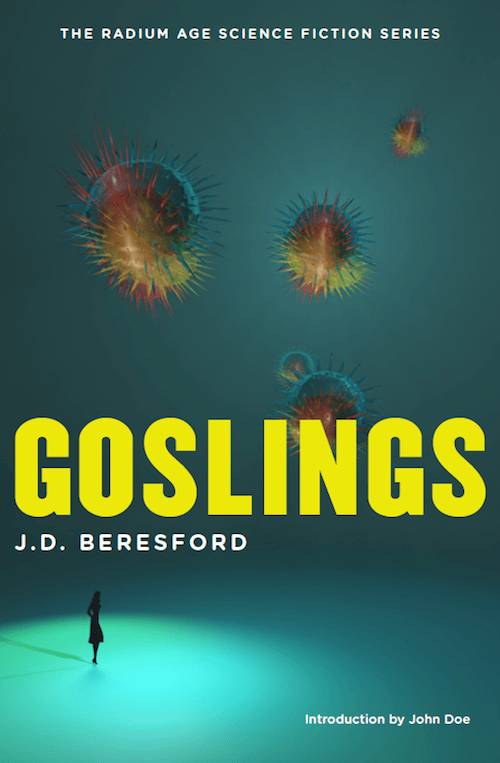 "A fantastic commentary upon life," wrote W.L. George in The Bookman (1914). "Mr. Beresford possesses the rare gift of divination," wrote The Living Age (1916). "It is piece of the most vivid imaginative realism, as well as a challenge to our vaunted civilization." "At once a postapocalyptic adventure, a comedy of manners, and a tract on sexual and social equality, Goslings is by turns funny, horrifying, and politically stirring," says Benjamin Kunkel in a blurb for HiLoBooks. "Most remarkable of all may be that it has not yet been recognized as a classic."
The HiLoBooks edition of Goslings will feature a new Introduction, by Astra Taylor. Astra Taylor is a writer, political organizer, and director of the documentary films Žižek! and Examined Life.
SUBSCRIBE to HiLobrow's serialized fiction via RSS.
***
RADIUM AGE SCIENCE FICTION: "Radium Age" is HiLobrow's name for the 1904–33 era, which saw the discovery of radioactivity, the revelation that matter itself is constantly in movement — a fitting metaphor for the first decades of the 20th century, during which old scientific, religious, political, and social certainties were shattered. This era also saw the publication of genre-shattering writing by Edgar Rice Burroughs, Sax Rohmer, E.E. "Doc" Smith, Jack London, Arthur Conan Doyle, Aldous Huxley, Olaf Stapledon, Karel Čapek, H.P. Lovecraft, Charlotte Perkins Gilman, Yevgeny Zamyatin, Philip Gordon Wylie, and other pioneers of post-Verne/Wells, pre-Golden Age "science fiction." More info here.
SERIALIZED BY HILOBOOKS: Jack London's The Scarlet Plague | Rudyard Kipling's With the Night Mail (and "As Easy as A.B.C.") | Arthur Conan Doyle's The Poison Belt | H. Rider Haggard's When the World Shook | Edward Shanks' The People of the Ruins | William Hope Hodgson's The Night Land | J.D. Beresford's Goslings | E.V. Odle's The Clockwork Man | Cicely Hamilton's Theodore Savage | Muriel Jaeger's The Man With Six Senses | Jack London's "The Red One" | Philip Francis Nowlan's Armageddon 2419 A.D. | Homer Eon Flint's The Devolutionist | W.E.B. DuBois's "The Comet" | Edgar Rice Burroughs's The Moon Men | Charlotte Perkins Gilman's Herland | Sax Rohmer's "The Zayat Kiss" | Eimar O'Duffy's King Goshawk and the Birds | Frances Hodgson Burnett's The Lost Prince | Morley Roberts's The Fugitives | Helen MacInnes's The Unconquerable | Geoffrey Household's Watcher in the Shadows | William Haggard's The High Wire | Hammond Innes's Air Bridge | James Branch Cabell's Jurgen | John Buchan's "No Man's Land" | John Russell's "The Fourth Man" | E.M. Forster's "The Machine Stops" | John Buchan's Huntingtower | Arthur Conan Doyle's When the World Screamed | Victor Bridges' A Rogue By Compulsion | Jack London's The Iron Heel | H. De Vere Stacpoole's The Man Who Lost Himself.
ORIGINAL FICTION: HiLobrow has serialized three novels: James Parker's The Ballad of Cocky The Fox ("a proof-of-concept that serialization can work on the Internet" — The Atlantic); Karinne Keithley Syers's Linda Linda Linda (which includes original music); and Robert Waldron's roman à clef The School on the Fens. We also publish original stories and comics. These include: Matthew Battles's stories "Gita Nova", "Makes the Man," "Imago," "Camera Lucida," "A Simple Message", "Children of the Volcano", "The Gnomon", "Billable Memories", "For Provisional Description of Superficial Features", "The Dogs in the Trees", "The Sovereignties of Invention", and "Survivor: The Island of Dr. Moreau"; several of these later appeared in the collection The Sovereignties of Invention | Peggy Nelson's "Mood Indigo", "Top Kill Fail", and "Mercerism" | Annalee Newitz's "The Great Oxygen Race" | Charlie Mitchell's "A Fantasy Land" | Joshua Glenn's "The Lawless One", and the mashup story "Zarathustra vs. Swamp Thing" | Adam McGovern and Paolo Leandri's Idoru Jones comics | John Holbo's "Sugarplum Squeampunk" | "Another Corporate Death" (1) and "Another Corporate Death" (2) by Mike Fleisch | Kathryn Kuitenbrouwer and Frank Fiorentino's graphic novel "The Song of Otto" (excerpt) | John Holbo's graphic novel On Beyond Zarathustra (excerpt) | "Manoj" and "Josh" by Vijay Balakrishnan | "Verge" by Chris Rossi, and his audio novel Low Priority Hero | EPIC WINS: THE ILIAD (1.408-415) by Flourish Klink | EPIC WINS: THE KALEVALA (3.1-278) by James Parker | EPIC WINS: THE ARGONAUTICA (2.815-834) by Joshua Glenn | EPIC WINS: THE MYTH OF THE ELK by Matthew Battles | TROUBLED SUPERHUMAN CONTEST: Charles Pappas, "The Law" | CATASTROPHE CONTEST: Timothy Raymond, "Hem and the Flood" | TELEPATHY CONTEST: Rachel Ellis Adams, "Fatima, Can You Hear Me?" | OIL SPILL CONTEST: A.E. Smith, "Sound Thinking | LITTLE NEMO CAPTION CONTEST: Joe Lyons, "Necronomicon" | SPOOKY-KOOKY CONTEST: Tucker Cummings, "Well Marbled" | INVENT-A-HERO CONTEST: TG Gibbon, "The Firefly" | FANFICTION CONTEST: Lyette Mercier's "Sex and the Single Superhero"