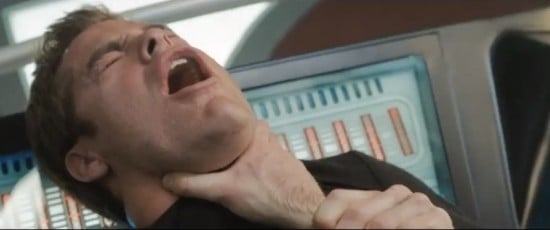 Twenty-fifth in a series of posts, each one analyzing a single Captain Kirk scene from the Star Trek canon.
***
How Spock wins | Star Trek | 2009
About halfway through the 2009 Star Trek movie, Kirk and Spock have a fight. We as the audience already know that Spock is capable of emotion — we've seen him making out with Uhura — but this is the first time anybody on the bridge has seen it. Kirk is an unambiguous douchebag. He lashes out with the futuristic equivalent of racist name-calling, sneering at Spock's Vulcan habit of repressing emotion, insulting him for not feeling "the need to avenge the death of the woman who gave birth to you." When Spock deflects this anti-Vulcan smear, Kirk continues: "You feel nothing! You never loved her!"
Apparently this is too much. In response, Spock nearly kills Kirk, punching him down onto a control panel, seizing his throat with the hand we know can deal the Vulcan death grip. The screen is flooded with light; JJ Abrams' now-infamous lens flare effects strobe white, blinding us, turning Spock into someone we can barely see, but whose true character has emerged crisply for the first time.
Spock is only brought back from his murderous rage by the shocked voice of his father. Ashamed, Spock pulls away from Kirk, whose chest-heaving response has already made this snippet of the film a favorite among fans. On YouTube, their fight has been recut as a love scene, a sex scene, and a romantic music video.
But Spock is not in love. He is repulsed — by himself, and by Kirk. He turns to McCoy and says, "Doctor I am no longer fit for duty. I relinquish my command based on the fact that I have been emotionally compromised." Perhaps we are supposed to believe that Kirk has won. He psyched out Spock! He's gotten control of the ship by exposing Spock's weakness!
I think there is an oppositional way to read this scene. In this glowing space of strangulation and "emotional compromise" we find a new interpretation of Kirk and Spock. Unlike the brave, righteous Kirks of the original television series and the movies, this new Kirk is manipulative and morally vacant. He's a bigot — or he's pretending to be one to get a rise out of Spock. Either way, he is no hero. And the emotion he suggests that Spock should be feeling — a lust for
revenge — is what we later discover motivates the movie's Big Bad, the angry Romulan Nero.
When Spock at last becomes the man Kirk wants him to be, full of rage, he declares himself no longer fit for duty. Spock is the only person on the bridge who seems to realize that good leadership is about rationality, not power games and emotional outbursts. This makes him a true leader. And indeed, his story arc in this film is far richer and more heroic than Kirk's. In this version of the Star Trek universe, Spock has eclipsed Kirk. By relinquishing his captaincy, he shows us who the captain really is.
***
POSTS IN THIS SERIES: Justice or vengeance? by DAFNA PLEBAN | Kirk teaches his drill thrall to kiss by MARK KINGWELL | "KHAAAAAN!" by NICK ABADZIS | "No kill I" by STEPHEN BURT | Kirk browbeats NOMAD by GREG ROWLAND | Kirk's eulogy for Spock by ZACK HANDLEN | The joke is on Kirk by PEGGY NELSON | Kirk vs. Decker by KEVIN CHURCH | Good Kirk vs. Evil Kirk by ENRIQUE RAMIREZ | Captain Camelot by ADAM MCGOVERN | Koon-ut-kal-if-fee by FLOURISH KLINK | Federation exceptionalism by DAVID SMAY | Wizard fight by AMANDA LAPERGOLA | A million things you can't have by STEVE SCHNEIDER | Debating in a vacuum by JOSHUA GLENN | Klingon diplomacy by KELLY JEAN FITZSIMMONS | "We… the PEOPLE" by TRAV S.D. | Brinksmanship on the brink by MATTHEW BATTLES | Captain Smirk by ANNIE NOCENTI | Sisko meets Kirk by IAN W. HILL | Noninterference policy by GABBY NICASIO | Kirk's countdown by PETER BEBERGAL | Kirk's ghost by MATT GLASER | Watching Kirk vs. Gorn by JOE ALTERIO | How Spock wins by ANNALEE NEWITZ
SCIENCE FICTION ON HILOBROW Peggy Nelson on William Shatner as HiLo Hero | Greg Rowland on Leonard Nimoy as HiLo Hero | Peggy Nelson on William Shatner in Incubus | Matthew Battles on enlarging the Trek fanfic canon | Jack London's The Scarlet Plague, serialized | Rudyard Kipling's With the Night Mail, serialized | Arthur Conan Doyle's The Poison Belt, serialized | H. Rider Haggard's When the World Shook, serialized | Edward Shanks' The People of the Ruins, serialized | William Hope Hodgson's The Night Land, serialized | Radium Age Supermen | Radium Age Robots | Radium Age Apocalypses | Radium Age Telepaths | Radium Age Eco-Catastrophes | Radium Age Cover Art (1) | SF's Best Year Ever: 1912 | Radium Age Science Fiction Poetry | Enter Highbrowism | Bathybius! Primordial ooze in Radium Age sf | War and Peace Games (H.G. Wells's training manuals for supermen) | J.D. Beresford | Algernon Blackwood | Edgar Rice Burroughs | Karel Čapek | Buster Crabbe | August Derleth | Arthur Conan Doyle | Charlotte Perkins Gilman | Cicely Hamilton | Hermann Hesse | William Hope Hodgson | Aldous Huxley | Inez Haynes Irwin | Alfred Jarry | Jack Kirby (Radium Age sf's influence on) | Murray Leinster | Gustave Le Rouge | Gaston Leroux | David Lindsay | Jack London | H.P. Lovecraft | A. Merritt | Maureen O'Sullivan | Sax Rohmer | Paul Scheerbart | Upton Sinclair | Clark Ashton Smith | E.E. "Doc" Smith | Olaf Stapledon | John Taine | H.G. Wells | Jack Williamson | Stanisław Ignacy Witkiewicz | S. Fowler Wright | Philip Gordon Wylie | Yevgeny Zamyatin | AND LOTS MORE
HILOBOOKS: In 2012-13, HiLobrow is serializing ten overlooked works of science fiction from the genre's (1904-33) Radium Age; and HiLoBooks is publishing them in paperback! Here are the first six titles: Jack London's The Scarlet Plague (May 2012, Introduction by Matthew Battles; PURCHASE NOW), Rudyard Kipling's With the Night Mail and "As Easy as A.B.C." (June 2012, Introduction by Matthew De Abaitua and Afterword by Bruce Sterling; PURCHASE NOW), Arthur Conan Doyle's The Poison Belt (August 2012, Introduction by Joshua Glenn and Afterword by Gordon Dahlquist; PURCHASE NOW), H. Rider Haggard's When the World Shook (October 2012, Introduction by James Parker; PRE-ORDER NOW), Edward Shanks' The People of the Ruins (November 2012, Introduction by Tom Hodgkinson; PRE-ORDER NOW), and William Hope Hodgson's The Night Land (April 2013, Afterword by Erik Davis; PRE-ORDER NOW).