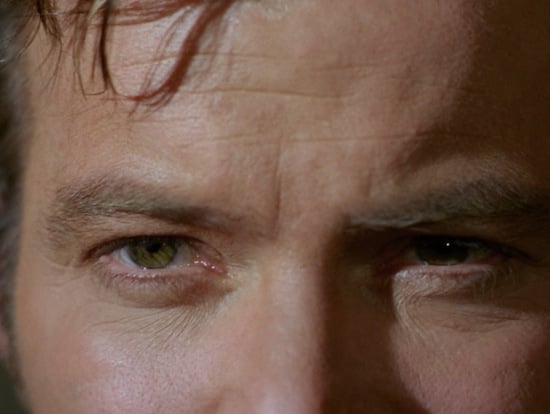 Twenty-second in a series of posts, each one analyzing a single Captain Kirk scene from the Star Trek canon.
***
Kirk's countdown | "Let That Be Your Last Battlefield" | Star Trek: The Original Series | Season 3, Episode 14 | January 1969
Arrogance comes from an over-inflated sense that one's methods and vision are superior. Pridefulness, though, is usually found in those who feel the least empowered — and who therefore behave in extremist ways. Captain Kirk is sometimes arrogant, but don't be fooled. Despite his extreme unwillingness to bend in the face of overwhelming odds, he's no prideful extremist.
In "Let That Be Your Last Battlefield," two black-and-white aliens from the planet Charon have brought their 50,000-year struggle to the bridge of the Enterprise. Bele, a single-minded policeman in search of "traitors," has been hunting Lokai, a revolutionary who claims his people have been oppressed. Bele is intent on taking Lokai back to Charon for a trial; Lokai asks for political asylum. Kirk tells them they are going back to Starfleet, where Lokai will be charged with stealing a shuttlecraft, and any political grievances will have to be taken up there.
Bele represents a prideful sense of right, a monochrome belief at odds with his dual-colored body; Lokai and his ideas of freedom are a cancer that will sow chaos along what Bele sees as perfectly ordered and engineered society. Therefore, using his ability to manipulate electric fields and a telepathic will, Bele takes control of the ship and steers it towards Charon. Kirk finds himself powerless, unable to wrest control of his ship from Bele. In a move that shocks even his own crew, he calls upon the computer to initiate the ship's self-destruct sequence.
Kirk's willingness to destroy the Enterprise and kill the 400+ men and women aboard looks, on the surface, as though it's born of injured pride. However, although Kirk might perhaps be accused of arrogance — for assuming that his own mission is superior to any cause over which these aliens might be fighting — he's not prideful. Threatened by death during the self-destruct countdown, Kirk doesn't waver, whereas Bele does. Unlike Bele, a prideful being who ultimately values power (and survival) over doing the right thing, Kirk is willing to die — so long as doing so is the only reasonable course in the face of unreasonableness. This isn't extremism… unless Socrates' willingness to drink the hemlock is extremism.
Spock is often described as stoical, but Kirk is the true stoic aboard the Enterprise — his will a firm anchor to the just and good.
***
POSTS IN THIS SERIES: Justice or vengeance? by DAFNA PLEBAN | Kirk teaches his drill thrall to kiss by MARK KINGWELL | "KHAAAAAN!" by NICK ABADZIS | "No kill I" by STEPHEN BURT | Kirk browbeats NOMAD by GREG ROWLAND | Kirk's eulogy for Spock by ZACK HANDLEN | The joke is on Kirk by PEGGY NELSON | Kirk vs. Decker by KEVIN CHURCH | Good Kirk vs. Evil Kirk by ENRIQUE RAMIREZ | Captain Camelot by ADAM MCGOVERN | Koon-ut-kal-if-fee by FLOURISH KLINK | Federation exceptionalism by DAVID SMAY | Wizard fight by AMANDA LAPERGOLA | A million things you can't have by STEVE SCHNEIDER | Debating in a vacuum by JOSHUA GLENN | Klingon diplomacy by KELLY JEAN FITZSIMMONS | "We… the PEOPLE" by TRAV S.D. | Brinksmanship on the brink by MATTHEW BATTLES | Captain Smirk by ANNIE NOCENTI | Sisko meets Kirk by IAN W. HILL | Noninterference policy by GABBY NICASIO | Kirk's countdown by PETER BEBERGAL | Kirk's ghost by MATT GLASER | Watching Kirk vs. Gorn by JOE ALTERIO | How Spock wins by ANNALEE NEWITZ
SCIENCE FICTION ON HILOBROW Peggy Nelson on William Shatner as HiLo Hero | Greg Rowland on Leonard Nimoy as HiLo Hero | Peggy Nelson on William Shatner in Incubus | Matthew Battles on enlarging the Trek fanfic canon | Jack London's The Scarlet Plague, serialized | Rudyard Kipling's With the Night Mail, serialized | Arthur Conan Doyle's The Poison Belt, serialized | H. Rider Haggard's When the World Shook, serialized | Edward Shanks' The People of the Ruins, serialized | William Hope Hodgson's The Night Land, serialized | Radium Age Supermen | Radium Age Robots | Radium Age Apocalypses | Radium Age Telepaths | Radium Age Eco-Catastrophes | Radium Age Cover Art (1) | SF's Best Year Ever: 1912 | Radium Age Science Fiction Poetry | Enter Highbrowism | Bathybius! Primordial ooze in Radium Age sf | War and Peace Games (H.G. Wells's training manuals for supermen) | J.D. Beresford | Algernon Blackwood | Edgar Rice Burroughs | Karel Čapek | Buster Crabbe | August Derleth | Arthur Conan Doyle | Charlotte Perkins Gilman | Cicely Hamilton | Hermann Hesse | William Hope Hodgson | Aldous Huxley | Inez Haynes Irwin | Alfred Jarry | Jack Kirby (Radium Age sf's influence on) | Murray Leinster | Gustave Le Rouge | Gaston Leroux | David Lindsay | Jack London | H.P. Lovecraft | A. Merritt | Maureen O'Sullivan | Sax Rohmer | Paul Scheerbart | Upton Sinclair | Clark Ashton Smith | E.E. "Doc" Smith | Olaf Stapledon | John Taine | H.G. Wells | Jack Williamson | Stanisław Ignacy Witkiewicz | S. Fowler Wright | Philip Gordon Wylie | Yevgeny Zamyatin | AND LOTS MORE
CHECK OUT HILOBOOKS: In 2012-13, HiLobrow is serializing ten overlooked works of science fiction from the genre's (1904-33) Radium Age; and HiLoBooks is publishing them in paperback! Here are the first six titles: Jack London's The Scarlet Plague (in May, Introduction by Matthew Battles; PURCHASE NOW), Rudyard Kipling's With the Night Mail and "As Easy as A.B.C." (in June, Introduction by Matthew De Abaitua and Afterword by Bruce Sterling; PURCHASE NOW), Arthur Conan Doyle's The Poison Belt (in August, Introduction by Joshua Glenn and Afterword by Gordon Dahlquist; PURCHASE NOW), H. Rider Haggard's When the World Shook (in October, Introduction by James Parker; PURCHASE NOW), Edward Shanks' The People of the Ruins (in November, Introduction by Tom Hodgkinson; PURCHASE NOW), and William Hope Hodgson's The Night Land (in April 2013, Afterword by Erik Davis; PURCHASE NOW).