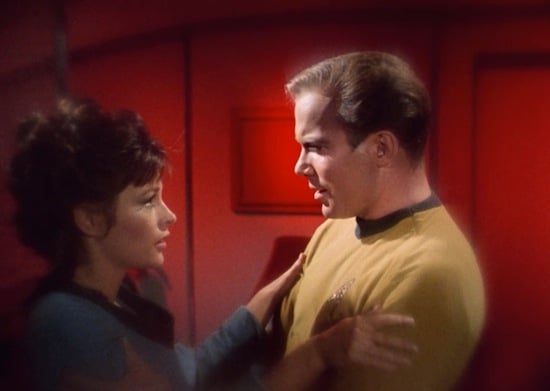 Nineteenth in a series of posts, each one analyzing a single Captain Kirk scene from the Star Trek canon.
***
Captain Smirk | "Dagger of the Mind" | Star Trek: The Original Series | Season 1, Episode 9 | November 1966
He: Elevator, and going down quite a ways.
She: I wouldn't recommend it for weak hearts.
And so the dance begins. With Captain Kirk and potential conquest Dr. Helen Noel, a ship psychiatrist, in "Dagger of the Mind." No matter what alien world, time/space paradox, monsters within or without, Kirk never missed a chance for a good double entendre. These terse, witty moments in Star Trek, effortless asides that flit and skate and flirt about, encapsulate a power struggle within the innuendo.
Dr. Noel pushes, the Captain pushes back.
He: Shall we leave it up to the doctor?
She: Since you brought me down here for advice, Captain…
He: One of the advantages of being a Captain, Doctor, is being able to ask for advice without necessarily having to take it.
Kirk is on the lurk: a combination of amusement, leer, sportsman on the hunt, from sly to hammy. A wry delight in all its manifestations. No matter what hand-wringing conundrum at the center of each episode, you knew Kirk was destined for another notch on his ladykiller belt.
Dr. Noel and Captain Kirk have history, maybe. It is never clear beyond the time Kirk "dropped in" on a science lab Christmas party aboard the Enterprise. She tries to push the memory a bit.
She: Perhaps it would be simpler if you called me Helen, Captain, since…
He: This is another time, another place, another situation.
She: Of course, Captain.
Dr. Noel also asks Dr. Adams, the whirligig-eyed villain of the episode, to call her "Helen." In the nascent feminist times when the show aired, she seems to be trying to remove the distinguished title from her name — and is largely ignored. Or perhaps she just wants to be "one of the boys" — Scotty, Bones, Spock, Sulu, and of course, Jim.
Dr. Adams is explaining his work with the criminally insane in his floating space prison: "Part of the cure, if you will, Captain, is to bury the past. Why should a person go on living with unbearable memories if there's no necessity. Oh, I feel quite sure that you'd concur with me in that, Doctor. Helen."
Apparently she does not concur. When faced with an opportunity to slip a suggestion into Kirk's mind (via the hypnotizing machine at the center of the plot), Dr. Noel first tries Hunger, then playfully moves on to: What Happened That Night When You "Dropped In." Kirk falls into a reverie of that night. Is the moment real or fictive? He remembers — or imagines — a moment when he carried Noel back to his cabin and embraced her. In the reverie, Noel pulls back — wanting, girl that she is, to know what it means.
She: Of course, it would be different if you cared for me.
He: You want me to manufacture a lie, wrap it up as a Christmas present for you?
Noel gets it, and gives in.
Chivalry with a smirk.
***
POSTS IN THIS SERIES: Justice or vengeance? by DAFNA PLEBAN | Kirk teaches his drill thrall to kiss by MARK KINGWELL | "KHAAAAAN!" by NICK ABADZIS | "No kill I" by STEPHEN BURT | Kirk browbeats NOMAD by GREG ROWLAND | Kirk's eulogy for Spock by ZACK HANDLEN | The joke is on Kirk by PEGGY NELSON | Kirk vs. Decker by KEVIN CHURCH | Good Kirk vs. Evil Kirk by ENRIQUE RAMIREZ | Captain Camelot by ADAM MCGOVERN | Koon-ut-kal-if-fee by FLOURISH KLINK | Federation exceptionalism by DAVID SMAY | Wizard fight by AMANDA LAPERGOLA | A million things you can't have by STEVE SCHNEIDER | Debating in a vacuum by JOSHUA GLENN | Klingon diplomacy by KELLY JEAN FITZSIMMONS | "We… the PEOPLE" by TRAV S.D. | Brinksmanship on the brink by MATTHEW BATTLES | Captain Smirk by ANNIE NOCENTI | Sisko meets Kirk by IAN W. HILL | Noninterference policy by GABBY NICASIO | Kirk's countdown by PETER BEBERGAL | Kirk's ghost by MATT GLASER | Watching Kirk vs. Gorn by JOE ALTERIO | How Spock wins by ANNALEE NEWITZ
SCIENCE FICTION ON HILOBROW Peggy Nelson on William Shatner as HiLo Hero | Greg Rowland on Leonard Nimoy as HiLo Hero | Peggy Nelson on William Shatner in Incubus | Matthew Battles on enlarging the Trek fanfic canon | Jack London's The Scarlet Plague, serialized | Rudyard Kipling's With the Night Mail, serialized | Arthur Conan Doyle's The Poison Belt, serialized | H. Rider Haggard's When the World Shook, serialized | Edward Shanks' The People of the Ruins, serialized | William Hope Hodgson's The Night Land, serialized | Radium Age Supermen | Radium Age Robots | Radium Age Apocalypses | Radium Age Telepaths | Radium Age Eco-Catastrophes | Radium Age Cover Art (1) | SF's Best Year Ever: 1912 | Radium Age Science Fiction Poetry | Enter Highbrowism | Bathybius! Primordial ooze in Radium Age sf | War and Peace Games (H.G. Wells's training manuals for supermen) | J.D. Beresford | Algernon Blackwood | Edgar Rice Burroughs | Karel Čapek | Buster Crabbe | August Derleth | Arthur Conan Doyle | Charlotte Perkins Gilman | Cicely Hamilton | Hermann Hesse | William Hope Hodgson | Aldous Huxley | Inez Haynes Irwin | Alfred Jarry | Jack Kirby (Radium Age sf's influence on) | Murray Leinster | Gustave Le Rouge | Gaston Leroux | David Lindsay | Jack London | H.P. Lovecraft | A. Merritt | Maureen O'Sullivan | Sax Rohmer | Paul Scheerbart | Upton Sinclair | Clark Ashton Smith | E.E. "Doc" Smith | Olaf Stapledon | John Taine | H.G. Wells | Jack Williamson | Stanisław Ignacy Witkiewicz | S. Fowler Wright | Philip Gordon Wylie | Yevgeny Zamyatin | AND LOTS MORE
CHECK OUT HILOBOOKS: In 2012-13, HiLobrow is serializing ten overlooked works of science fiction from the genre's (1904-33) Radium Age; and HiLoBooks is publishing them in paperback! Here are the first six titles: Jack London's The Scarlet Plague (in May, Introduction by Matthew Battles; PURCHASE NOW), Rudyard Kipling's With the Night Mail and "As Easy as A.B.C." (in June, Introduction by Matthew De Abaitua and Afterword by Bruce Sterling; PURCHASE NOW), Arthur Conan Doyle's The Poison Belt (in August, Introduction by Joshua Glenn and Afterword by Gordon Dahlquist; PURCHASE NOW), H. Rider Haggard's When the World Shook (in October, Introduction by James Parker; PURCHASE NOW), Edward Shanks' The People of the Ruins (in November, Introduction by Tom Hodgkinson; PURCHASE NOW), and William Hope Hodgson's The Night Land (in April 2013, Afterword by Erik Davis; PURCHASE NOW).