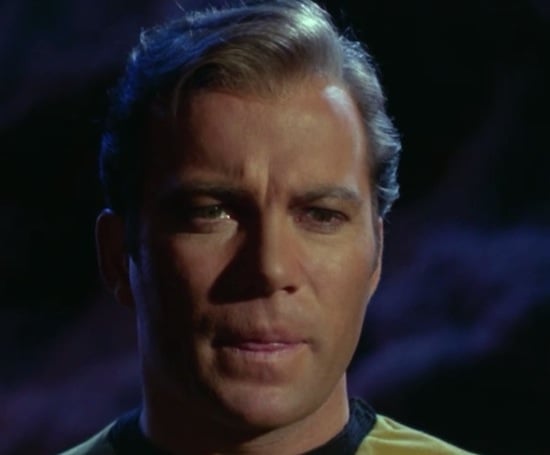 Eighteenth in a series of posts, each one analyzing a single Captain Kirk scene from the Star Trek canon.
***
Brinksmanship on the brink | "The City on the Edge of Forever" | Star Trek: The Original Series | Season 1, Episode 28 | April 1967
The situation is not unfamiliar to veterans of Enterprise landing parties: existence hangs in the balance. A drug-crazed McCoy has leapt through a time portal into humankind's barbaric past (the early twentieth century, to be precise), where he has disarranged some hinge of history, marooning the away team in an alternative future in which there is no Enterprise, no Earth.
Kirk had already indicated a cavalierly curiosity about time travel: "Strangely compelling, isn't it," he has mused — "to step through there, and lose oneself in another world?" applying to metaphysical precariousness the same kind of sybaritic sangfroid he might give to an Orion slave girl's decolletage. But when moments later McCoy makes his desperate leap, Kirk's bemusement is tempered to mettle. He knows that the only way to darn the fabric of time is to follow Bones into the past and stay his hand. He and Spock will go, of course, leaping into an alternate universe in which World War II might never happen and Joan Collins might become a serious actor. And in the moment before leaping into the beyond, placing a possibly unbridgeable gap between himself and the only universe he has ever known, he turns to address Uhura, Scotty, and a brace of hapless reds: "When you think you've waited long enough," he intones gravely, "each of you will have to try it. Even if you fail, at least you'll be alive-in-some–past — world" — applying that Kirkian verbal staccato deaccelarando that empathizes and anesthetizes, commands and soothes.
Later, back in the past, Kirk will allow a woman he has fallen in love with to step before an onrushing truck, keeping her winning, peace-loving ways from interrupting the flow of time. It's not Kirk's tragic abnegation that haunts, however, so much as his tempered command at the brink, his enterprising grace, mingling insouciance and existential dread. The captain brings his crew back from the edge of forever, of course, depriving the multiverse of an infinite series of Kirks. Or perhaps he does proliferate, fracturing on transit through the time gate into a radiating probability tree of certitude and sang-froid. A comforting thought: Kirk as the cosmological constant, distributed in space-time, cool competence knitting together the cosmic foam.
***
POSTS IN THIS SERIES: Justice or vengeance? by DAFNA PLEBAN | Kirk teaches his drill thrall to kiss by MARK KINGWELL | "KHAAAAAN!" by NICK ABADZIS | "No kill I" by STEPHEN BURT | Kirk browbeats NOMAD by GREG ROWLAND | Kirk's eulogy for Spock by ZACK HANDLEN | The joke is on Kirk by PEGGY NELSON | Kirk vs. Decker by KEVIN CHURCH | Good Kirk vs. Evil Kirk by ENRIQUE RAMIREZ | Captain Camelot by ADAM MCGOVERN | Koon-ut-kal-if-fee by FLOURISH KLINK | Federation exceptionalism by DAVID SMAY | Wizard fight by AMANDA LAPERGOLA | A million things you can't have by STEVE SCHNEIDER | Debating in a vacuum by JOSHUA GLENN | Klingon diplomacy by KELLY JEAN FITZSIMMONS | "We… the PEOPLE" by TRAV S.D. | Brinksmanship on the brink by MATTHEW BATTLES | Captain Smirk by ANNIE NOCENTI | Sisko meets Kirk by IAN W. HILL | Noninterference policy by GABBY NICASIO | Kirk's countdown by PETER BEBERGAL | Kirk's ghost by MATT GLASER | Watching Kirk vs. Gorn by JOE ALTERIO | How Spock wins by ANNALEE NEWITZ
SCIENCE FICTION ON HILOBROW Peggy Nelson on William Shatner as HiLo Hero | Greg Rowland on Leonard Nimoy as HiLo Hero | Peggy Nelson on William Shatner in Incubus | Matthew Battles on enlarging the Trek fanfic canon | Jack London's The Scarlet Plague, serialized | Rudyard Kipling's With the Night Mail, serialized | Arthur Conan Doyle's The Poison Belt, serialized | H. Rider Haggard's When the World Shook, serialized | Edward Shanks' The People of the Ruins, serialized | William Hope Hodgson's The Night Land, serialized | Radium Age Supermen | Radium Age Robots | Radium Age Apocalypses | Radium Age Telepaths | Radium Age Eco-Catastrophes | Radium Age Cover Art (1) | SF's Best Year Ever: 1912 | Radium Age Science Fiction Poetry | Enter Highbrowism | Bathybius! Primordial ooze in Radium Age sf | War and Peace Games (H.G. Wells's training manuals for supermen) | J.D. Beresford | Algernon Blackwood | Edgar Rice Burroughs | Karel Čapek | Buster Crabbe | August Derleth | Arthur Conan Doyle | Charlotte Perkins Gilman | Cicely Hamilton | Hermann Hesse | William Hope Hodgson | Aldous Huxley | Inez Haynes Irwin | Alfred Jarry | Jack Kirby (Radium Age sf's influence on) | Murray Leinster | Gustave Le Rouge | Gaston Leroux | David Lindsay | Jack London | H.P. Lovecraft | A. Merritt | Maureen O'Sullivan | Sax Rohmer | Paul Scheerbart | Upton Sinclair | Clark Ashton Smith | E.E. "Doc" Smith | Olaf Stapledon | John Taine | H.G. Wells | Jack Williamson | Stanisław Ignacy Witkiewicz | S. Fowler Wright | Philip Gordon Wylie | Yevgeny Zamyatin | AND LOTS MORE
CHECK OUT HILOBOOKS: In 2012-13, HiLobrow is serializing ten overlooked works of science fiction from the genre's (1904-33) Radium Age; and HiLoBooks is publishing them in paperback! Here are the first six titles: Jack London's The Scarlet Plague (in May, Introduction by Matthew Battles; PURCHASE NOW), Rudyard Kipling's With the Night Mail and "As Easy as A.B.C." (in June, Introduction by Matthew De Abaitua and Afterword by Bruce Sterling; PURCHASE NOW), Arthur Conan Doyle's The Poison Belt (in August, Introduction by Joshua Glenn and Afterword by Gordon Dahlquist; PURCHASE NOW), H. Rider Haggard's When the World Shook (in October, Introduction by James Parker; PURCHASE NOW), Edward Shanks' The People of the Ruins (in November, Introduction by Tom Hodgkinson; PURCHASE NOW), and William Hope Hodgson's The Night Land (in April 2013, Afterword by Erik Davis; PURCHASE NOW).