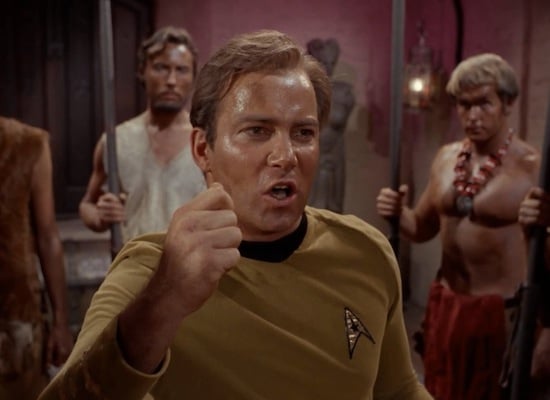 Seventeenth in a series of posts, each one analyzing a single Captain Kirk scene from the Star Trek canon.
***
"We… the PEOPLE" | "The Omega Glory" | Star Trek: The Original Series | Season 2, Episode 23 | March 1968
"The Omega Glory" episode climaxes with a quintessential Kirk moment. Caught in the middle of a battle between two primitive tribes — the Kohms and the Yangs — Kirk, Spock, and McCoy deduce that the planet Omega IV is a parallel version of Earth, the Asiatic Kohms are the descendants of Communists, and the Nordic Yangs the descendants of Americans (Yankees). This deduction is proved right when their Yang captors produce an ancient American flag and recite a garbled version of the "Pledge of Allegiance." Recognizing that the flag and the "holy words" kept in a locked box — and on behalf of which the Yangs are fighting and dying — have lost all meaning, Kirk proceeds to excavate that meaning. "We… the PEOPLE," he begins. I'm assuming you know the rest.
Kirk's delivery of the speech is much mocked as evidence of William Shatner's "bad" acting. But far from being an example of incompetence, it is the epitome of Shatner's very rightness — both as an actor in general, and as the lead actor on this particular television series.
Star Trek is not The Waltons, however much the succeeding five Star Trek series tried to steer in that direction. As originally conceived by Gene Roddenberry, the show was a space opera modeled on the Horatio Hornblower series of seafaring adventure novels. It is a stone's throw from the Flash Gordon serials. Such a milieu merits an acting style as big as its set pieces; if you don't act big, you are going to be upstaged by the white gorilla with the rhinoceros horn. This is the stuff of melodrama and there's no indignity in that. Our ancestors thrived on melodrama and its stylized acting conventions. Though it may have gone out of fashion, melodrama is a style — an artistic choice, and therefore neither a priori "bad" or ineffective. If you're playing James T. Kirk, melodrama is a job requirement.
For several years at the beginning of his career, Shatner was the fair-haired boy of theatrical director Tyrone Guthrie at the Stratford (Shakespeare) Festival of Canada. He was the understudy of Christopher Plummer in a Stratford production of Henry V ("We few, we happy few, we band of brothers"), subsequently played Henry in another production, and he went to Broadway in Marlowe's Tamburlaine. So he knew how to make a speech land, to invest it with music, and to make an audience listen. His task in "The Omega Glory" was not only to make the Yangs hear the Preamble to the U.S. Constitution for the first time, but to make us hear it as though for the first time. At the height of the Cold War, the words signified an alternative to a life behind barbed wire; they needed to be delivered with force and weight. So Shatner invested the speech with a little of the old St. Crispin's.
Alas, by the 1970s — when people started making fun of Shatner — most Americans had never seen a play in a theater. Though he was the right man for the job, it was his misfortune to excel at an art form that had died.
***
POSTS IN THIS SERIES: Justice or vengeance? by DAFNA PLEBAN | Kirk teaches his drill thrall to kiss by MARK KINGWELL | "KHAAAAAN!" by NICK ABADZIS | "No kill I" by STEPHEN BURT | Kirk browbeats NOMAD by GREG ROWLAND | Kirk's eulogy for Spock by ZACK HANDLEN | The joke is on Kirk by PEGGY NELSON | Kirk vs. Decker by KEVIN CHURCH | Good Kirk vs. Evil Kirk by ENRIQUE RAMIREZ | Captain Camelot by ADAM MCGOVERN | Koon-ut-kal-if-fee by FLOURISH KLINK | Federation exceptionalism by DAVID SMAY | Wizard fight by AMANDA LAPERGOLA | A million things you can't have by STEVE SCHNEIDER | Debating in a vacuum by JOSHUA GLENN | Klingon diplomacy by KELLY JEAN FITZSIMMONS | "We… the PEOPLE" by TRAV S.D. | Brinksmanship on the brink by MATTHEW BATTLES | Captain Smirk by ANNIE NOCENTI | Sisko meets Kirk by IAN W. HILL | Noninterference policy by GABBY NICASIO | Kirk's countdown by PETER BEBERGAL | Kirk's ghost by MATT GLASER | Watching Kirk vs. Gorn by JOE ALTERIO | How Spock wins by ANNALEE NEWITZ
SCIENCE FICTION ON HILOBROW Peggy Nelson on William Shatner as HiLo Hero | Greg Rowland on Leonard Nimoy as HiLo Hero | Peggy Nelson on William Shatner in Incubus | Matthew Battles on enlarging the Trek fanfic canon | Jack London's The Scarlet Plague, serialized | Rudyard Kipling's With the Night Mail, serialized | Arthur Conan Doyle's The Poison Belt, serialized | H. Rider Haggard's When the World Shook, serialized | Edward Shanks' The People of the Ruins, serialized | William Hope Hodgson's The Night Land, serialized | Radium Age Supermen | Radium Age Robots | Radium Age Apocalypses | Radium Age Telepaths | Radium Age Eco-Catastrophes | Radium Age Cover Art (1) | SF's Best Year Ever: 1912 | Radium Age Science Fiction Poetry | Enter Highbrowism | Bathybius! Primordial ooze in Radium Age sf | War and Peace Games (H.G. Wells's training manuals for supermen) | J.D. Beresford | Algernon Blackwood | Edgar Rice Burroughs | Karel Čapek | Buster Crabbe | August Derleth | Arthur Conan Doyle | Charlotte Perkins Gilman | Cicely Hamilton | Hermann Hesse | William Hope Hodgson | Aldous Huxley | Inez Haynes Irwin | Alfred Jarry | Jack Kirby (Radium Age sf's influence on) | Murray Leinster | Gustave Le Rouge | Gaston Leroux | David Lindsay | Jack London | H.P. Lovecraft | A. Merritt | Maureen O'Sullivan | Sax Rohmer | Paul Scheerbart | Upton Sinclair | Clark Ashton Smith | E.E. "Doc" Smith | Olaf Stapledon | John Taine | H.G. Wells | Jack Williamson | Stanisław Ignacy Witkiewicz | S. Fowler Wright | Philip Gordon Wylie | Yevgeny Zamyatin | AND LOTS MORE
CHECK OUT HILOBOOKS: In 2012-13, HiLobrow is serializing ten overlooked works of science fiction from the genre's (1904-33) Radium Age; and HiLoBooks is publishing them in paperback! Here are the first six titles: Jack London's The Scarlet Plague (in May, Introduction by Matthew Battles; PURCHASE NOW), Rudyard Kipling's With the Night Mail and "As Easy as A.B.C." (in June, Introduction by Matthew De Abaitua and Afterword by Bruce Sterling; PURCHASE NOW), Arthur Conan Doyle's The Poison Belt (in August, Introduction by Joshua Glenn and Afterword by Gordon Dahlquist; PURCHASE NOW), H. Rider Haggard's When the World Shook (in October, Introduction by James Parker; PURCHASE NOW), Edward Shanks' The People of the Ruins (in November, Introduction by Tom Hodgkinson; PURCHASE NOW), and William Hope Hodgson's The Night Land (in April 2013, Afterword by Erik Davis; PURCHASE NOW).