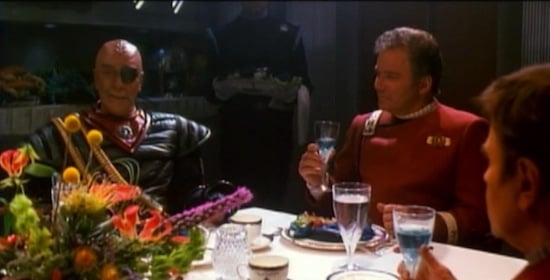 Sixteenth in a series of posts, each one analyzing a single Captain Kirk scene from the Star Trek canon.
***
Klingon diplomacy | Star Trek VI: The Undiscovered Country | December 1991
I have a motto, "Nothing good comes from blue drinks." So it's fitting that the tumultuous journey towards peace between the Klingon Empire and the Federation is toasted with illegal Romulan Ale – seeing that the night results in a torpedo attack and Kirk being framed for the assassination of a Klingon Chancellor. Before the bloodshed, the joy of the Klingon dinner scene aboard the Enterprise rests not only in the racial tension between the Klingons and the Enterprise crew, but comes from watching Kirk, man of action, struggle against his baser impulses to maintain the diplomatic role forced upon him.
At dinner, Chancellor Gorkon toasts to "the undiscovered country, the future" quoting Hamlet (Act 3, Scene 1 — as Spock notes). He speaks of a new era of peace, but for me — a teenage Next Generation fan who worked her way backwards to the original series — Star Trek VI: The Undiscovered Country was a bridge between the two series and my first theatrical Star Trek experience. "You see, the guy who played Worf is going to be in the film playing his own grandfather, Colonel Worf, father to Mogh, killed during the Romulan attack on Khitomer," I rattled this off in one breath to my father as he drove me to the movie.
The Klingon dinner scene is riddled with moments as delightfully awkward as my teenage self. Klingon warriors fumbling with napkin rings, spouting Shakespeare, and slurping blue squid while the Enterprise crew plasters diplomatic smiles on — and at the center of it all is Kirk. His distrustful eyes surveying the room, his hand in a pensive, chin-scratching position as he struggles to keep his mouth shut. Seated next to Kirk is the duplicitous General Chang, a Klingon so tough his eyepatch is screwed directly into his head. "Directly into his skull!" I exclaimed to my dad, who was probably wondering why I couldn't be more into MTV and boys like my older sister.
As the dinner conversation heats up, Chang verbally challenges Kirk, but Spock quickly defuses the situation by putting peaceful words in Kirk's mouth. When Kirk speaks up, Chang rudely talks right over him and, again, Kirk is silenced. As the debate turns to the Klingons' fear that this alliance will destroy their culture, Chang also quotes Hamlet: "To be or not to be, that is the question which preoccupies our people." However, when Kirk attributes Chang's words, "We need breathing room," to a 1938 Hitler speech, he lands a verbal deathblow from which the screw-patched Klingon cannot recover. Kirk punctuates his punch with a cool sip of blue ale. Even in words, Kirk shows himself to be a man of action. He also shows his prejudice against the Klingons and his journey to overcome that bias will prove every bit as tumultuous as the dramatic events surrounding the peace talks. Kirk's final cruise as the Captain of the Enterprise was my first, and that makes me biased, but it's one of his best.
***
POSTS IN THIS SERIES: Justice or vengeance? by DAFNA PLEBAN | Kirk teaches his drill thrall to kiss by MARK KINGWELL | "KHAAAAAN!" by NICK ABADZIS | "No kill I" by STEPHEN BURT | Kirk browbeats NOMAD by GREG ROWLAND | Kirk's eulogy for Spock by ZACK HANDLEN | The joke is on Kirk by PEGGY NELSON | Kirk vs. Decker by KEVIN CHURCH | Good Kirk vs. Evil Kirk by ENRIQUE RAMIREZ | Captain Camelot by ADAM MCGOVERN | Koon-ut-kal-if-fee by FLOURISH KLINK | Federation exceptionalism by DAVID SMAY | Wizard fight by AMANDA LAPERGOLA | A million things you can't have by STEVE SCHNEIDER | Debating in a vacuum by JOSHUA GLENN | Klingon diplomacy by KELLY JEAN FITZSIMMONS | "We… the PEOPLE" by TRAV S.D. | Brinksmanship on the brink by MATTHEW BATTLES | Captain Smirk by ANNIE NOCENTI | Sisko meets Kirk by IAN W. HILL | Noninterference policy by GABBY NICASIO | Kirk's countdown by PETER BEBERGAL | Kirk's ghost by MATT GLASER | Watching Kirk vs. Gorn by JOE ALTERIO | How Spock wins by ANNALEE NEWITZ
SCIENCE FICTION ON HILOBROW Peggy Nelson on William Shatner as HiLo Hero | Greg Rowland on Leonard Nimoy as HiLo Hero | Peggy Nelson on William Shatner in Incubus | Matthew Battles on enlarging the Trek fanfic canon | Jack London's The Scarlet Plague, serialized | Rudyard Kipling's With the Night Mail, serialized | Arthur Conan Doyle's The Poison Belt, serialized | H. Rider Haggard's When the World Shook, serialized | Edward Shanks' The People of the Ruins, serialized | William Hope Hodgson's The Night Land, serialized | Radium Age Supermen | Radium Age Robots | Radium Age Apocalypses | Radium Age Telepaths | Radium Age Eco-Catastrophes | Radium Age Cover Art (1) | SF's Best Year Ever: 1912 | Radium Age Science Fiction Poetry | Enter Highbrowism | Bathybius! Primordial ooze in Radium Age sf | War and Peace Games (H.G. Wells's training manuals for supermen) | J.D. Beresford | Algernon Blackwood | Edgar Rice Burroughs | Karel Čapek | Buster Crabbe | August Derleth | Arthur Conan Doyle | Charlotte Perkins Gilman | Cicely Hamilton | Hermann Hesse | William Hope Hodgson | Aldous Huxley | Inez Haynes Irwin | Alfred Jarry | Jack Kirby (Radium Age sf's influence on) | Murray Leinster | Gustave Le Rouge | Gaston Leroux | David Lindsay | Jack London | H.P. Lovecraft | A. Merritt | Maureen O'Sullivan | Sax Rohmer | Paul Scheerbart | Upton Sinclair | Clark Ashton Smith | E.E. "Doc" Smith | Olaf Stapledon | John Taine | H.G. Wells | Jack Williamson | Stanisław Ignacy Witkiewicz | S. Fowler Wright | Philip Gordon Wylie | Yevgeny Zamyatin | AND LOTS MORE
CHECK OUT HILOBOOKS: In 2012-13, HiLobrow is serializing ten overlooked works of science fiction from the genre's (1904-33) Radium Age; and HiLoBooks is publishing them in paperback! Here are the first six titles: Jack London's The Scarlet Plague (in May, Introduction by Matthew Battles; PURCHASE NOW), Rudyard Kipling's With the Night Mail and "As Easy as A.B.C." (in June, Introduction by Matthew De Abaitua and Afterword by Bruce Sterling; PURCHASE NOW), Arthur Conan Doyle's The Poison Belt (in August, Introduction by Joshua Glenn and Afterword by Gordon Dahlquist; PURCHASE NOW), H. Rider Haggard's When the World Shook (in October, Introduction by James Parker; PURCHASE NOW), Edward Shanks' The People of the Ruins (in November, Introduction by Tom Hodgkinson; PURCHASE NOW), and William Hope Hodgson's The Night Land (in April 2013, Afterword by Erik Davis; PURCHASE NOW).