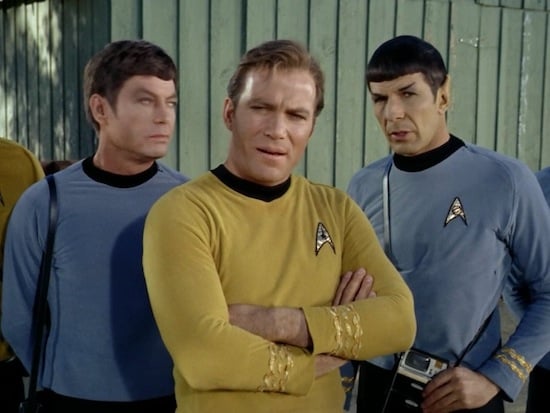 Fifteenth in a series of posts, each one analyzing a single Captain Kirk scene from the Star Trek canon.
***
Debating in a vacuum | "This Side of Paradise" | Star Trek: The Original Series | Season 1, Episode 24 | March 1967
I don't buy the widely accepted truism that Kirk, McCoy, and Spock represent a Freudian Trio. Sorry, pop psychologists, but if that were the case, one of the three would be a relentless monster; another a critical, moralistic nag; and the third deformed by his efforts to reconcile and appease the other two. Freudian Trios do exist (John Huston's The Asphalt Jungle provides one excellent example), but Kirk, McCoy, and Spock ought instead to be read as a Peircean Trio — i.e., as in the pioneering logician and semiotician C.S. Peirce.
Science Officer Spock proceeds inductively, from particular premises (hard data) to cautiously stated general conclusions; Dr. McCoy, on the other hand, proceeds deductively, diagnosing illnesses and other mysteries by comparing general conclusions (forms and norms that he regards as inviolable laws) with particular premises (unusual symptoms, clues). McCoy's beef with Spock is the emergency room doctor's with the ultra-cautious laboratory researcher, and vice versa. Kirk, meanwhile, proceeds via what Peirce was the first to name "abductive" reasoning. When it comes to resolving irresolvable conundrums, that is to say, he relies on a form of reasoning that doesn't exclude intuition and imagination.
Having arrived on Omicron Ceti III, in the amazing episode "This Side of Paradise," in order to catalog the destruction of Elias Sandoval's colony under the bombardment of deadly berthold rays, the Enterprise landing party discovers that Sandoval and the others are alive. What to make of this situation? Their body language says it all.
McCoy, arms deferentially behind his back, signals that he is perfectly willing to accept the pronouncement of medical science on the matter, just as soon as he can feed a few symptoms into his tricorder. "Just an educated guess," he jokes, "I'd say that man is alive." Spock, arms akimbo, remains skeptical and sardonic, unwilling to trust either McCoy's pronunciamento or the evidence of his own senses: "Berthold rays are incontrovertibly deadly… If a man is exposed long enough, he dies." Kirk doesn't seek a synthesis of their opinions. He folds his arms, stubbornly resisting both deductive and inductive conclusions before he's had the opportunity to brood over the matter, in a negative-dialectical fashion, shuffling through the pieces of the puzzle until — in a flash — the entire picture is revealed.
"It's like a jigsaw puzzle, all one color," Kirk will muse later. "No key to where the pieces fit in. Why?" Spock's inductive reasoning, and McCoy's deductive reasoning, are valuable — abductive reasoning depends on the insights of these approaches; but this is the sort of puzzle that only abductive reasoning can solve. "Gentlemen, we're debating in a vacuum," Kirk says here. "Let's go get some answers." Star Trek is about reasoning in a vacuum — the vacuum of space, even — and Kirk shows us how best to go about it. Boldly!
***
POSTS IN THIS SERIES: Justice or vengeance? by DAFNA PLEBAN | Kirk teaches his drill thrall to kiss by MARK KINGWELL | "KHAAAAAN!" by NICK ABADZIS | "No kill I" by STEPHEN BURT | Kirk browbeats NOMAD by GREG ROWLAND | Kirk's eulogy for Spock by ZACK HANDLEN | The joke is on Kirk by PEGGY NELSON | Kirk vs. Decker by KEVIN CHURCH | Good Kirk vs. Evil Kirk by ENRIQUE RAMIREZ | Captain Camelot by ADAM MCGOVERN | Koon-ut-kal-if-fee by FLOURISH KLINK | Federation exceptionalism by DAVID SMAY | Wizard fight by AMANDA LAPERGOLA | A million things you can't have by STEVE SCHNEIDER | Debating in a vacuum by JOSHUA GLENN | Klingon diplomacy by KELLY JEAN FITZSIMMONS | "We… the PEOPLE" by TRAV S.D. | Brinksmanship on the brink by MATTHEW BATTLES | Captain Smirk by ANNIE NOCENTI | Sisko meets Kirk by IAN W. HILL | Noninterference policy by GABBY NICASIO | Kirk's countdown by PETER BEBERGAL | Kirk's ghost by MATT GLASER | Watching Kirk vs. Gorn by JOE ALTERIO | How Spock wins by ANNALEE NEWITZ
SCIENCE FICTION ON HILOBROW Peggy Nelson on William Shatner as HiLo Hero | Greg Rowland on Leonard Nimoy as HiLo Hero | Peggy Nelson on William Shatner in Incubus | Matthew Battles on enlarging the Trek fanfic canon | Jack London's The Scarlet Plague, serialized | Rudyard Kipling's With the Night Mail, serialized | Arthur Conan Doyle's The Poison Belt, serialized | H. Rider Haggard's When the World Shook, serialized | Edward Shanks' The People of the Ruins, serialized | William Hope Hodgson's The Night Land, serialized | Radium Age Supermen | Radium Age Robots | Radium Age Apocalypses | Radium Age Telepaths | Radium Age Eco-Catastrophes | Radium Age Cover Art (1) | SF's Best Year Ever: 1912 | Radium Age Science Fiction Poetry | Enter Highbrowism | Bathybius! Primordial ooze in Radium Age sf | War and Peace Games (H.G. Wells's training manuals for supermen) | J.D. Beresford | Algernon Blackwood | Edgar Rice Burroughs | Karel Čapek | Buster Crabbe | August Derleth | Arthur Conan Doyle | Charlotte Perkins Gilman | Cicely Hamilton | Hermann Hesse | William Hope Hodgson | Aldous Huxley | Inez Haynes Irwin | Alfred Jarry | Jack Kirby (Radium Age sf's influence on) | Murray Leinster | Gustave Le Rouge | Gaston Leroux | David Lindsay | Jack London | H.P. Lovecraft | A. Merritt | Maureen O'Sullivan | Sax Rohmer | Paul Scheerbart | Upton Sinclair | Clark Ashton Smith | E.E. "Doc" Smith | Olaf Stapledon | John Taine | H.G. Wells | Jack Williamson | Stanisław Ignacy Witkiewicz | S. Fowler Wright | Philip Gordon Wylie | Yevgeny Zamyatin | AND LOTS MORE
CHECK OUT HILOBOOKS: In 2012-13, HiLobrow is serializing ten overlooked works of science fiction from the genre's (1904-33) Radium Age; and HiLoBooks is publishing them in paperback! Here are the first six titles: Jack London's The Scarlet Plague (in May, Introduction by Matthew Battles; PURCHASE NOW), Rudyard Kipling's With the Night Mail and "As Easy as A.B.C." (in June, Introduction by Matthew De Abaitua and Afterword by Bruce Sterling; PURCHASE NOW), Arthur Conan Doyle's The Poison Belt (in August, Introduction by Joshua Glenn and Afterword by Gordon Dahlquist; PURCHASE NOW), H. Rider Haggard's When the World Shook (in October, Introduction by James Parker; PURCHASE NOW), Edward Shanks' The People of the Ruins (in November, Introduction by Tom Hodgkinson; PURCHASE NOW), and William Hope Hodgson's The Night Land (in April 2013, Afterword by Erik Davis; PURCHASE NOW).