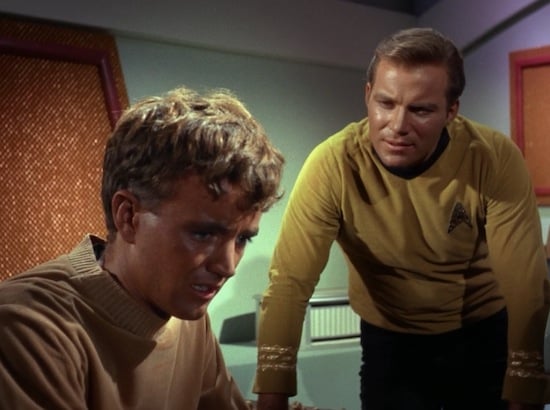 Fourteenth in a series of posts, each one analyzing a single Captain Kirk scene from the Star Trek canon.
***
A million things you can't have | "Charlie X" | Star Trek: The Original Series | Season 1, Episode 2 | September 1966
The Captain Kirk moment that's had the greatest influence on me isn't one that's going to be replicated in any nightclub impressionist's act. It's simply too atypical of what people think of Star Trek — yet for me, it's just about the philosophical bedrock of the program.
In "Charlie X," the Enterprise picks up an interstellar orphan with a lot of adolescent desires and no social skills to speak of. As it turns out, he's a handful in more serious ways, too — ones that place him in good company with Billy Mumy's Anthony from The Twilight Zone. But before the true extent of Charlie's awful powers becomes known, he's basically a sullen cross for the ship's crew to bear — especially Kirk, who rises manfully to his role as the father figure the boy so obviously needs.
Just about every TV series of the 1960s had its own what's-the-matter-with-kids-today episode, but "Charlie X" isn't typical hippie-punching. (We had to wait two seasons for that.) Kirk could easily look down on Charlie as an immature nuisance; instead, he treats him as what he ostensibly is, which is an in-progress human being who deserves the respect of being told the truth. About midway through the episode, beginning to despair of Charlie's lovestruck simpering after Yeoman Janice Rand, Kirk lays down some knowledge with brutal but beneficent frankness: "Charlie, there are a million things in this universe you can have, and there are a million things you can't have. It's no fun facing that, but that's the way things are."
Charlie doesn't listen, but oh boy, do we. In just the second episode aired, writers Gene Roddenberry and D.C. Fontana have revealed the adult foundation beneath the gee-whiz idealism that's too often taken as the sum total of the Trek experience. That experience is customarily construed as one defined by unlimited possibility — infinite diversity in infinite combinations, and all that rot — but in Kirk's world, quantities like satisfaction and fulfillment are distinctly finite. They may be obtainable by every person, but certainly not in every instance. Maybe not even close.
Yes, that's counter to the popular image of Trek. It's also at cross purposes with the very medium of television itself, which depends on the illusion that the entire universe is available to the viewer as long as he keeps watching TV. Kirk's big "Charlie X" moment teaches the exact opposite: You can go where no man has gone before, or you can stay tuned to NBC until you become one with the sofa. But either way, there are doors that just aren't going to open for you, because math.
The Captain Kirk who raised me trusted me to recognize that imagination and good will don't automatically win you every race. The best you can hope for is that they'll put in a good word for you with the law of averages.
***
POSTS IN THIS SERIES: Justice or vengeance? by DAFNA PLEBAN | Kirk teaches his drill thrall to kiss by MARK KINGWELL | "KHAAAAAN!" by NICK ABADZIS | "No kill I" by STEPHEN BURT | Kirk browbeats NOMAD by GREG ROWLAND | Kirk's eulogy for Spock by ZACK HANDLEN | The joke is on Kirk by PEGGY NELSON | Kirk vs. Decker by KEVIN CHURCH | Good Kirk vs. Evil Kirk by ENRIQUE RAMIREZ | Captain Camelot by ADAM MCGOVERN | Koon-ut-kal-if-fee by FLOURISH KLINK | Federation exceptionalism by DAVID SMAY | Wizard fight by AMANDA LAPERGOLA | A million things you can't have by STEVE SCHNEIDER | Debating in a vacuum by JOSHUA GLENN | Klingon diplomacy by KELLY JEAN FITZSIMMONS | "We… the PEOPLE" by TRAV S.D. | Brinksmanship on the brink by MATTHEW BATTLES | Captain Smirk by ANNIE NOCENTI | Sisko meets Kirk by IAN W. HILL | Noninterference policy by GABBY NICASIO | Kirk's countdown by PETER BEBERGAL | Kirk's ghost by MATT GLASER | Watching Kirk vs. Gorn by JOE ALTERIO | How Spock wins by ANNALEE NEWITZ
SCIENCE FICTION ON HILOBROW Peggy Nelson on William Shatner as HiLo Hero | Greg Rowland on Leonard Nimoy as HiLo Hero | Peggy Nelson on William Shatner in Incubus | Matthew Battles on enlarging the Trek fanfic canon | Jack London's The Scarlet Plague, serialized | Rudyard Kipling's With the Night Mail, serialized | Arthur Conan Doyle's The Poison Belt, serialized | H. Rider Haggard's When the World Shook, serialized | Edward Shanks' The People of the Ruins, serialized | William Hope Hodgson's The Night Land, serialized | Radium Age Supermen | Radium Age Robots | Radium Age Apocalypses | Radium Age Telepaths | Radium Age Eco-Catastrophes | Radium Age Cover Art (1) | SF's Best Year Ever: 1912 | Radium Age Science Fiction Poetry | Enter Highbrowism | Bathybius! Primordial ooze in Radium Age sf | War and Peace Games (H.G. Wells's training manuals for supermen) | J.D. Beresford | Algernon Blackwood | Edgar Rice Burroughs | Karel Čapek | Buster Crabbe | August Derleth | Arthur Conan Doyle | Charlotte Perkins Gilman | Cicely Hamilton | Hermann Hesse | William Hope Hodgson | Aldous Huxley | Inez Haynes Irwin | Alfred Jarry | Jack Kirby (Radium Age sf's influence on) | Murray Leinster | Gustave Le Rouge | Gaston Leroux | David Lindsay | Jack London | H.P. Lovecraft | A. Merritt | Maureen O'Sullivan | Sax Rohmer | Paul Scheerbart | Upton Sinclair | Clark Ashton Smith | E.E. "Doc" Smith | Olaf Stapledon | John Taine | H.G. Wells | Jack Williamson | Stanisław Ignacy Witkiewicz | S. Fowler Wright | Philip Gordon Wylie | Yevgeny Zamyatin | AND LOTS MORE
CHECK OUT HILOBOOKS: In 2012-13, HiLobrow is serializing ten overlooked works of science fiction from the genre's (1904-33) Radium Age; and HiLoBooks is publishing them in paperback! Here are the first six titles: Jack London's The Scarlet Plague (in May, Introduction by Matthew Battles; PURCHASE NOW), Rudyard Kipling's With the Night Mail and "As Easy as A.B.C." (in June, Introduction by Matthew De Abaitua and Afterword by Bruce Sterling; PURCHASE NOW), Arthur Conan Doyle's The Poison Belt (in August, Introduction by Joshua Glenn and Afterword by Gordon Dahlquist; PURCHASE NOW), H. Rider Haggard's When the World Shook (in October, Introduction by James Parker; PURCHASE NOW), Edward Shanks' The People of the Ruins (in November, Introduction by Tom Hodgkinson; PURCHASE NOW), and William Hope Hodgson's The Night Land (in April 2013, Afterword by Erik Davis; PURCHASE NOW).