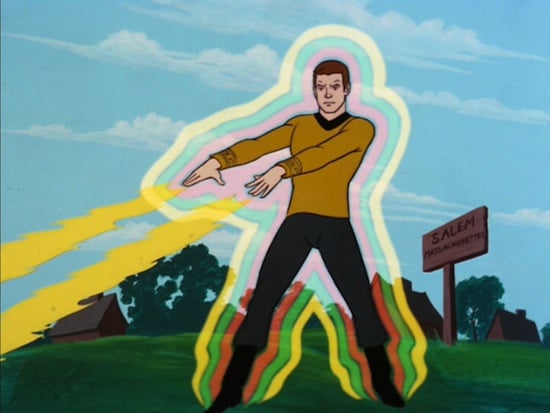 Thirteenth in a series of posts, each one analyzing a single Captain Kirk scene from the Star Trek canon.
***
Wizard fight | "The Magicks of Megas-tu" | Star Trek: The Animated Series | Season 1, Episode 8 | October 1973
Wizard fights are awesome. Nothing is more cinematically satisfying than watching two beings matched in phenomenal abilities beating the crap out of each other. Think of Saruman and Gandalf flinging each other into the walls of Isengard. Think of Dumbledore trapping Voldemort in a ball of raging water. If I were a wizard, I would spend my spare time just looking for other wizards to fight. Which is precisely the reason I am not a wizard. That, and the fact that wizards are not real. I know that. Of course I know that.
On paper the plot of "The Magicks of Megas-tu" is as crazypants as science fiction can possibly get. Once you watch it on screen, however, the episode is… still pretty crazypants, but in an endearing sort of way. Trust me when I say that when the crew of the Enterprise ends up in Salem, Mass., circa 1691 and are put on trial for the crimes of humanity by a race of space wizards, it makes perfect sense.
Due to some brilliant Atticus Finching by Spock and some heartfelt testimonies from Captain Kirk and Lucien — a satyr-like space wizard with human sympathies who may or may not be the devil because just go with it — the human race is acquitted of past wrongdoings. But Lucien! Lucien has broken space wizarding law and must be punished with extreme space wizard prejudice. Our hero, Captain James T. Kirk, diplomatic badass of the galaxy, will not stand for that. How will he save Lucien? How will he help the Megans see past their fears and prejudice? By tapping into the magical energies of Megas-tu. By taking on an entire race of space wizards with newly acquired magic powers.
If you think you love Kirk now (and there is so much to love), wait until you see Kirk flinging lightning bolts and summoning the elements to save a man who may or may not be Satan and teach us all a lesson about tolerance. Wizard fights may be awesome, but a wizard fight with Captain Kirk and social relevance is awesome beyond comprehension.
***
POSTS IN THIS SERIES: Justice or vengeance? by DAFNA PLEBAN | Kirk teaches his drill thrall to kiss by MARK KINGWELL | "KHAAAAAN!" by NICK ABADZIS | "No kill I" by STEPHEN BURT | Kirk browbeats NOMAD by GREG ROWLAND | Kirk's eulogy for Spock by ZACK HANDLEN | The joke is on Kirk by PEGGY NELSON | Kirk vs. Decker by KEVIN CHURCH | Good Kirk vs. Evil Kirk by ENRIQUE RAMIREZ | Captain Camelot by ADAM MCGOVERN | Koon-ut-kal-if-fee by FLOURISH KLINK | Federation exceptionalism by DAVID SMAY | Wizard fight by AMANDA LAPERGOLA | A million things you can't have by STEVE SCHNEIDER | Debating in a vacuum by JOSHUA GLENN | Klingon diplomacy by KELLY JEAN FITZSIMMONS | "We… the PEOPLE" by TRAV S.D. | Brinksmanship on the brink by MATTHEW BATTLES | Captain Smirk by ANNIE NOCENTI | Sisko meets Kirk by IAN W. HILL | Noninterference policy by GABBY NICASIO | Kirk's countdown by PETER BEBERGAL | Kirk's ghost by MATT GLASER | Watching Kirk vs. Gorn by JOE ALTERIO | How Spock wins by ANNALEE NEWITZ
SCIENCE FICTION ON HILOBROW Peggy Nelson on William Shatner as HiLo Hero | Greg Rowland on Leonard Nimoy as HiLo Hero | Peggy Nelson on William Shatner in Incubus | Matthew Battles on enlarging the Trek fanfic canon | Jack London's The Scarlet Plague, serialized | Rudyard Kipling's With the Night Mail, serialized | Arthur Conan Doyle's The Poison Belt, serialized | H. Rider Haggard's When the World Shook, serialized | Edward Shanks' The People of the Ruins, serialized | William Hope Hodgson's The Night Land, serialized | Radium Age Supermen | Radium Age Robots | Radium Age Apocalypses | Radium Age Telepaths | Radium Age Eco-Catastrophes | Radium Age Cover Art (1) | SF's Best Year Ever: 1912 | Radium Age Science Fiction Poetry | Enter Highbrowism | Bathybius! Primordial ooze in Radium Age sf | War and Peace Games (H.G. Wells's training manuals for supermen) | J.D. Beresford | Algernon Blackwood | Edgar Rice Burroughs | Karel Čapek | Buster Crabbe | August Derleth | Arthur Conan Doyle | Charlotte Perkins Gilman | Cicely Hamilton | Hermann Hesse | William Hope Hodgson | Aldous Huxley | Inez Haynes Irwin | Alfred Jarry | Jack Kirby (Radium Age sf's influence on) | Murray Leinster | Gustave Le Rouge | Gaston Leroux | David Lindsay | Jack London | H.P. Lovecraft | A. Merritt | Maureen O'Sullivan | Sax Rohmer | Paul Scheerbart | Upton Sinclair | Clark Ashton Smith | E.E. "Doc" Smith | Olaf Stapledon | John Taine | H.G. Wells | Jack Williamson | Stanisław Ignacy Witkiewicz | S. Fowler Wright | Philip Gordon Wylie | Yevgeny Zamyatin | AND LOTS MORE
CHECK OUT HILOBOOKS: In 2012-13, HiLobrow is serializing ten overlooked works of science fiction from the genre's (1904-33) Radium Age; and HiLoBooks is publishing them in paperback! Here are the first six titles: Jack London's The Scarlet Plague (in May, Introduction by Matthew Battles; PURCHASE NOW), Rudyard Kipling's With the Night Mail and "As Easy as A.B.C." (in June, Introduction by Matthew De Abaitua and Afterword by Bruce Sterling; PURCHASE NOW), Arthur Conan Doyle's The Poison Belt (in August, Introduction by Joshua Glenn and Afterword by Gordon Dahlquist; PURCHASE NOW), H. Rider Haggard's When the World Shook (in October, Introduction by James Parker; PURCHASE NOW), Edward Shanks' The People of the Ruins (in November, Introduction by Tom Hodgkinson; PURCHASE NOW), and William Hope Hodgson's The Night Land (in April 2013, Afterword by Erik Davis; PURCHASE NOW).