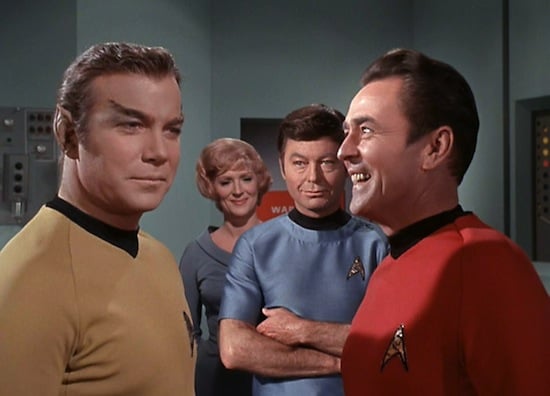 Twelfth in a series of posts, each one analyzing a single Captain Kirk scene from the Star Trek canon.
***
Federation exceptionalism | "The Enterprise Incident" | Star Trek: The Original Series | Season 3, Episode 2 | September 1968
In "The Enterprise Incident" Capt. Kirk enters screwy as Capt. Queeg, and exits smirky as Zap Brannigan. Here the narrative tries (and fails) to balance a story of interstellar espionage that veers from romantic tragedy (with alluring Romulan commander) to pointy-eared farce. Though Kirk is secretly acting on Federation orders, it's hard not to see his usual maverick virtues as an expression of Federation (read: American) exceptionalism. He's kind of a dick, untroubled by his actions, and blind to any moral quandaries he's forced upon Spock.
When we first saw Kirk squaring off with the Romulans (in "Balance of Terror") he outwitted his rival using stratagems dating back to the submarine warfare of WWII, and indeed, Kirk seemed to embody that era's virtues: resourcefulness, cunning, coolness under pressure. But here Kirk curdles over with Federation entitlement. The Neutral Zone? Merely a guideline, easily tossed aside if there's an opportunity to steal a cloaking device.
As the story opens, Kirk is for once not recording the captain's log – Dr. McCoy is. That's because Kirk's behavior has become increasingly erratic and unhinged. He's mad! Mad, I tell you. When the Enterprise goes lurching into the Neutral Zone the Romulans seem irritated and put-off, rather as if they've found Federation frat boys puking on their cosmic lawn. Kirk and Spock beam over to the Romulan ship to parlay, where Kirk goes fully barmy and Dr. McCoy is brought over to declare him unfit. Relieved from duty, incensed by these betrayals of Spock and McCoy, Kirk must be put down with the Vulcan Death-Grip.
'Tis all a ruse, however. Spock runs a Honeypot on the Romulan Commander (her lustruous chestnut mane worthy of a Mrs. Robinson in Space), while Kirk is returned to life — and surgically altered to appear Romulan. He beams back aboard the Romulan vessel and absconds with a large table lamp which we are supposed to believe is a cloaking device. While Kirk scampers about the Romulan ship with a lamp tucked under his arm, Spock and the unnamed Romulan commander engage in a spectacularly erotic game of Alien Finger Dancing (let this euphemism take root in the culture). Spock stalls his own execution long enough for Kirk to beam back to the Enterprise, where Scotty is given approximately twenty seconds to figure out and implement unknown technology from a hostile alien race. He succeeds in time for Spock to be transported back to the Enterprise with the Romulan commander clinging to him as their prisoner.
Cloaking device engaged, the Enterprise zigs and zags out of the Neutral Zone with the entire crew chortling as if they just pranked the Dean instead of violating an intergalactic treaty. Dr. McCoy orders Kirk to sickbay to have his "ears bobbed." Spock musters his dignity in the face of another racist round of pointy-eared jokes and contemplates the emotional cost of whoring himself out for the Federation while his captain exits snickering in glee.
***
POSTS IN THIS SERIES: Justice or vengeance? by DAFNA PLEBAN | Kirk teaches his drill thrall to kiss by MARK KINGWELL | "KHAAAAAN!" by NICK ABADZIS | "No kill I" by STEPHEN BURT | Kirk browbeats NOMAD by GREG ROWLAND | Kirk's eulogy for Spock by ZACK HANDLEN | The joke is on Kirk by PEGGY NELSON | Kirk vs. Decker by KEVIN CHURCH | Good Kirk vs. Evil Kirk by ENRIQUE RAMIREZ | Captain Camelot by ADAM MCGOVERN | Koon-ut-kal-if-fee by FLOURISH KLINK | Federation exceptionalism by DAVID SMAY | Wizard fight by AMANDA LAPERGOLA | A million things you can't have by STEVE SCHNEIDER | Debating in a vacuum by JOSHUA GLENN | Klingon diplomacy by KELLY JEAN FITZSIMMONS | "We… the PEOPLE" by TRAV S.D. | Brinksmanship on the brink by MATTHEW BATTLES | Captain Smirk by ANNIE NOCENTI | Sisko meets Kirk by IAN W. HILL | Noninterference policy by GABBY NICASIO | Kirk's countdown by PETER BEBERGAL | Kirk's ghost by MATT GLASER | Watching Kirk vs. Gorn by JOE ALTERIO | How Spock wins by ANNALEE NEWITZ
SCIENCE FICTION ON HILOBROW Peggy Nelson on William Shatner as HiLo Hero | Greg Rowland on Leonard Nimoy as HiLo Hero | Peggy Nelson on William Shatner in Incubus | Matthew Battles on enlarging the Trek fanfic canon | Jack London's The Scarlet Plague, serialized | Rudyard Kipling's With the Night Mail, serialized | Arthur Conan Doyle's The Poison Belt, serialized | H. Rider Haggard's When the World Shook, serialized | Edward Shanks' The People of the Ruins, serialized | William Hope Hodgson's The Night Land, serialized | Radium Age Supermen | Radium Age Robots | Radium Age Apocalypses | Radium Age Telepaths | Radium Age Eco-Catastrophes | Radium Age Cover Art (1) | SF's Best Year Ever: 1912 | Radium Age Science Fiction Poetry | Enter Highbrowism | Bathybius! Primordial ooze in Radium Age sf | War and Peace Games (H.G. Wells's training manuals for supermen) | J.D. Beresford | Algernon Blackwood | Edgar Rice Burroughs | Karel Čapek | Buster Crabbe | August Derleth | Arthur Conan Doyle | Charlotte Perkins Gilman | Cicely Hamilton | Hermann Hesse | William Hope Hodgson | Aldous Huxley | Inez Haynes Irwin | Alfred Jarry | Jack Kirby (Radium Age sf's influence on) | Murray Leinster | Gustave Le Rouge | Gaston Leroux | David Lindsay | Jack London | H.P. Lovecraft | A. Merritt | Maureen O'Sullivan | Sax Rohmer | Paul Scheerbart | Upton Sinclair | Clark Ashton Smith | E.E. "Doc" Smith | Olaf Stapledon | John Taine | H.G. Wells | Jack Williamson | Stanisław Ignacy Witkiewicz | S. Fowler Wright | Philip Gordon Wylie | Yevgeny Zamyatin | AND LOTS MORE
CHECK OUT HILOBOOKS: In 2012-13, HiLobrow is serializing ten overlooked works of science fiction from the genre's (1904-33) Radium Age; and HiLoBooks is publishing them in paperback! Here are the first six titles: Jack London's The Scarlet Plague (in May, Introduction by Matthew Battles; PURCHASE NOW), Rudyard Kipling's With the Night Mail and "As Easy as A.B.C." (in June, Introduction by Matthew De Abaitua and Afterword by Bruce Sterling; PURCHASE NOW), Arthur Conan Doyle's The Poison Belt (in August, Introduction by Joshua Glenn and Afterword by Gordon Dahlquist; PURCHASE NOW), H. Rider Haggard's When the World Shook (in October, Introduction by James Parker; PURCHASE NOW), Edward Shanks' The People of the Ruins (in November, Introduction by Tom Hodgkinson; PURCHASE NOW), and William Hope Hodgson's The Night Land (in April 2013, Afterword by Erik Davis; PURCHASE NOW).