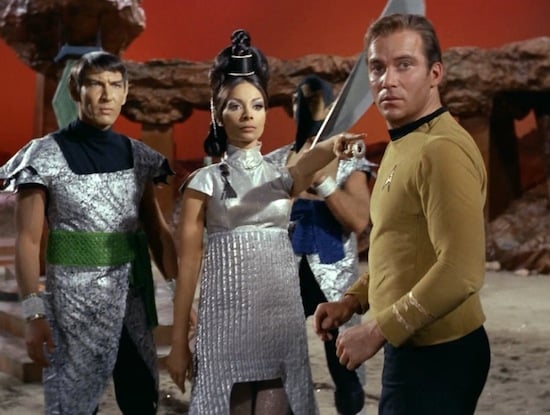 Eleventh in a series of posts, each one analyzing a single Captain Kirk scene from the Star Trek canon.
***
Koon-ut-kal-if-fee | "Amok Time" | Star Trek: The Original Series | Season 2, Episode 1 | September 1967
"Amok Time" is the canonical TOS episode of great slashiness, the place where a million fanfics about Spock's green-spined penis were born — but "Amok Time" isn't really about Spock (that's "Journey to Babel"). It's about Kirk, especially the wedding-slash-fight scene at the end.
Well — not at first. Kirk is remarkably passive when he first gets to Vulcan. Following the Prime Directive? No. Kirk's not an anthropologist (xenologist?), he's an adventurer, and he's not so dedicated to the rules that he wouldn't break them if he were given a reason. He's pleased to meet famous T'Pau, impressed by her, but — like an American meeting a foreign head of state — maybe not impressed enough. He's not quite ready to try and mack on T'Pring, not just because she's his buddy's sort-of wife, but also because she's not in the category of real person to him. She's part of the show. Come to Vulcan, see a koon-ut-kal-if-fee!
You can see from the line of Kirk's spine the moment he changes from spectator to actor. It's when he becomes implicated in what's going on, when he has to face the fact that whether he wants to or not, he's taking part in Spock's culture's weird traditions. Suddenly he's scared and defensive, even though he doesn't yet know that his fight will be to the death. ("That's T'Pau of Vulcan — all of Vulcan in one package. How can I back out in front of her?") He knows that Spock has chosen to identify with his Vulcan heritage, knows further that Spock's own biology is forcing him to do it. How can he betray his friend by refusing to take part? But how can he take part successfully without knowing the culture — or what to do? And how can he agree to take part in a fight which seems ridiculous or even morally reprehensible under his own system of values?
Kirk acquits himself well enough in the end — when he finally fights Spock, he flops and flails and makes sure that his nipples are bled across with maximum artistry. You can almost see the hamster wheel in his head turning — if I act like I'm getting really beaten up, will this stop? He manages to cue Bones to use a neuroparalyzer to get him out of his impossible dilemma and snap Spock back to Federation-approved reality.
It's kind of miraculous. But it doesn't actually make Kirk learn anything. The brief flash of fear we see in him when he's forced to confront a truly foreign culture with foreign values is just that: a brief flash. He's an adventurer, not an anthropologist, and he's on to the next planet with his little posse of fellow humans, with Mr. Spock in tow.
***
POSTS IN THIS SERIES: Justice or vengeance? by DAFNA PLEBAN | Kirk teaches his drill thrall to kiss by MARK KINGWELL | "KHAAAAAN!" by NICK ABADZIS | "No kill I" by STEPHEN BURT | Kirk browbeats NOMAD by GREG ROWLAND | Kirk's eulogy for Spock by ZACK HANDLEN | The joke is on Kirk by PEGGY NELSON | Kirk vs. Decker by KEVIN CHURCH | Good Kirk vs. Evil Kirk by ENRIQUE RAMIREZ | Captain Camelot by ADAM MCGOVERN | Koon-ut-kal-if-fee by FLOURISH KLINK | Federation exceptionalism by DAVID SMAY | Wizard fight by AMANDA LAPERGOLA | A million things you can't have by STEVE SCHNEIDER | Debating in a vacuum by JOSHUA GLENN | Klingon diplomacy by KELLY JEAN FITZSIMMONS | "We… the PEOPLE" by TRAV S.D. | Brinksmanship on the brink by MATTHEW BATTLES | Captain Smirk by ANNIE NOCENTI | Sisko meets Kirk by IAN W. HILL | Noninterference policy by GABBY NICASIO | Kirk's countdown by PETER BEBERGAL | Kirk's ghost by MATT GLASER | Watching Kirk vs. Gorn by JOE ALTERIO | How Spock wins by ANNALEE NEWITZ
SCIENCE FICTION ON HILOBROW Peggy Nelson on William Shatner as HiLo Hero | Greg Rowland on Leonard Nimoy as HiLo Hero | Peggy Nelson on William Shatner in Incubus | Matthew Battles on enlarging the Trek fanfic canon | Jack London's The Scarlet Plague, serialized | Rudyard Kipling's With the Night Mail, serialized | Arthur Conan Doyle's The Poison Belt, serialized | H. Rider Haggard's When the World Shook, serialized | Edward Shanks' The People of the Ruins, serialized | William Hope Hodgson's The Night Land, serialized | Radium Age Supermen | Radium Age Robots | Radium Age Apocalypses | Radium Age Telepaths | Radium Age Eco-Catastrophes | Radium Age Cover Art (1) | SF's Best Year Ever: 1912 | Radium Age Science Fiction Poetry | Enter Highbrowism | Bathybius! Primordial ooze in Radium Age sf | War and Peace Games (H.G. Wells's training manuals for supermen) | J.D. Beresford | Algernon Blackwood | Edgar Rice Burroughs | Karel Čapek | Buster Crabbe | August Derleth | Arthur Conan Doyle | Charlotte Perkins Gilman | Cicely Hamilton | Hermann Hesse | William Hope Hodgson | Aldous Huxley | Inez Haynes Irwin | Alfred Jarry | Jack Kirby (Radium Age sf's influence on) | Murray Leinster | Gustave Le Rouge | Gaston Leroux | David Lindsay | Jack London | H.P. Lovecraft | A. Merritt | Maureen O'Sullivan | Sax Rohmer | Paul Scheerbart | Upton Sinclair | Clark Ashton Smith | E.E. "Doc" Smith | Olaf Stapledon | John Taine | H.G. Wells | Jack Williamson | Stanisław Ignacy Witkiewicz | S. Fowler Wright | Philip Gordon Wylie | Yevgeny Zamyatin | AND LOTS MORE
CHECK OUT HILOBOOKS: In 2012-13, HiLobrow is serializing ten overlooked works of science fiction from the genre's (1904-33) Radium Age; and HiLoBooks is publishing them in paperback! Here are the first six titles: Jack London's The Scarlet Plague (in May, Introduction by Matthew Battles; PURCHASE NOW), Rudyard Kipling's With the Night Mail and "As Easy as A.B.C." (in June, Introduction by Matthew De Abaitua and Afterword by Bruce Sterling; PURCHASE NOW), Arthur Conan Doyle's The Poison Belt (in August, Introduction by Joshua Glenn and Afterword by Gordon Dahlquist; PURCHASE NOW), H. Rider Haggard's When the World Shook (in October, Introduction by James Parker; PURCHASE NOW), Edward Shanks' The People of the Ruins (in November, Introduction by Tom Hodgkinson; PURCHASE NOW), and William Hope Hodgson's The Night Land (in April 2013, Afterword by Erik Davis; PURCHASE NOW).