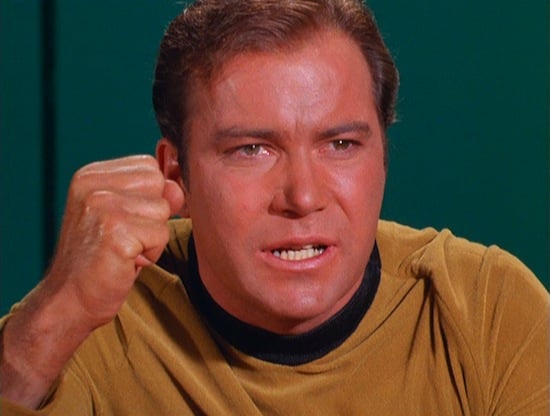 Tenth in a series of posts, each one analyzing a single Captain Kirk scene from the Star Trek canon.
***
Captain Camelot | "Return to Tomorrow" | Star Trek: The Original Series | Season 2, Episode 20 | 1968
There were two things close to a religious figure in my mid-to-post-1960s, lapsed-Catholic & secular-Jewish household: John F. Kennedy and William Shatner. Shatner got his celestial-wiseman status from his role as Captain Kirk; and Kirk got his philosopher-prince status from JFK.
It can't be a coincidence that, soon after America lost its King Arthur, a hero in the heavens with almost his same initials was crossing the galaxy and brokering American-style gunboat peace to other planets. And then there was Kirk's poetic musings; his open, secure acknowledgement of his fallibility; his skirt-chasing bonhomie — and even his windswept haircut.
Kennedy helped integrate America after widening the White House doors for Irish Catholics; Kirk, a Canadian Jew in real life playing an Anglo-Saxon paragon on television, brought a multicultural crew onto primetime (with at least one member, Nichelle Nichols, urged to stay on the show by Martin Luther King). Maybe the only way to bring this equality about in 1966-69 was in fantasy, in some far future, and on some other planet. Kirk took us through the stars toward which Kennedy first pushed us.
Kennedy was a martyr, and Kirk our once-and-future-king figure. Rakishly witty, ready to stare down despots, putting his comrades' safety ahead of his own and governing (sometimes) by his crew's informed consent. These were the qualities we projected onto JFK and JTK, from press conferences to banter with Spock, from P.T. 109 to Klingon torture. And from the president's deliberative style to the cases Kirk would make for his space-federation's daring ventures.
In the "Return to Tomorrow" episode of the original series, Kirk gets several Enterprise officers into a conference room to give an impromptu kitchen-table speech about how risk is the essence and purpose of their voyage. This is delivered after several superior alien intelligences are found in glass globes on a devastated planet, asking to inhabit some crewmembers' brains while the advanced beings — survivors of a once great, too arrogant hi-tech society — build android-body vessels for themselves.
Kirk argues for the moral lessons and scientific leaps this arrangement offers, and the human frontiers it can help the Enterprise cross. For all his posturing at many points in the series, this speech was the essence of an exhortation left echoing in the wake of Kennedy's absence: To leave behind the worlds we know and become not lost but better.
***
POSTS IN THIS SERIES: Justice or vengeance? by DAFNA PLEBAN | Kirk teaches his drill thrall to kiss by MARK KINGWELL | "KHAAAAAN!" by NICK ABADZIS | "No kill I" by STEPHEN BURT | Kirk browbeats NOMAD by GREG ROWLAND | Kirk's eulogy for Spock by ZACK HANDLEN | The joke is on Kirk by PEGGY NELSON | Kirk vs. Decker by KEVIN CHURCH | Good Kirk vs. Evil Kirk by ENRIQUE RAMIREZ | Captain Camelot by ADAM MCGOVERN | Koon-ut-kal-if-fee by FLOURISH KLINK | Federation exceptionalism by DAVID SMAY | Wizard fight by AMANDA LAPERGOLA | A million things you can't have by STEVE SCHNEIDER | Debating in a vacuum by JOSHUA GLENN | Klingon diplomacy by KELLY JEAN FITZSIMMONS | "We… the PEOPLE" by TRAV S.D. | Brinksmanship on the brink by MATTHEW BATTLES | Captain Smirk by ANNIE NOCENTI | Sisko meets Kirk by IAN W. HILL | Noninterference policy by GABBY NICASIO | Kirk's countdown by PETER BEBERGAL | Kirk's ghost by MATT GLASER | Watching Kirk vs. Gorn by JOE ALTERIO | How Spock wins by ANNALEE NEWITZ
SCIENCE FICTION ON HILOBROW Peggy Nelson on William Shatner as HiLo Hero | Greg Rowland on Leonard Nimoy as HiLo Hero | Peggy Nelson on William Shatner in Incubus | Matthew Battles on enlarging the Trek fanfic canon | Jack London's The Scarlet Plague, serialized | Rudyard Kipling's With the Night Mail, serialized | Arthur Conan Doyle's The Poison Belt, serialized | H. Rider Haggard's When the World Shook, serialized | Edward Shanks' The People of the Ruins, serialized | William Hope Hodgson's The Night Land, serialized | Radium Age Supermen | Radium Age Robots | Radium Age Apocalypses | Radium Age Telepaths | Radium Age Eco-Catastrophes | Radium Age Cover Art (1) | SF's Best Year Ever: 1912 | Radium Age Science Fiction Poetry | Enter Highbrowism | Bathybius! Primordial ooze in Radium Age sf | War and Peace Games (H.G. Wells's training manuals for supermen) | J.D. Beresford | Algernon Blackwood | Edgar Rice Burroughs | Karel Čapek | Buster Crabbe | August Derleth | Arthur Conan Doyle | Charlotte Perkins Gilman | Cicely Hamilton | Hermann Hesse | William Hope Hodgson | Aldous Huxley | Inez Haynes Irwin | Alfred Jarry | Jack Kirby (Radium Age sf's influence on) | Murray Leinster | Gustave Le Rouge | Gaston Leroux | David Lindsay | Jack London | H.P. Lovecraft | A. Merritt | Maureen O'Sullivan | Sax Rohmer | Paul Scheerbart | Upton Sinclair | Clark Ashton Smith | E.E. "Doc" Smith | Olaf Stapledon | John Taine | H.G. Wells | Jack Williamson | Stanisław Ignacy Witkiewicz | S. Fowler Wright | Philip Gordon Wylie | Yevgeny Zamyatin | AND LOTS MORE
CHECK OUT HILOBOOKS: In 2012-13, HiLobrow is serializing ten overlooked works of science fiction from the genre's (1904-33) Radium Age; and HiLoBooks is publishing them in paperback! Here are the first six titles: Jack London's The Scarlet Plague (in May, Introduction by Matthew Battles; PURCHASE NOW), Rudyard Kipling's With the Night Mail and "As Easy as A.B.C." (in June, Introduction by Matthew De Abaitua and Afterword by Bruce Sterling; PURCHASE NOW), Arthur Conan Doyle's The Poison Belt (in August, Introduction by Joshua Glenn and Afterword by Gordon Dahlquist; PURCHASE NOW), H. Rider Haggard's When the World Shook (in October, Introduction by James Parker; PURCHASE NOW), Edward Shanks' The People of the Ruins (in November, Introduction by Tom Hodgkinson; PURCHASE NOW), and William Hope Hodgson's The Night Land (in April 2013, Afterword by Erik Davis; PURCHASE NOW).