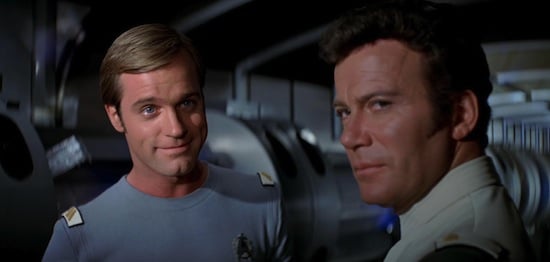 Eighth in a series of posts, each one analyzing a single Captain Kirk scene from the Star Trek canon.
***
Kirk vs. Decker | Star Trek: The Motion Picture | December 1979
The first time we see a familiar face in Star Trek: The Motion Picture, it's Admiral Kirk, stepping off an air-tram into Starfleet Headquarters. He is tense and unhappy; in the two years since the Enterprise returned home, he's become the thing he hated most while in command and out there: a bureaucrat. His brief conversation with his old command's new (Vulcan, because of course) science officer, Sonak, includes one of my favorite lines in the entire Trek canon. "I'm on my way to a meeting with Admiral Nogura which will not last more than three minutes. Report to me on the Enterprise in one hour."
An alien vessel surrounded by a cloud of destructive energy is moving through space towards Earth. Although there are (presumably) plenty of Starfleet ships that do remarkable things, it's only James T. Kirk who can be relied upon to lead a crew to do things that are impossible. After all, he spent five years staring down Greek gods, scuffling with Klingons, and even managed to steal the coveted Romulan cloaking device — what's a giant cloud that shoots balls of lightning to him? It's probably harder for him to get a Space McDonald's to serve breakfast after 11AM than to take down a godlike energy force that devastates everything in its path.
Of course, there is the matter of Will Decker — who was recommended for the Enterprise captaincy by Kirk himself — to deal with. Decker gets a fair amount of slagging from Trek fandom, but he's shown to be competent and a natural leader. The first time we see him in the film, he's helping out in engineering, something Kirk never would do unless there was an attractive new magnetic bottle technician. In the movie's screenplay, it's stated that Kirk sizes up the situation compassionately before being plain-spoken with Decker. On-screen, however, it's almost comedic how eager Kirk is to shut down Decker's hopes and dreams.
KIRK: I'm taking over the center seat, Will.
DECKER: You're what…?
KIRK: I'm replacing you as Captain of the Enterprise. You'll stay on as Executive Officer… a temporary grade reduction to Commander.
DECKER: You personally are assuming command?
KIRK: Yeah.
That little "Yeah" sums up Kirk's position in the matter perfectly. Getting command of the Enterprise may have taken Will Decker an entire career and a lot of ass-kissing, but for Kirk, it was three minutes on a Thursday morning. And now that he's established who's who and what's what, he needs to get back to the business of universe-saving.
This isn't the end of it, of course. Decker wants to know why, exactly, he thinks he can do this sort of thing and there's a conversation that establishes what we already know, but the real crux is when Kirk apologizes for the takeover. Decker snaps back "No, Admiral. I don't think you're sorry. Not one damn bit." Of course he's not. James T. Kirk is supposed to be the captain of the Enterprise. That's just how it is.
***
POSTS IN THIS SERIES: Justice or vengeance? by DAFNA PLEBAN | Kirk teaches his drill thrall to kiss by MARK KINGWELL | "KHAAAAAN!" by NICK ABADZIS | "No kill I" by STEPHEN BURT | Kirk browbeats NOMAD by GREG ROWLAND | Kirk's eulogy for Spock by ZACK HANDLEN | The joke is on Kirk by PEGGY NELSON | Kirk vs. Decker by KEVIN CHURCH | Good Kirk vs. Evil Kirk by ENRIQUE RAMIREZ | Captain Camelot by ADAM MCGOVERN | Koon-ut-kal-if-fee by FLOURISH KLINK | Federation exceptionalism by DAVID SMAY | Wizard fight by AMANDA LAPERGOLA | A million things you can't have by STEVE SCHNEIDER | Debating in a vacuum by JOSHUA GLENN | Klingon diplomacy by KELLY JEAN FITZSIMMONS | "We… the PEOPLE" by TRAV S.D. | Brinksmanship on the brink by MATTHEW BATTLES | Captain Smirk by ANNIE NOCENTI | Sisko meets Kirk by IAN W. HILL | Noninterference policy by GABBY NICASIO | Kirk's countdown by PETER BEBERGAL | Kirk's ghost by MATT GLASER | Watching Kirk vs. Gorn by JOE ALTERIO | How Spock wins by ANNALEE NEWITZ
SCIENCE FICTION ON HILOBROW Peggy Nelson on William Shatner as HiLo Hero | Greg Rowland on Leonard Nimoy as HiLo Hero | Peggy Nelson on William Shatner in Incubus | Matthew Battles on enlarging the Trek fanfic canon | Jack London's The Scarlet Plague, serialized | Rudyard Kipling's With the Night Mail, serialized | Arthur Conan Doyle's The Poison Belt, serialized | H. Rider Haggard's When the World Shook, serialized | Edward Shanks' The People of the Ruins, serialized | William Hope Hodgson's The Night Land, serialized | Radium Age Supermen | Radium Age Robots | Radium Age Apocalypses | Radium Age Telepaths | Radium Age Eco-Catastrophes | Radium Age Cover Art (1) | SF's Best Year Ever: 1912 | Radium Age Science Fiction Poetry | Enter Highbrowism | Bathybius! Primordial ooze in Radium Age sf | War and Peace Games (H.G. Wells's training manuals for supermen) | J.D. Beresford | Algernon Blackwood | Edgar Rice Burroughs | Karel Čapek | Buster Crabbe | August Derleth | Arthur Conan Doyle | Charlotte Perkins Gilman | Cicely Hamilton | Hermann Hesse | William Hope Hodgson | Aldous Huxley | Inez Haynes Irwin | Alfred Jarry | Jack Kirby (Radium Age sf's influence on) | Murray Leinster | Gustave Le Rouge | Gaston Leroux | David Lindsay | Jack London | H.P. Lovecraft | A. Merritt | Maureen O'Sullivan | Sax Rohmer | Paul Scheerbart | Upton Sinclair | Clark Ashton Smith | E.E. "Doc" Smith | Olaf Stapledon | John Taine | H.G. Wells | Jack Williamson | Stanisław Ignacy Witkiewicz | S. Fowler Wright | Philip Gordon Wylie | Yevgeny Zamyatin | AND LOTS MORE
CHECK OUT HILOBOOKS: In 2012-13, HiLobrow is serializing ten overlooked works of science fiction from the genre's (1904-33) Radium Age; and HiLoBooks is publishing them in paperback! Here are the first six titles: Jack London's The Scarlet Plague (in May, Introduction by Matthew Battles; PURCHASE NOW), Rudyard Kipling's With the Night Mail and "As Easy as A.B.C." (in June, Introduction by Matthew De Abaitua and Afterword by Bruce Sterling; PURCHASE NOW), Arthur Conan Doyle's The Poison Belt (in August, Introduction by Joshua Glenn and Afterword by Gordon Dahlquist; PURCHASE NOW), H. Rider Haggard's When the World Shook (in October, Introduction by James Parker; PURCHASE NOW), Edward Shanks' The People of the Ruins (in November, Introduction by Tom Hodgkinson; PURCHASE NOW), and William Hope Hodgson's The Night Land (in April 2013, Afterword by Erik Davis; PURCHASE NOW).