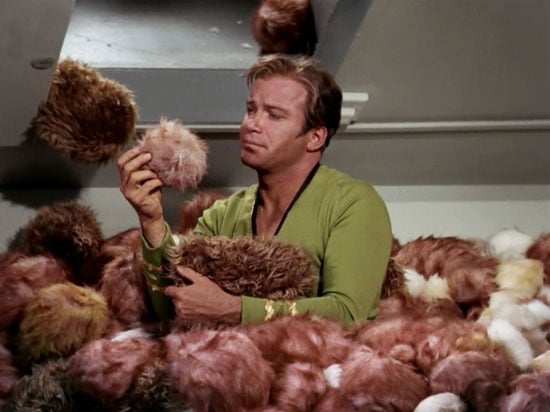 Seventh in a series of posts, each one analyzing a single Captain Kirk scene from the Star Trek canon.
***
The joke is on Kirk | "The Trouble With Tribbles" | Star Trek: The Original Series | Season 2, Episode 15 | December 1967
"The Trouble with Tribbles" begins with Kirk in a state of open exasperation. The Enterprise has been ordered to guard a shipment of the hybrid grain quadrotriticale targeted for a terraforming project. (Terraforming doesn't violate the Prime Directive because it's aimed at pre-colonized planets. In any case, exceptions to non-interference are made.) Kirk has been known to violate the Prime Directive, or indeed any number of directives, when it suits his purposes. This is part of what makes him such an admirable leader; he's only rigidly by-the-book when by-the-book is best; he legislates the law with outsider spirit. But here he's stuck within the letter.
Seeing no plausible reason to go rogue, Kirk must toe the line. But he is careful to only toe; the Enterprise, after all, was built to boldly go. In other words, to hunt, not to gather. Domestic chores like grain husbandry are left behind; what Kirk husbands is his ship.
Kirk flouts the alleged gravity of grain by assigning a minimum guard and allowing his crew shore leave. Uhura, the only female member of the Enterprise C-Suite, beams down to "do some shopping." Immediately, she is lightly conned into acquiring a space-pet, an intergalactic guinea pig known as a tribble. Now tribbles have two major characteristics, the first being major cute, so of course all the girls want one. But the second characteristic is the kicker. Born pregnant, all tribbles need to breed is an adequate supply of food. For example: grain.
The Klingon Empire makes an appearance but is relegated to the status of subplot, about which the space-villains are clearly unhappy. Federation and Klingon crews provoke cafeteria fistfights, resulting in on-board detentions. Meanwhile, tribbles are massively multiplying, occupying every surface of station and ship, including the Captain's Chair.
That, for Kirk, is the final frontier.
Every adventurer needs his comic relief. Usually laughs come at the expense of First Straightman Spock, with McCoy and Scotty rounding out the ensemble ribbing. After a long, strenuous episode, there's nothing better than kicking back on the bridge and taking a few intuitive jabs at logic. Rare is the occasion when Kirk is the target of teasing himself. Kirk has a certain way with the ladies, as female humanoids across the galaxy will agree; but he has no intention of sharing the Chair.
Finally connecting the dots of food, sex and satire, Kirk beams back to the station and opens the overhead grain compartments, only to find that the contents have shifted. Out surges an avalanche of tribbles; I'm sure that when he imagines immersion in female fur, this is not exactly what our Captain has in mind.
The Tribbles have infested the grain and have multiplied at an amazing rate. They're also dying, because the Klingons have indeed sabotaged the shipment. Our Captain is buried up to his neck in the realization that he was wrong. The joke is — for once — on him. Literally.
***
POSTS IN THIS SERIES: Justice or vengeance? by DAFNA PLEBAN | Kirk teaches his drill thrall to kiss by MARK KINGWELL | "KHAAAAAN!" by NICK ABADZIS | "No kill I" by STEPHEN BURT | Kirk browbeats NOMAD by GREG ROWLAND | Kirk's eulogy for Spock by ZACK HANDLEN | The joke is on Kirk by PEGGY NELSON | Kirk vs. Decker by KEVIN CHURCH | Good Kirk vs. Evil Kirk by ENRIQUE RAMIREZ | Captain Camelot by ADAM MCGOVERN | Koon-ut-kal-if-fee by FLOURISH KLINK | Federation exceptionalism by DAVID SMAY | Wizard fight by AMANDA LAPERGOLA | A million things you can't have by STEVE SCHNEIDER | Debating in a vacuum by JOSHUA GLENN | Klingon diplomacy by KELLY JEAN FITZSIMMONS | "We… the PEOPLE" by TRAV S.D. | Brinksmanship on the brink by MATTHEW BATTLES | Captain Smirk by ANNIE NOCENTI | Sisko meets Kirk by IAN W. HILL | Noninterference policy by GABBY NICASIO | Kirk's countdown by PETER BEBERGAL | Kirk's ghost by MATT GLASER | Watching Kirk vs. Gorn by JOE ALTERIO | How Spock wins by ANNALEE NEWITZ
SCIENCE FICTION ON HILOBROW Peggy Nelson on William Shatner as HiLo Hero | Greg Rowland on Leonard Nimoy as HiLo Hero | Peggy Nelson on William Shatner in Incubus | Matthew Battles on enlarging the Trek fanfic canon | Jack London's The Scarlet Plague, serialized | Rudyard Kipling's With the Night Mail, serialized | Arthur Conan Doyle's The Poison Belt, serialized | H. Rider Haggard's When the World Shook, serialized | Edward Shanks' The People of the Ruins, serialized | William Hope Hodgson's The Night Land, serialized | Radium Age Supermen | Radium Age Robots | Radium Age Apocalypses | Radium Age Telepaths | Radium Age Eco-Catastrophes | Radium Age Cover Art (1) | SF's Best Year Ever: 1912 | Radium Age Science Fiction Poetry | Enter Highbrowism | Bathybius! Primordial ooze in Radium Age sf | War and Peace Games (H.G. Wells's training manuals for supermen) | J.D. Beresford | Algernon Blackwood | Edgar Rice Burroughs | Karel Čapek | Buster Crabbe | August Derleth | Arthur Conan Doyle | Charlotte Perkins Gilman | Cicely Hamilton | Hermann Hesse | William Hope Hodgson | Aldous Huxley | Inez Haynes Irwin | Alfred Jarry | Jack Kirby (Radium Age sf's influence on) | Murray Leinster | Gustave Le Rouge | Gaston Leroux | David Lindsay | Jack London | H.P. Lovecraft | A. Merritt | Maureen O'Sullivan | Sax Rohmer | Paul Scheerbart | Upton Sinclair | Clark Ashton Smith | E.E. "Doc" Smith | Olaf Stapledon | John Taine | H.G. Wells | Jack Williamson | Stanisław Ignacy Witkiewicz | S. Fowler Wright | Philip Gordon Wylie | Yevgeny Zamyatin | AND LOTS MORE
CHECK OUT HILOBOOKS: In 2012-13, HiLobrow is serializing ten overlooked works of science fiction from the genre's (1904-33) Radium Age; and HiLoBooks is publishing them in paperback! Here are the first six titles: Jack London's The Scarlet Plague (in May, Introduction by Matthew Battles; PURCHASE NOW), Rudyard Kipling's With the Night Mail and "As Easy as A.B.C." (in June, Introduction by Matthew De Abaitua and Afterword by Bruce Sterling; PURCHASE NOW), Arthur Conan Doyle's The Poison Belt (in August, Introduction by Joshua Glenn and Afterword by Gordon Dahlquist; PURCHASE NOW), H. Rider Haggard's When the World Shook (in October, Introduction by James Parker; PURCHASE NOW), Edward Shanks' The People of the Ruins (in November, Introduction by Tom Hodgkinson; PURCHASE NOW), and William Hope Hodgson's The Night Land (in April 2013, Afterword by Erik Davis; PURCHASE NOW).