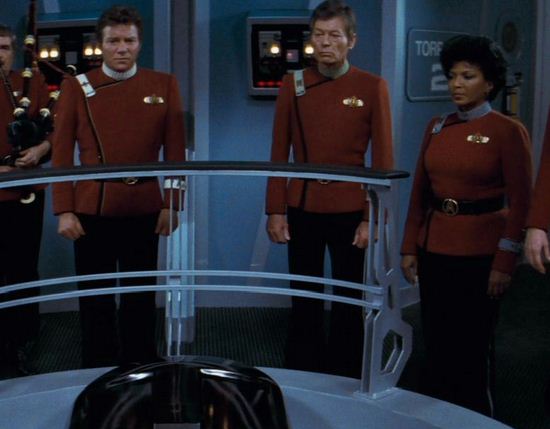 Sixth in a series of posts, each one analyzing a single Captain Kirk scene from the Star Trek canon.
***
Kirk's eulogy for Spock | Star Trek II: The Wrath of Khan | June 1982
The thing about getting older is, if you live long enough, eventually everyone you love will die. Star Trek II: The Wrath Of Khan is about a number of things, but mostly it's about getting old, and losing, and death, seen through the eyes of one James T. Kirk. These are heavy themes, and Kirk goes through a lot in the movie, running into old enemies, taking charge of the Enterprise again, and losing his closest friend. Forget, for a second, that the Star Trek franchise undid Spock's sacrifice in its next film; forget that Spock ended up outliving every other major character from the original series. In context, the Vulcan's death is devastating, and how Kirk responds to that devastation is one of his defining moments.
The funeral comes after the climax of the film, a battle in the Mutara Nebula in which Khan is finally defeated, destroying himself and his ship in one last attempt at revenge. Khan was homicidal, cunning, and insane; Kirk is the same man he's always been, able to think around corners, cheat if he has to, and do whatever it takes to come out the other side. That's why he's a hero. But while he's been running around saving the day, he's also had to struggle against his own mortality, needing glasses to read, suffering from depression, and meeting the adult son he never knew he had. Kirk's always been able to make decisions in the heat of battle, but to know there's a conflict coming that he can't win has to be hard. And then he has to face that conflict, standing on the other side of the glass as Spock rots before his eyes. He does the only thing he can do: stare helplessly and wait for the end.
It isn't until the eulogy that we get a sense of how Kirk will move on. He's reserved through the short speech, betraying little emotion; given the man's usual generosity of expression, that stillness speaks volumes. It's a gesture of respect. Spock's stoicism was his chief point of pride, and it's only fitting that his mourners should demonstrate the same restraint. But there's also an emotion too strong to be casually expressed. You hear it when Kirk's voice breaks, just for a moment. That break is more powerful than keening. Then there's his conclusion: "Of all the souls I have encountered in my travels, his was the most human." The remark at first appears insensitive: Spock spent his life trying to live up to his Vulcan heritage, and to draw attention to his humanity seems to do him a disservice. But Kirk isn't trying to diminish his friend. Spock is gone, but the ideals he stood for are worth aspiring to. He was the best humanity can hope to achieve, with patience, wisdom, and sacrifice. So Kirk takes this, and does what he does best: he finds a reason to keep living.
***
POSTS IN THIS SERIES: Justice or vengeance? by DAFNA PLEBAN | Kirk teaches his drill thrall to kiss by MARK KINGWELL | "KHAAAAAN!" by NICK ABADZIS | "No kill I" by STEPHEN BURT | Kirk browbeats NOMAD by GREG ROWLAND | Kirk's eulogy for Spock by ZACK HANDLEN | The joke is on Kirk by PEGGY NELSON | Kirk vs. Decker by KEVIN CHURCH | Good Kirk vs. Evil Kirk by ENRIQUE RAMIREZ | Captain Camelot by ADAM MCGOVERN | Koon-ut-kal-if-fee by FLOURISH KLINK | Federation exceptionalism by DAVID SMAY | Wizard fight by AMANDA LAPERGOLA | A million things you can't have by STEVE SCHNEIDER | Debating in a vacuum by JOSHUA GLENN | Klingon diplomacy by KELLY JEAN FITZSIMMONS | "We… the PEOPLE" by TRAV S.D. | Brinksmanship on the brink by MATTHEW BATTLES | Captain Smirk by ANNIE NOCENTI | Sisko meets Kirk by IAN W. HILL | Noninterference policy by GABBY NICASIO | Kirk's countdown by PETER BEBERGAL | Kirk's ghost by MATT GLASER | Watching Kirk vs. Gorn by JOE ALTERIO | How Spock wins by ANNALEE NEWITZ
SCIENCE FICTION ON HILOBROW Peggy Nelson on William Shatner as HiLo Hero | Greg Rowland on Leonard Nimoy as HiLo Hero | Peggy Nelson on William Shatner in Incubus | Matthew Battles on enlarging the Trek fanfic canon | Jack London's The Scarlet Plague, serialized | Rudyard Kipling's With the Night Mail, serialized | Arthur Conan Doyle's The Poison Belt, serialized | H. Rider Haggard's When the World Shook, serialized | Edward Shanks' The People of the Ruins, serialized | William Hope Hodgson's The Night Land, serialized | Radium Age Supermen | Radium Age Robots | Radium Age Apocalypses | Radium Age Telepaths | Radium Age Eco-Catastrophes | Radium Age Cover Art (1) | SF's Best Year Ever: 1912 | Radium Age Science Fiction Poetry | Enter Highbrowism | Bathybius! Primordial ooze in Radium Age sf | War and Peace Games (H.G. Wells's training manuals for supermen) | J.D. Beresford | Algernon Blackwood | Edgar Rice Burroughs | Karel Čapek | Buster Crabbe | August Derleth | Arthur Conan Doyle | Charlotte Perkins Gilman | Cicely Hamilton | Hermann Hesse | William Hope Hodgson | Aldous Huxley | Inez Haynes Irwin | Alfred Jarry | Jack Kirby (Radium Age sf's influence on) | Murray Leinster | Gustave Le Rouge | Gaston Leroux | David Lindsay | Jack London | H.P. Lovecraft | A. Merritt | Maureen O'Sullivan | Sax Rohmer | Paul Scheerbart | Upton Sinclair | Clark Ashton Smith | E.E. "Doc" Smith | Olaf Stapledon | John Taine | H.G. Wells | Jack Williamson | Stanisław Ignacy Witkiewicz | S. Fowler Wright | Philip Gordon Wylie | Yevgeny Zamyatin | AND LOTS MORE
CHECK OUT HILOBOOKS: In 2012-13, HiLobrow is serializing ten overlooked works of science fiction from the genre's (1904-33) Radium Age; and HiLoBooks is publishing them in paperback! Here are the first six titles: Jack London's The Scarlet Plague (in May, Introduction by Matthew Battles; PURCHASE NOW), Rudyard Kipling's With the Night Mail and "As Easy as A.B.C." (in June, Introduction by Matthew De Abaitua and Afterword by Bruce Sterling; PURCHASE NOW), Arthur Conan Doyle's The Poison Belt (in August, Introduction by Joshua Glenn and Afterword by Gordon Dahlquist; PURCHASE NOW), H. Rider Haggard's When the World Shook (in October, Introduction by James Parker; PURCHASE NOW), Edward Shanks' The People of the Ruins (in November, Introduction by Tom Hodgkinson; PURCHASE NOW), and William Hope Hodgson's The Night Land (in April 2013, Afterword by Erik Davis; PURCHASE NOW).