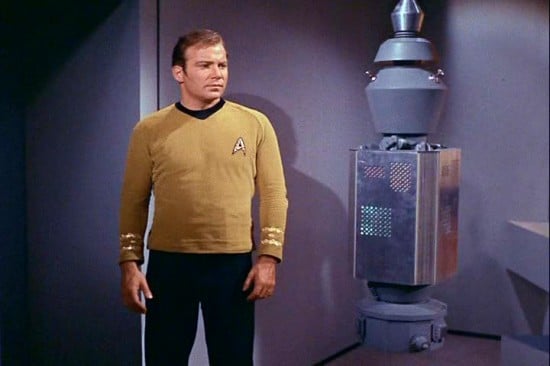 Fifth in a series of posts, each one analyzing a single Captain Kirk scene from the Star Trek canon.
***
Kirk browbeats NOMAD | "The Changeling" | Star Trek: The Original Series | Season 2, Episode 3 | September 1967
Many of us have attempted to befuddle or incriminate a 21st-century computer's AI algorithms. Perhaps you, like me, have convinced your Apple Siri that it is, say, a zealously ambitious Sub-Lieutenant in the Gestapo. (It is perhaps less likely, though, that you too plan to instruct Siri to Google "The Nuremberg Trials" immediately prior to upgrading your phone.) Amidst all this fun and frolic it's important for us to remember the greatest Computer Admonisher of them all: Captain Kirk, he who pioneered the art of Totally Befuddling Sentient Mechanisms.
Whereas you or I might take casual pleasure in aligning our hand-held computing devices with the worst atrocities of the 20th Century, Kirk confused and demoralised overweening Byte-Quadrophenic Entities with bravery, wit, and a Demi-Reasoned Desilusion as joyful as it is wilfully arbitrary and paradoxical. Kirk is a man for all parsecs, and I reach the episode "The Changeling" as my favourite study. Jim, if I may be so bold, plays many roles here, enabling him to become the Meta-Human Mutate Thinkbox Slap-Admin seen in the episode's denouement. Primarily, he is the trusting host, beaming aboard the Enterprise a highly sensitive "Space" Probe designated NOMAD who had just bombarded the ship with a Space Ray equivalent to 90 photon torpedoes. NOMAD's subsequent behaviour does not entirely warrant Kirk's initial graciousness.
Once an innocent Earth probe, NOMAD has not been quite the same since its encounter with The Other — a malfunctioning agricultural drone, not some Lacanian cosmic obscenity. This traumatic intermingling of algorithms sent NOMAD on a mission to destroy all biological life-forms, owing to their perceived imperfection. It also left NOMAD with intimacy issues. He — temporarily — kills Scotty because, in NOMAD's words, he "tried to touch my screens." Most importantly, NOMAD's presence stokes up Kirk's ever-ready Polyphonic Self. Our beloved Captain, owing to a Drydenesque comedy of identity, instantly adapts to the role of The Creator when Nomad identifies him as his actual inventor, one Jackson Roykirk — a name which, by the way, segues HiLobrow's two "Enthusiasm" series: Jack "King" (roi) Kirby and James Kirk.
As a matter of life-preserving necessity, over the course of the episode Kirk adopts the role of protector, warrior, diplomat, actor, lawyer, gentile, God, Jewish mother, and rabbi. ("My son… the Doctor" is the Captain's not entirely goyish elegy for the space probe that resurrected Scotty like The Very Lazarus himself.)
Thus "The Changeling" warrants detailed study as a prime example of Kirk's effortless polymorphosity — a process crowned by his talking the probe into a self-destructive spiral of neurosis with a judicial tornado of accusations with regard to his failure as a perfect eradicating sentient entity. Kirk does this so well that your correspondent began to question his own self-worth, in an increasingly high-pitched and hysterical manner, before recalling that he is not a perfect eradicating sentient entity. Phew!
One day we all may have to give our electronic helpers a smack-down — whether it's our phone, computer, TV, or toaster — or else face sudden and unpleasant death. Kirk reminds us that even the most ardent critic of Liberal Humanism must agree that the spirit of humankind cannot be reduced to a set of binaries, to a simple code of on and off switches. Kirk, the Analogue PolyMan who stretches his essence out towards eternity, knows that the human revolution will not be digitised.
***
POSTS IN THIS SERIES: Justice or vengeance? by DAFNA PLEBAN | Kirk teaches his drill thrall to kiss by MARK KINGWELL | "KHAAAAAN!" by NICK ABADZIS | "No kill I" by STEPHEN BURT | Kirk browbeats NOMAD by GREG ROWLAND | Kirk's eulogy for Spock by ZACK HANDLEN | The joke is on Kirk by PEGGY NELSON | Kirk vs. Decker by KEVIN CHURCH | Good Kirk vs. Evil Kirk by ENRIQUE RAMIREZ | Captain Camelot by ADAM MCGOVERN | Koon-ut-kal-if-fee by FLOURISH KLINK | Federation exceptionalism by DAVID SMAY | Wizard fight by AMANDA LAPERGOLA | A million things you can't have by STEVE SCHNEIDER | Debating in a vacuum by JOSHUA GLENN | Klingon diplomacy by KELLY JEAN FITZSIMMONS | "We… the PEOPLE" by TRAV S.D. | Brinksmanship on the brink by MATTHEW BATTLES | Captain Smirk by ANNIE NOCENTI | Sisko meets Kirk by IAN W. HILL | Noninterference policy by GABBY NICASIO | Kirk's countdown by PETER BEBERGAL | Kirk's ghost by MATT GLASER | Watching Kirk vs. Gorn by JOE ALTERIO | How Spock wins by ANNALEE NEWITZ
SCIENCE FICTION ON HILOBROW Peggy Nelson on William Shatner as HiLo Hero | Greg Rowland on Leonard Nimoy as HiLo Hero | Peggy Nelson on William Shatner in Incubus | Matthew Battles on enlarging the Trek fanfic canon | Jack London's The Scarlet Plague, serialized | Rudyard Kipling's With the Night Mail, serialized | Arthur Conan Doyle's The Poison Belt, serialized | H. Rider Haggard's When the World Shook, serialized | Edward Shanks' The People of the Ruins, serialized | William Hope Hodgson's The Night Land, serialized | Radium Age Supermen | Radium Age Robots | Radium Age Apocalypses | Radium Age Telepaths | Radium Age Eco-Catastrophes | Radium Age Cover Art (1) | SF's Best Year Ever: 1912 | Radium Age Science Fiction Poetry | Enter Highbrowism | Bathybius! Primordial ooze in Radium Age sf | War and Peace Games (H.G. Wells's training manuals for supermen) | J.D. Beresford | Algernon Blackwood | Edgar Rice Burroughs | Karel Čapek | Buster Crabbe | August Derleth | Arthur Conan Doyle | Charlotte Perkins Gilman | Cicely Hamilton | Hermann Hesse | William Hope Hodgson | Aldous Huxley | Inez Haynes Irwin | Alfred Jarry | Jack Kirby (Radium Age sf's influence on) | Murray Leinster | Gustave Le Rouge | Gaston Leroux | David Lindsay | Jack London | H.P. Lovecraft | A. Merritt | Maureen O'Sullivan | Sax Rohmer | Paul Scheerbart | Upton Sinclair | Clark Ashton Smith | E.E. "Doc" Smith | Olaf Stapledon | John Taine | H.G. Wells | Jack Williamson | Stanisław Ignacy Witkiewicz | S. Fowler Wright | Philip Gordon Wylie | Yevgeny Zamyatin | AND LOTS MORE
CHECK OUT HILOBOOKS: In 2012-13, HiLobrow is serializing ten overlooked works of science fiction from the genre's (1904-33) Radium Age; and HiLoBooks is publishing them in paperback! Here are the first six titles: Jack London's The Scarlet Plague (in May, Introduction by Matthew Battles; PURCHASE NOW), Rudyard Kipling's With the Night Mail and "As Easy as A.B.C." (in June, Introduction by Matthew De Abaitua and Afterword by Bruce Sterling; PURCHASE NOW), Arthur Conan Doyle's The Poison Belt (in August, Introduction by Joshua Glenn and Afterword by Gordon Dahlquist; PURCHASE NOW), H. Rider Haggard's When the World Shook (in October, Introduction by James Parker; PURCHASE NOW), Edward Shanks' The People of the Ruins (in November, Introduction by Tom Hodgkinson; PURCHASE NOW), and William Hope Hodgson's The Night Land (in April 2013, Afterword by Erik Davis; PURCHASE NOW).