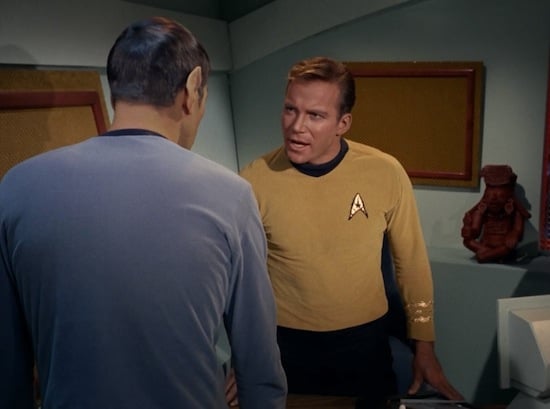 First in a series of posts, each one analyzing a single Captain Kirk scene from the Star Trek canon.
***
Justice or vengeance? | "The Conscience of the King" | Star Trek: The Original Series | Season 1, Episode 13 | December 1966
Alone in his quarters, in "The Conscience of the King," Kirk sits — literally – in judgment on the itinerant Shakespearean actor Karidian, who may or may not be Kodos "the Executioner," a colony governor responsible for the massacre of thousands, including members of Kirk's family, on the planet Tarsus IV two decades earlier. As a victim of Kodos' crime, Kirk wants revenge. But as a Starfleet captain, Kirk cannot act unless he is certain that Karidian is indeed Kodos — and there is no way to know that for sure.
When Spock and McCoy arrive, the scene's blocking and design speak volumes. Normally, Spock and McCoy serve as Kirk's moral sounding board, on the bridge — but strongly tempted to make this judgment alone, he has retreated to his cabin. There is a certain physical separation in the scene which mirrors Kirk's emotional separation. Kirk wears command yellow, and his desk and wall art share that palette; McCoy and Spock wear subordinate blue, and the lighting around them is blue as well. Hell, there is even a red line (formed by a screen) between him and them. Kirk has backed himself into a corner — again, literally. His role as captain demands that he rise above personal pettiness; but without the raised dais of his bridge command chair, he looks small — he is human, all too human.
With McCoy holding position on Kirk's left, Spock rounds Kirk's desk and takes up his usual position at Kirk's right hand. His friends have surrounded him, in a manner both confrontational and supportive, and the petty Kirk lashes out. He pulls rank on Spock ("Aren't you getting a little out of line?"), cuts off McCoy. But he's out of his chair, now — no longer petty, no longer sitting in lonely judgment. Once on equal footing with Spock and McCoy, his anger subsides. McCoy asks him, "Are you sure it's not vengeance?" and Kirk's voice is no longer peremptory as he answers: "No, I'm not sure. I wish I was."
Here is the crux of the scene, and of the episode. A leader is supposed to be a "man of decision" (as Karidian — who, as Kodos, ordered thousands of colonists executed in a wrong-headed effort to avert the starvation of the entire colony, will claim), yet Kirk is indecisive. The suspiciousness of the timing between Kodos' disappearance and Karidian's appearance, not to mention the fact that everyone surviving witness to Kodos' crime has died in mysterious circumstances when Karidian's troupe was in the area, may be enough for Spock and everyone else. But it's not enough for Kirk — not if it means condemning a man to death. This is where the differences between Kodos and Kirk ultimately lie: in Kirk's willingness to acknowledge that he might be wrong, and in his belief that one must be absolutely certain before ending the life of another human being.
Kodos, a leader who lacked these qualities, was a monster. Kirk, however, is a man.
***
POSTS IN THIS SERIES: Justice or vengeance? by DAFNA PLEBAN | Kirk teaches his drill thrall to kiss by MARK KINGWELL | "KHAAAAAN!" by NICK ABADZIS | "No kill I" by STEPHEN BURT | Kirk browbeats NOMAD by GREG ROWLAND | Kirk's eulogy for Spock by ZACK HANDLEN | The joke is on Kirk by PEGGY NELSON | Kirk vs. Decker by KEVIN CHURCH | Good Kirk vs. Evil Kirk by ENRIQUE RAMIREZ | Captain Camelot by ADAM MCGOVERN | Koon-ut-kal-if-fee by FLOURISH KLINK | Federation exceptionalism by DAVID SMAY | Wizard fight by AMANDA LAPERGOLA | A million things you can't have by STEVE SCHNEIDER | Debating in a vacuum by JOSHUA GLENN | Klingon diplomacy by KELLY JEAN FITZSIMMONS | "We… the PEOPLE" by TRAV S.D. | Brinksmanship on the brink by MATTHEW BATTLES | Captain Smirk by ANNIE NOCENTI | Sisko meets Kirk by IAN W. HILL | Noninterference policy by GABBY NICASIO | Kirk's countdown by PETER BEBERGAL | Kirk's ghost by MATT GLASER | Watching Kirk vs. Gorn by JOE ALTERIO | How Spock wins by ANNALEE NEWITZ
SCIENCE FICTION ON HILOBROW Peggy Nelson on William Shatner as HiLo Hero | Greg Rowland on Leonard Nimoy as HiLo Hero | Peggy Nelson on William Shatner in Incubus | Matthew Battles on enlarging the Trek fanfic canon | Jack London's The Scarlet Plague, serialized | Rudyard Kipling's With the Night Mail, serialized | Arthur Conan Doyle's The Poison Belt, serialized | H. Rider Haggard's When the World Shook, serialized | Edward Shanks' The People of the Ruins, serialized | William Hope Hodgson's The Night Land, serialized | Radium Age Supermen | Radium Age Robots | Radium Age Apocalypses | Radium Age Telepaths | Radium Age Eco-Catastrophes | Radium Age Cover Art (1) | SF's Best Year Ever: 1912 | Radium Age Science Fiction Poetry | Enter Highbrowism | Bathybius! Primordial ooze in Radium Age sf | War and Peace Games (H.G. Wells's training manuals for supermen) | J.D. Beresford | Algernon Blackwood | Edgar Rice Burroughs | Karel Čapek | Buster Crabbe | August Derleth | Arthur Conan Doyle | Charlotte Perkins Gilman | Cicely Hamilton | Hermann Hesse | William Hope Hodgson | Aldous Huxley | Inez Haynes Irwin | Alfred Jarry | Jack Kirby (Radium Age sf's influence on) | Murray Leinster | Gustave Le Rouge | Gaston Leroux | David Lindsay | Jack London | H.P. Lovecraft | A. Merritt | Maureen O'Sullivan | Sax Rohmer | Paul Scheerbart | Upton Sinclair | Clark Ashton Smith | E.E. "Doc" Smith | Olaf Stapledon | John Taine | H.G. Wells | Jack Williamson | Stanisław Ignacy Witkiewicz | S. Fowler Wright | Philip Gordon Wylie | Yevgeny Zamyatin | AND LOTS MORE
CHECK OUT HILOBOOKS: In 2012-13, HiLobrow is serializing ten overlooked works of science fiction from the genre's (1904-33) Radium Age; and HiLoBooks is publishing them in paperback! Here are the first six titles: Jack London's The Scarlet Plague (in May, Introduction by Matthew Battles; PURCHASE NOW), Rudyard Kipling's With the Night Mail and "As Easy as A.B.C." (in June, Introduction by Matthew De Abaitua and Afterword by Bruce Sterling; PURCHASE NOW), Arthur Conan Doyle's The Poison Belt (in August, Introduction by Joshua Glenn and Afterword by Gordon Dahlquist; PURCHASE NOW), H. Rider Haggard's When the World Shook (in October, Introduction by James Parker; PURCHASE NOW), Edward Shanks' The People of the Ruins (in November, Introduction by Tom Hodgkinson; PURCHASE NOW), and William Hope Hodgson's The Night Land (in April 2013, Afterword by Erik Davis; PURCHASE NOW).