U is for Unemployment
Posted by: Joshua Glenn In:
A series of 26 posts featuring excerpts from Joshua Glenn's The Idler's Glossary (Biblioasis, 2008) and The Wage Slave's Glossary (Biblioasis, 2011). Both books were coauthored by Mark Kingwell, who contributed entertaining philosophical-critical essays on the subjects of idling and wage slavery; and both were wittily illustrated and designed by the cartoonist Seth.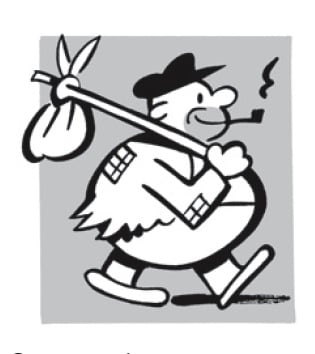 UNEMPLOYMENT
A permanent level of unemployment, such as exists in every western society, presupposes a population which is to a large extent dependent on a wage or salary for a living; and it presupposes the right of businesses to hire and fire employees in accordance with commercial or economic conditions. Prior to the capitalist era, except in the case of natural disasters and wars, unemployment on a large scale rarely existed.
***
ALSO: Alienation | Big Rock Candy Mountains | Corporation | Dawdle | Employee of the Month | Flazy | Greybearding | Hobo | Inemuri | Jack of All Trades | Knock Off Work | Lazy | Micawberish | Nobbing It | Onboarding | Pink Slip | Quitter | Robot | Stakhanovite | Time and Motion Study | Volupté | Wage Slavery | Xerox Subsidy | Yakuza | Zero Drag