Philip Gordon Wylie
Posted by: Joshua Glenn In: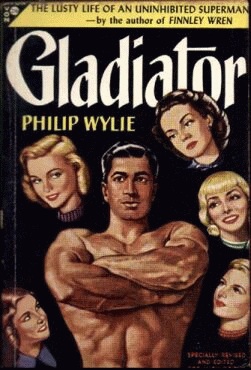 The splenetic, prolific writer PHILIP GORDON WYLIE (1902-71) studied science, mathematics, and psychology in an effort to understand why 20th-century humankind was so narrow-minded, hypocritical, conventional, and — as a result — mediocre. In the Twenties, he was a spokesman for the sexually liberated "now" generation; in the Thirties, he wrote the screenplay for the Buster Crabbe vehicle King of the Jungle; in the Forties, he was an adviser to the chairman of the Joint Congressional Committee for Atomic Energy; in the Fifties, his magazine writing popularized orchid cultivation and sport fishing. (All of which demonstrates that idlers — Wylie's 1933 Harper's essay, "The Quitter as Hero," champions "liquidity" over stick-to-it-iveness — aren't lazy.) I'm particularly interested in Wylie's influence on science fiction's "superman" meme, via his 1930 novel Gladiator, in which a super-strong, invulnerable man builds a fortress of solitude, adopts a secret identity, and vows to aid humankind (before despairing of flawed mortals), and via his even more pessimistic superman novel, The Savage Gentleman (1932). He is best known today, however, for his 1933 novel When Worlds Collide (written with Edwin Balmer), in which scientists rescue a group of men and women, and bear witness to the collapse of civilization, just before the Earth is destroyed; and for the 1942 nonfiction bestseller Generation of Vipers, which lambastes politicians, professors, businessmen, preachers, and — in a chapter for which he will never be forgiven, though this reader suspects that Wylie was a proto-feminist outraged by the debased condition of American women — what he called the unhealthy cult of "Momism."
***
On his or her birthday, HiLobrow irregularly pays tribute to one of our high-, low-, no-, or hilobrow heroes. Also born this date: Tony Hancock, Joseph Beuys, Ian Dury, Edward Lear, Katharine Hepburn, George Carlin.
READ MORE about members of the Hardboiled (1894-1903) Generation.
MORE RADIUM AGE SCI FI ON HILOBROW: HiLoBooks homepage! | What is Radium Age science fiction? |Radium Age 100: 100 Best Science Fiction Novels from 1904–33 | Radium Age 100: the series | Radium Age Supermen | Radium Age Robots | Radium Age Apocalypses | Radium Age Telepaths | Radium Age Eco-Catastrophes | Radium Age Cover Art (1) | SF's Best Year Ever: 1912 | Radium Age Science Fiction Poetry | Enter Highbrowism | Bathybius! Primordial ooze in Radium Age sf | War and Peace Games (H.G. Wells's training manuals for supermen) | Radium Age: Context series | J.D. Beresford | Algernon Blackwood | Edgar Rice Burroughs | Karel Čapek | Buster Crabbe | August Derleth | Arthur Conan Doyle | Hugo Gernsback | Charlotte Perkins Gilman | Cicely Hamilton | Hermann Hesse | William Hope Hodgson | Aldous Huxley | Inez Haynes Irwin | Alfred Jarry | Jack Kirby (Radium Age sf's influence on) | Murray Leinster | Gustave Le Rouge | Gaston Leroux | David Lindsay | Jack London | H.P. Lovecraft | A. Merritt | Maureen O'Sullivan | Sax Rohmer | Paul Scheerbart | Upton Sinclair | Clark Ashton Smith | E.E. "Doc" Smith | Olaf Stapledon | John Taine | H.G. Wells | Jack Williamson | Stanisław Ignacy Witkiewicz | S. Fowler Wright | Philip Gordon Wylie | Yevgeny Zamyatin