Josh Glenn at SXSW
By: HILOBROW
March 10, 2012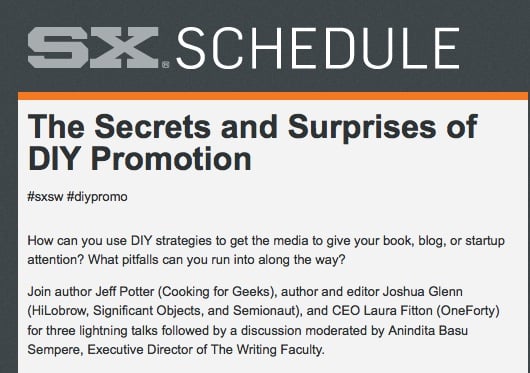 HiLobrow's Josh Glenn is on a panel — "The Secrets and Surprises of DIY Promotion" — at the South By Southwest Interactive festival, today at 3:30 pm. Here's the idea:
How can you use DIY strategies to get the media to give your book, blog, or startup attention? What pitfalls can you run into along the way?

Join author Jeff Potter (Cooking for Geeks), author and editor Joshua Glenn (HiLobrow, Significant Objects, and Semionaut), and CEO Laura Fitton (OneForty) for three lightning talks followed by a discussion moderated by Anindita Basu Sempere, Executive Director of The Writing Faculty.

The lightning talks will cover each of our experiences of what we found worked and didn't work in our journeys through the media and into the public eye. In the panel we'll discuss similarities and differences between our projects and approaches, exploring the "meta rules" that apply across the board to help you understand what you might encounter when promoting your project.

We'll cover what surprised us, what mattered more than we realized, and what you can do to be better prepared for managing exposure of your projects and work.
Here's the panel's webpage. Josh and the others will be in the Hilton Austin Downtown, Salon B.
Here's a sneak preview of Josh's lightning talk, published recently by HiLobrow: "Schmoozitsu."
Here's our handout: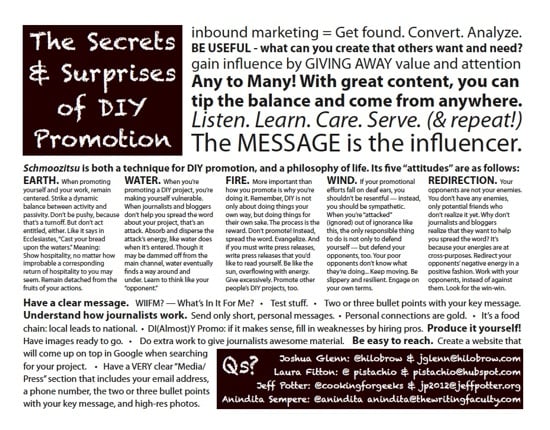 And finally, here's some bonus panelist info: the very smart and talented Jeff and Anindita are contributors to Josh's forthcoming book, Unbored: The Essential Field Guide to Serious Fun (Bloomsbury, October 15).
Hashtag: #diypromo (and #schmoozitsu)
Drop by!