Death Boogie
By: Adam McGovern
February 10, 2012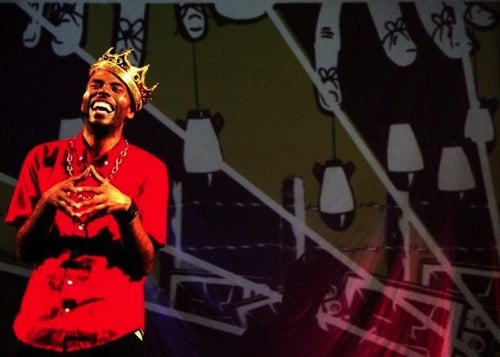 It turned out the revolution wasn't televised, but the people led and the TV picked it up. It rose on righteous ragewaves and flowed out through small streams the people practically invented themselves, on handheld video and 140-character declarations, converging in an infinite wisdom of crowds.
Revolutions are created, not forged from breaking things, and a creative revolution caught fire when post-rap group The Mighty Third Rail put together Death Boogie, a poem-cycle that goes from concept to execution at the speed of unfettered thought.
Brewed in the black-box theatres of Brooklyn and riding a tide rising from the Arab Spring and the Occupy upsurge, Death Boogie is an oration by writer/performer Darian Dauchan accompanied by standup bass player Ian Baggette, violinist Curtis Stewart, a beatbox orchestra and the many voices crowding in and out of Dauchan's head. A continent of characters play out the life-cycle of repression and resistance with zero self-congratulation or sentimentality, as nerds, gods, tyrants, soldiers, innocent bystanders and careful watchers say their piece and push against the barricades of a livable future.
Dauchan channels these souls to a back-projected minimal comic/animation of our real-life's basic truths and broad outlines; the music and movie and moves are synched like the dance of life should be. The most exciting show I saw in 2011, with the indisputable album of the year to accompany it, Death Boogie is raising funds on Kickstarter to export its call to the Edinburgh Fringe Festival. A cry of culture and creation to comfort those fellow humans dying in the streets and those better societies being born where they stood, it's one vote you can cast that will surely add up.
Support Death Boogie's Kickstarter fund drive here.