Clark Ashton Smith
Posted by: Joshua Glenn In: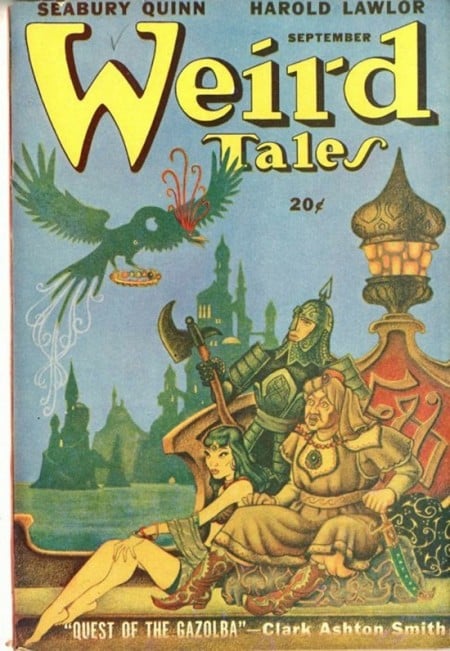 In the 1910s, self-educated Californian teenager CLARK ASHTON SMITH (1893-1961) discovered Baudelaire's ironic, apocalyptic, dystopian poems; under their uncanny influence, he would become not only an acclaimed poet (particularly for "The Hashish Eater; Or, the Apocalypse of Evil") but one of his era's most imitated writers of "weird" fiction. Along with pen pals H.P. Lovecraft and Robert E. Howard, with whom he swapped the monikers of invented gods and places, the linguistically extravagant ("For at my call a hippogriff hath come,/And firm between his thunder-beating wings/I mount the sheer cerulean walls of noon/And see the earth, a spurnèd pebble, fall — /Lost in the fields of nether stars — and seek/A planet where the outwearied wings of time/Might pause and furl for respite…") author made the years 1933-37 a Golden Age for the pulp magazine Weird Tales. Smith also wrote fiction — often about egotism and its supernatural punishment, usually from an ironic perspective — for Strange Tales, Astounding Stories, Stirring Science Stories, and Wonder Stories. Of particular interest to Radium Age sf fans is Smith's Zothique, "the last continent of earth, when the sun is dim and tarnished." In later life, he was also a painter and sculptor. PS: Lovecraft named one of his dark wizards "Klarkash-Ton."
***
MORE FANTASY ON HILOBROW: CROM YOUR ENTHUSIASM series | 65 Fantasy Adventures | Mervyn Peake | Lord Dunsany | H.P. Lovecraft | Edgar Rice Burroughs | Ursula K. LeGuin | Michael Moorcock | Gary Gygax | Clark Ashton Smith | Frank Frazetta | George MacDonald | John Bellairs | T.H. White | Wilkie Collins | M.R. James | Edgar Allan Poe | Lewis Carroll | Mikhail Bulgakov | Guy Endore | Alasdair Gray | Maurice Sendak | Tove Jansson | L. Frank Baum | Roald Dahl | Abraham Merritt | August Derleth | William Hope Hodgson | Madeleine L'Engle
On his or her birthday, HiLobrow irregularly pays tribute to one of our high-, low-, no-, or hilobrow heroes. Also born this date: Paul Feyerabend and Suggs.
READ MORE about men and women born on the cusp between the Modernist (1884-93) and Hardboiled (1894-1903) generations.