Eva Hesse
By: Alix Lambert
January 11, 2012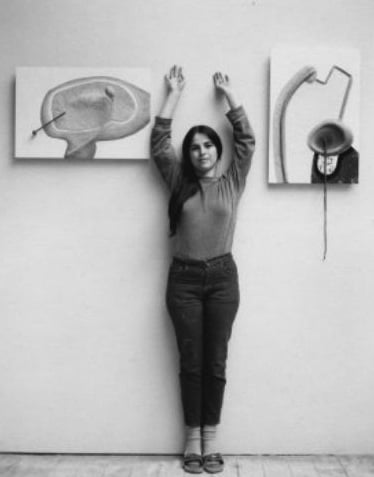 An entire generation of artists owes a debt to EVA HESSE (1936-70). In her selection of materials, as well as in her exploration of the life force, her influence can be seen from Matthew Barney to Maurizio Cattelan to Nari Ward. Born in Germany, Hesse moved with her family to Manhattan in 1939; a few years later her parents divorced and her mother commit suicide. Hesse once said, "I am interested in solving an unknown factor of art and an unknown factor of life." Working in then-unusual materials that included latex, fiberglass, plastic, and found or discarded materials, she eschewed convention and turned her eye and hand to the abstract — while still evincing a heartbeat from the elements she worked with. Hesse died of a brain tumor at the age of 34; her work, which during her lifetime had only one solo exhibition, was posthumously celebrated (including a major exhibition at the Guggenheim in 1972). Because of its organic nature, many of her pieces are fragile and difficult to preserve, thus mirroring Hesse's short life, and leaving some measure of mystery for younger artists.
***
On his or her birthday, HiLobrow irregularly pays tribute to one of our high-, low-, no-, or hilobrow heroes. Also born this date: Aldo Leopold.
READ MORE about members of the Anti-Anti-Utopian generation (1934-43).