Ted Knight
Posted by: Lynn Peril In: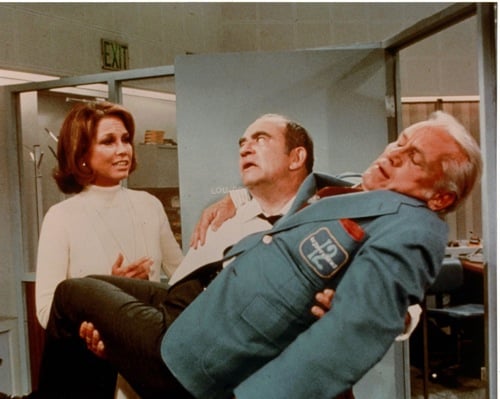 Long before his screamingly funny portrayal of anchorman Ted Baxter made him a star in the 1970s, TED KNIGHT (1923-86) was a journeyman actor. His credits from the late '50s through the '60s included a variety of roles on Combat, Get Smart, and McHale's Navy, among other shows, and a don't-blink-or-you'll-miss-it appearance as one of the police officers guarding Norman Bates at the end of Psycho. He even did a nude scene with June "The Bosom" Wilkinson in the 1964 film Party Girls for the Candidate (sadly, given what seems its clear relevancy to current events, both the racy "European version" and a tamer domestic edit are considered lost). Then came The Mary Tyler Moore Show and the role that defined the rest of Knight's career. Arrogant, incompetent, and yet more highly paid than anyone else in the newsroom, Ted Baxter shared Knight's silver hair, matinee idol looks and radio announcer's voice, as well as his first name. No wonder the public mind fused actor and anchorman together. Post-Baxter roles in a Broadway flop (Some of My Friends, 1977), a Hollywood hit (Caddyshack, 1980), and a couple of so-so sitcoms of his own did little to dispel the connection. Indeed, the association between the two was "so prolonged," Knight told an interviewer in 1981, "that I guess I'm going to be Ted Baxter-Knight for the rest of my life."
***
ALSO READ: Shocking Blocking: Caddyshack
On his or her birthday, HiLobrow irregularly pays tribute to one of our high-, low-, no-, or hilobrow heroes. Also born this date: Tom Waits.
READ MORE about men and women born on the cusp between the New Gods (1914-23) and Postmodernist (1924-33) generations.