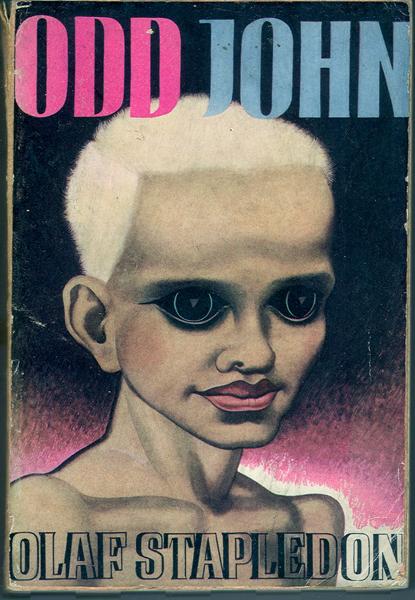 During World War I, would-be writer OLAF STAPLEDON (1886-1950) served as a conscientious objector with an ambulance unit; upon returning home to Liverpool, he earned a doctorate in philosophy. In 1929, Stapledon was 43 years old, unread and unemployed. Then he published Last and First Men (1930), a sweeping history of the future (apocalypse after apocalypse) and meditation on modernity, a tragic era during which only a few sensitive, doomed individuals glimpse the possibility of (non-religious, but spiritual) cosmic consciousness, and (quasi-Nietzschean) self-overcoming; it is narrated telepathically by one of the Last Men (Neptunian descendants of ours, two billion years hence).
Was this philosophical romancer a "science fiction" author? Stapledon wasn't familiar with the genre, yet he was hailed as one of its brightest lights by Borges, Bertrand Russell, Virginia Woolf, even H.G. Wells. Stapledon's next two novels, Last Men in London (1932) and Odd John (1935), and also Waking World (1934), a Wellsian stab at social prophecy, are written about and for teenage mutant "supernormals" or "wide-awakes" — misfits who don't want to get ahead, despise athletics, find religion and nationalism boring, don't regard sex as shameful, and remain idealistic and utopian long after adolescence. Sirius (1944), a witty and moving shaggy-dog story about a canine genius, is also worth mentioning.
In the last decade of his life, Stapledon published frequently and lectured widely on philosophical topics and remained a committed activist; for example, he was the only British delegate to the Conference for World Peace in New York. Today, he is mostly remembered for Star Maker (1937), a Dantean quest for the origin of the universe which influenced Arthur C. Clarke's notion of the Overmind — plus, it gave Freeman Dyson the idea for orbiting solar-power satellites.
READ MORE HiLobrow posts about Radium Age (1900-35) science fiction.
LISTEN to HiLobrow's Tom Nealon read from Last Men in London.
***
On his or her birthday, HiLobrow irregularly pays tribute to one of our high-, low-, no-, or hilobrow heroes. Also born this date: Sid Vicious, Fred Astaire, Marcel Mauss, and Donovan.
READ MORE about members of the Modernist generation (1884-93).
***
In 2012–2013, HiLoBooks serialized and republished (in gorgeous paperback editions, with new Introductions) 10 forgotten Radium Age science fiction classics! For more info: HiLoBooks.
MORE RADIUM AGE SCI FI ON HILOBROW: HiLoBooks homepage! | What is Radium Age science fiction? |Radium Age 100: 100 Best Science Fiction Novels from 1904–33 | Radium Age 100: the series | Radium Age Supermen | Radium Age Robots | Radium Age Apocalypses | Radium Age Telepaths | Radium Age Eco-Catastrophes | Radium Age Cover Art (1) | SF's Best Year Ever: 1912 | Radium Age Science Fiction Poetry | Enter Highbrowism | Bathybius! Primordial ooze in Radium Age sf | War and Peace Games (H.G. Wells's training manuals for supermen) | Radium Age: Context series | J.D. Beresford | Algernon Blackwood | Edgar Rice Burroughs | Karel Čapek | Buster Crabbe | August Derleth | Arthur Conan Doyle | Hugo Gernsback | Charlotte Perkins Gilman | Cicely Hamilton | Hermann Hesse | William Hope Hodgson | Aldous Huxley | Inez Haynes Irwin | Alfred Jarry | Jack Kirby (Radium Age sf's influence on) | Murray Leinster | Gustave Le Rouge | Gaston Leroux | David Lindsay | Jack London | H.P. Lovecraft | A. Merritt | Maureen O'Sullivan | Sax Rohmer | Paul Scheerbart | Upton Sinclair | Clark Ashton Smith | E.E. "Doc" Smith | Olaf Stapledon | John Taine | H.G. Wells | Jack Williamson | Stanisław Ignacy Witkiewicz | S. Fowler Wright | Philip Gordon Wylie | Yevgeny Zamyatin