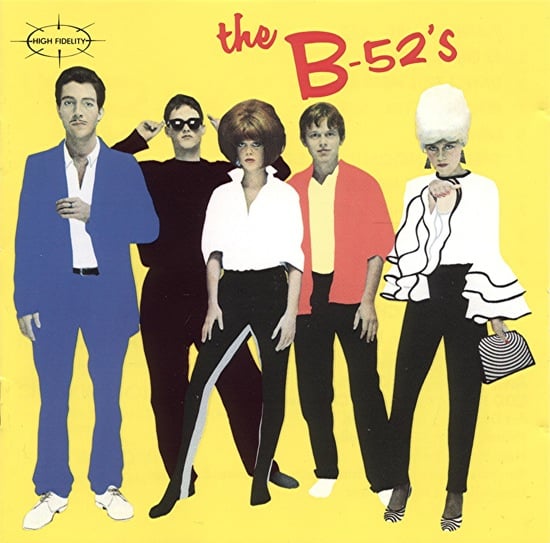 "Champagne cocktails on my table/ciggy butts in the ashtray/Crewcuts and bouffants, expectations/Listen to the xylophone play"… as Q Magazine might say, that's not a lyric, it's a résumé, and it traces the 360-degree virtual rec-room of the B-52s' frame of reference, fixed in the days of midcentury consumer utopia and closed off like a bomb shelter. Goods replaced religion in postwar America, and KATE PIERSON (born 1948) is one of the era's greatest products. The pagan rite of rock'n'roll rose up to counterpoint and counteract the commodity worship, and Kate is among its pantheon A-listers, with a bouffant high enough to part the firmament. Gods and goddesses never change, but what they do best never gets old. That's how the lyric quoted above could follow a 16-year silence and reinforce, rather than reiterate, the divine call to party. The Bs have their distinctive characters like any Olympian honor roll, and my favorite in the holy Teen Beat text is Kate; the dayglo goddess of love, able to fall to growling earth-momma gravitas and ascend to brain-free helium squeals as the spirits call for. In that menu of personalities she's fulfilling the deity's dayjob to be all things to all people when needed, a psychic camouflage that all women know well; her genius is to critique masculinity by burlesquing femininity, at all times welcoming every fan in on the joke. In a higher sense she's transmitting on an eternal broadcast day from pop Valhalla, staying exactly one thing and reassuring by example; greater love hath no diva than to let you be whoever you are too.
***
On his or her birthday, HiLobrow irregularly pays tribute to one of our high-, low-, no-, or hilobrow heroes. Also born this date: Russell T. Davies and Gilbert Sorrentino.
READ MORE about members of the Blank Generation (1944-53).