I've been digging Mike Watt's new opera, the underlying message of which is (he says) "about at this time in life maybe you wanna think of your own reason why things are what they seem to be or whatever," and also "life is for learning."
I get the same exegetical pleasure from listening to Hyphenated-Man (out on Watt's own Clenchedwrench label) while studying Hieronymus Bosch's The Garden of Earthly Delights and other paintings that I do from reading Gary Panter's Jimbo's Inferno. Punk is dead; long live punk.
Ben Ratliff's excellent writeup (complete with slideshow) in the New York Times includes this explanation:

Much later, while touring in 2005 as the bassist for the re-formed Stooges, he visited the Prado in Madrid and saw some of the paintings up close. He said they reminded him of his childhood and his current state. ("Those little characters are fears, or hopes," he said.) And they connected with another part of his life too. Like Bosch, who made big paintings out of little figures, the Minutemen had made a couple of large records out of "little songs with no filler," as Mr. Watt put it, including the 1984 double album "Double Nickels on the Dime." He started to realize that he could make a Bosch-like record and a Minutemen-like record at the same time.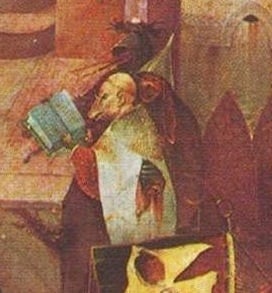 My favorite Hyphenated-Man song at the moment is "Mockery-Robed-Man." Which is based on a character or characters from Bosch's The Temptation of St. Anthony. I dig it so much not just because of its ambivalent and erudite take on irony (irony without mockery: good), which is one of our central themes here at HiLobrow, but also for the chop-wood-carry-water mantra at the end. I've never been interested in chopping wood or carrying water, but kayaking and bicycling and playing music sounds like exactly the mindful practice for me.
Lyrics, available here:
"in the mirror: fuckin' poser / been around enough to know there's / nothin' underneath those robes / except a big-time gorilla jones / a book for fake readin' / a nest on the head with egg in / or funnel on top of beagle ears / but very glad to admit this / irony: one of the greatest devices / kafka irony kierkegaard irony bosch's irony / cure the mockery cure the mockery cure the mockery / kafka irony kierkegaard irony bosch's irony / work the paddle / pedal Jitensha / work the BASS!"
Mike Watt and the Missingmen's North American Hyphenated-Man tour 2011 kicks off on Thursday, March 10 in Santa Barbara. The opera will be performed 51 times in 52 days, in the US and Canada. Bostonian readers — the opera will be performed Wednesday, April 6, at T.T. the Bear's in Cambridge.
***
READ MORE essays by Joshua Glenn, originally published in: THE BAFFLER | BOSTON GLOBE IDEAS | BRAINIAC | CABINET | FEED | HERMENAUT | HILOBROW | HILOBROW: GENERATIONS | HILOBROW: RADIUM AGE SCIENCE FICTION | HILOBROW: SHOCKING BLOCKING | THE IDLER | IO9 | N+1 | NEW YORK TIMES BOOK REVIEW | SEMIONAUT | SLATE
Joshua Glenn's most recent books (2012) are UNBORED: THE ESSENTIAL FIELD GUIDE TO SERIOUS FUN (with Elizabeth Foy Larsen); and SIGNIFICANT OBJECTS: 100 EXTRAORDINARY STORIES ABOUT ORDINARY THINGS (with Rob Walker).