Esquivel
Posted by: Lynn Peril In: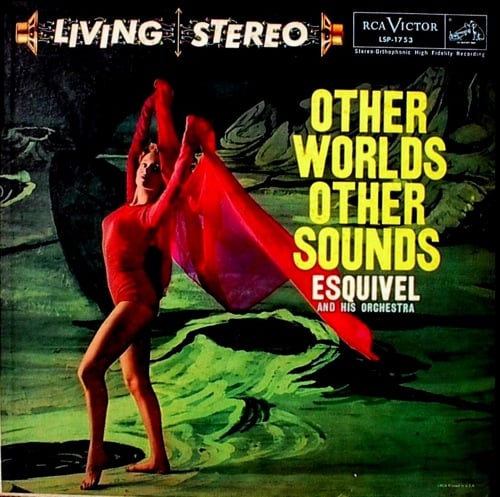 Drop a needle onto any one of JUAN GARCÍA ESQUIVEL's (1918-2002) legendary mid-twentieth-century recordings and listen in awe as the sound ping-pongs from speaker to speaker: pianos plink and glide, strings zigzag into space, and an unseen chorus croons soothing syllables, then bursts into an emphatic "pow!" Esquivel was a piano prodigy who had his own radio show in his native Mexico at the age of 12; he later honed his idiosyncratic chops backing up a comedian who might ask him to provide "music for a Frenchman walking in Russia." That he succeeded wildly was underscored when his arrangement of "Sentimental Journey" was performed by an office suite in a delightfully surreal segment of an Ernie Kovacs special in 1961 . Though known today as the king of "space-age bachelor pad music," Variety once noted that "Esquivel is to pop music what Aaron Copland is to serious music, or what John Coltrane is to jazz."
***
On his or her birthday, HiLobrow irregularly pays tribute to one of our high-, low-, no-, or hilobrow heroes. Also born this date: Federico Fellini.
READ MORE about members of the New Gods generation (1914-23).
READ MORE HiLo Hero shout-outs.