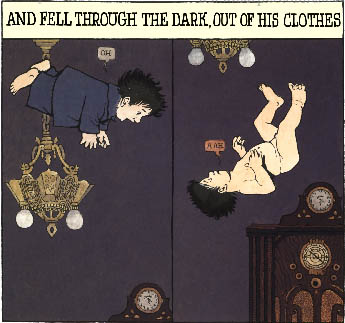 His reputation as a subversive children's book author-illustrator has everything to do with Where the Wild Things Are (1963) and the frequently banned In the Night Kitchen (1970). But devoted fans and troubled critics alike tend to underestimate MAURICE SENDAK (born 1928). Sure, the monsters in the former book (who were inspired by Polish-Jewish relatives with Old World mannerisms) are both lovable and scary; while Mickey, the protagonist of the latter, is a naked boy shoved into an oven by Hitler-moustached cooks. But all fairy tales are unheimlich; Sendak's particular brand of uncanny is more sophisticated. Whether for Robert Graves's children's story, The Big Green Book (1962), for example, or his own Nutshell Library, his illustrations are charmingly innocent; yet, like the innocent-looking inmates from a WWII prison-camp movie, Sendak is on a mission of escape and sabotage. Many of his illustrations are intertextual — i.e., they're wormholes leading out of the text. (His Big Green Book drawings slyly reference Beatrix Potter's Weltanschauung; elsewhere, he visually quotes Blake's engravings and Charles Lutwidge Dodgson's photos.) Meanwhile, the mise en scène of Wild Things and Night Kitchen is disruptive. At some level, Sendak's readers get the impression that everyday life is a prison camp from which they must escape; what troubles parents is being forced into the role of camp Kommandant.
ALSO BORN THIS DATE: Anita Berber
***
Each day, HiLobrow.com pays tribute to one of our favorite high-, low-, no-, or hilobrow heroes on that person's birthday.
READ MORE about the Postmodernist Generation (1924-33).
READ MORE HiLo Hero shout-outs.
SUBSCRIBE to HiLo Hero updates via Facebook.
SHARE this post, by clicking on the toolbar below.