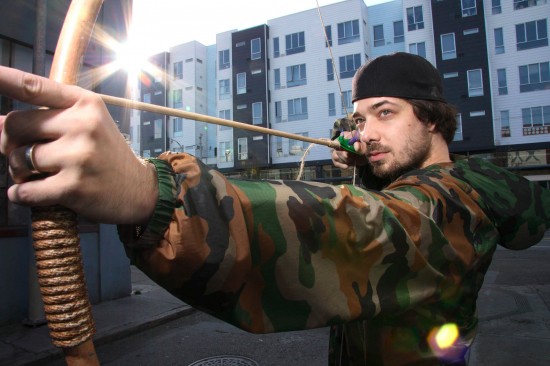 Born Matthias Bavitz in 1976, AESOP ROCK somehow manages to twist the cardinal rule of hip-hop — you'd better be able to dance to it — into nearly-unrecognizable shapes, without ever really breaking it. His lexicon is as much a product of a porous engagement with pop culture as it is a mélange of overheard fragments of conversation and the Discovery Channel and is often better bathed in than examined. Desperately wringing onomatopoetic nectar from the unlikeliest of sources, Aesop built to the brilliant, if often brilliantly incoherent, magnum opus of Bazooka Tooth, but somehow persevered to leave us with one more great EP in Fast Cars, Danger, Fire and Knives ("I pull the elephant tranq out of my neck,/gaffle a tank,/count up the chips,/wrastle the fangs off of my fist,/flood a little soldier/blood over the ogre acres/on some holiday in Cambodia with motor home appraisers.") before slowing down and concentrating on production. His modes run from the meandering non-linear narrative of "Daylight" —
Put one up for shackle-me not clean logic procreation
I did not invent the wheel, I was the crooked spoke adjacent
While the triple-sixers' lassos keep angels roped in the basement
I walk the block with a halo and a stick pokin' your patience.
— to parataxic pyrotechnics that would make Walt Whitman blush, in songs like "Zodiaccupuncture" and "The Greatest Pac-Man Victory in History." With all that, though, it's a little too easy to make Aesop Rock into a poetic genius, a sort of Ishmael Reed of hip-hop, when what he really has is a condition: a consistent and pervasive inability to filter our culture's detritus. Elements that we've been conditioned to ignore or discard, he spews back at us, vaguely if artfully processed and subjectified in ways that are novel, unsettling, and entirely singular.
ALSO BORN THIS DATE: Pancho Villa
***
HIP HOP ON HILOBROW: HERC YOUR ENTHUSIASM series (25 posts about old-school hip hop) | DJ Kool Herc as HiLo Hero | Gil Scott-Heron as HiLo Hero | Slick Rick as HiLo Hero | Darryl "D.M.C." McDaniels as HiLo Hero | Afrika Bambaataa as HiLo Hero | Biz Markie as HiLo Hero | Eric B as HiLo Hero (forthcoming in November) | U-God as HiLo Hero | Slug as HiLo Hero | Adam Yauch as HiLo Hero | Ghostface Killah as HiLo Hero | DJ Run as HiLo Hero | Flavor Flav as HiLo Hero | Scott La Rock as HiLo Hero | GZA as HiLo Hero | Schoolly D as HiLo Hero | Aesop Rock as HiLo Hero | Notorious B.I.G. as HiLo Hero | Melle Mel as HiLo Hero | Rick Rubin as HiLo Hero | Rakim as HiLo Hero | Ol' Dirty Bastard as HiLo Hero | Madlib as HiLo Hero | Talib Kweli as HiLo Hero | Danger Mouse as HiLo Hero | Kool Moe Dee as HiLo Hero | Chuck D as HiLo Hero | Dizzee Rascal as HiLo Hero | RZA as HiLo Hero | Cee-Lo Green as HiLo Hero | Best Ever Clean Hip Hop
Each day, HiLobrow.com pays tribute to one of our favorite high-, low-, no-, or hilobrow heroes on that person's birthday.
READ MORE about the Revivalist Generation (1974-83).