SF's Best Year Ever: 1912
By: Joshua Glenn
May 26, 2010
Over at io9, which is publishing a series of posts about "The Best Year in Sci-Fi," I claimed yesterday that no year will ever top 1912. SF fans — do you have a favorite year?
TOP 450 ADVENTURES — BY SUBGENRE: 101 Science Fiction Adventures | 70 Crime Adventures | 65 Fantasy Adventures | 61 Espionage Adventures | 40 Atavistic & Historical Adventures | 25 Frontier & Western Adventures | 20 Avenger & Artful Dodger Adventures | 20 Apophenic & Treasure Hunt Adventures | 20 War & Ruritanian Adventures | 18 Picaresque Adventures | 10 Robinsonade & Survival Adventures |
MORE LIT LISTS FROM THIS AUTHOR: Index to All Adventure Lists | The 200 Greatest Adventure Novels of All Time | 100 Best Radium Age Science Fiction Novels | Best 55 Scientific Romances (1864–1903) | Best 75 Golden Age (1934–63) Science Fiction Novels | Best 75 New Wave (1964–83) Science Fiction Novels | Best 19th Century Adventure (1805–1903) | Best Nineteen-Oughts Adventure (1904–13) | Best Nineteen-Teens Adventure (1914–23) | Best Twenties Adventure (1924–33) | Best Thirties Adventure (1934–43) | Best Forties Adventure (1944–53) | Best Fifties Adventure (1954–63) | Best Sixties Adventure (1964–73) | Best Seventies Adventure (1974–83) | 101 Science Fiction Adventures | 70 Crime Adventures | 65 Fantasy Adventures | 61 Espionage Adventures | 40 Atavistic & Historical Adventures | 25 Frontier & Western Adventures | 20 Avenger & Artful Dodger Adventures | 20 Apophenic & Treasure Hunt Adventures | 20 War & Ruritanian Adventures | 18 Picaresque Adventures | 10 Robinsonade & Survival Adventures. ALSO: Best Older Kids' Lit 1963 | Best Older Kids' Lit 1964 | Best Older Kids' Lit 1965 | Best Older Kids' Lit 1966 | 1904–13: 1905 | 1906 | 1910 | 1911. 1914–23: 1915 | 1916 | 1917 | 1920 | 1921 | 1922. 1924–33: 1925 | 1926 | 1927 | 1930 | 1931 | 1932. 1934–43: 1935 | 1936 | 1937 | 1940 | 1941 | 1942. 1944–53: 1945 | 1946 | 1947 | 1950 | 1951 | 1952. 1954–63: 1955 | 1956 | 1957 | 1960 | 1961 | 1962. 1964–73: 1964 | 1965 | 1966 | 1970 | 1971 | 1972. 1974–83: 1975 | 1976 | 1977 | 1980 | 1981 | 1982. | Best Scottish Fabulists | Radium-Age Telepath Lit | Radium Age Superman Lit | Radium Age Robot Lit | Radium Age Apocalypse Lit | Radium Age Eco-Catastrophe Lit | Radium Age Cover Art (1) | SF's Best Year Ever: 1912 | Cold War "X" Fic | Best YA Sci-Fi | Hooker Lit | No-Fault Eco-Catastrophe Lit | Scrabble Lit |
***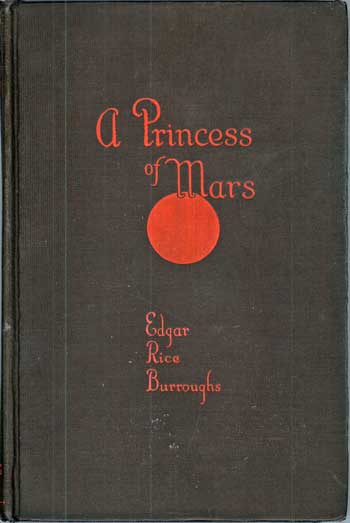 From February through July 1912, All-Story Magazine serialized Under the Moons of Mars, an epic pulp adventure loosely inspired by the Mars-is-dying speculations of astronomer Percival Lowell — and perhaps a bit more than inspired by Edwin Lester Arnold's 1905 Martian romance, Lieut. Gullivar Jones: His Vacation. It was Edgar Rice Burroughs' first attempt at fiction; worried about what his colleagues might think, the pencil-sharpener company manager published it under the pseudonym Norman (Normal) Bean. By 1917, Burroughs' Tarzan franchise was wildly popular, so the publisher A.C. McClurg reissued his tale about John Carter's triumphs and tribulations on Barsoom as A Princess of Mars — the single most influential "planetary romance" novel in the genre later dubbed "science fiction."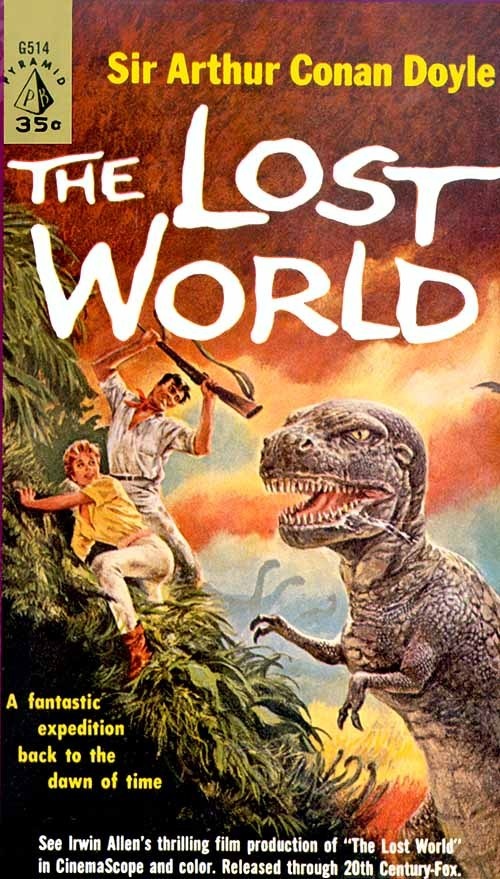 In England, that same year, Arthur Conan Doyle, whose Sherlock Holmes stories had revolutionized crime fiction, published The Lost World — in which the brilliant scientist Prof. George E. Challenger and companions journey to a South American jungle, where they discover a high plateau crawling with prehistoric monsters and beast-men. This was science fiction's first popular dinosaurs-still-live tale; everyone from Edgar Rice Burroughs (The Land That Time Forgot) to Merian C. Cooper and Edgar Wallace (King Kong) to Michael Crichton would follow its lead. Challenger would star in four of Doyle's subsequent scientific romances: The Poison Belt (1913), The Land of Mist (1926), When the World Screamed (1928), and The Disintegration Machine (1929).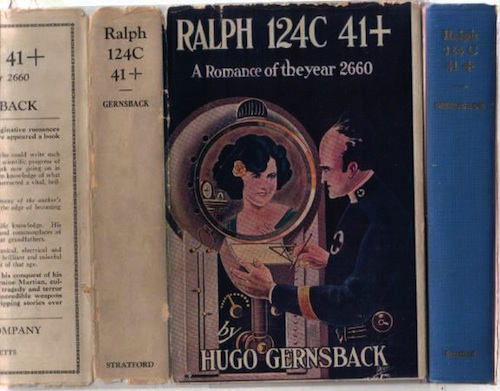 Back in the United States, in March 1912 Hugo Gernsback's scientific hobbyist's magazine, Modern Electrics, finished serializing the editor's first novel, Ralph 124C 41+: A Romance of the Year 2660. Ralph One-to-foresee-for-one (get it?) is a brilliant inventor — but forget about him. The only thing that Gernsback, who in the 1920s would become a pioneering SF magazine publisher (the Hugo awards are named after him), cares about is showing off the technical marvels he's dreamed up — his accurate predictions include television, microfilm, and radar. Gernsback's novel was a grown-up version of the "Edisonade" subgenre of SF: for example, Tom Swift and His Air Glider, Tom Swift and His Wizard Camera, and Tom Swift and His Great Searchlight, all of which also appeared in 1912.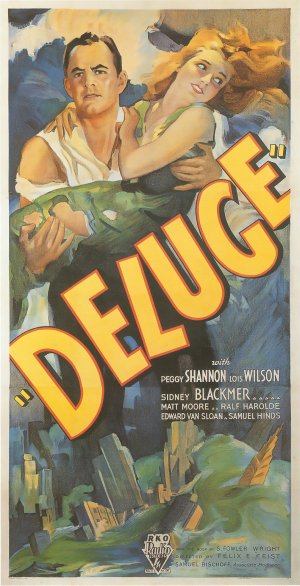 Tom Swift, Professor Challenger, and Ralph 124C 41+ may have been staunch advocates of scientific progress, but on April 14th, 1912, the technologically advanced ship RMS Titanic struck an iceberg and sank; this gave pause even to the era's techno-futurists. Coincidentally, several of pre-Golden Age science fiction's best post-apocalyptic and dystopian novels were published in 1912. These include: The Vacant World, the first part of George Allan England's Darkness and Dawn trilogy, in which two modern people wake up a thousand years after the Earth has been devastated by a meteor, and set about rebuilding civilization; The Second Deluge, astronomer Garrett P. Serviss' thrilling adventure story in which complacent scientists, scheming public officials, and capitalist robber barons get their comeuppance after failing to heed a modern Noah's warnings about an apocalyptic flood; and William Hope Hodgson's The Night Land, which is set on a frozen future Earth whose human inhabitants live in an underground redoubt surrounded by Watching Things, Silent Ones, Ab-humans, and other monstrous invaders from another dimension — and whose proto-Skywalker hero taps into a Force-like energy and bears a lightsaber-ish "Diskos."
PS: A well-read io9 reader points out that Jack London's influential post-apocalyptic novel The Scarlet Plague, which I've previously described as a 1915 novel, first appeared in magazine form in 1912.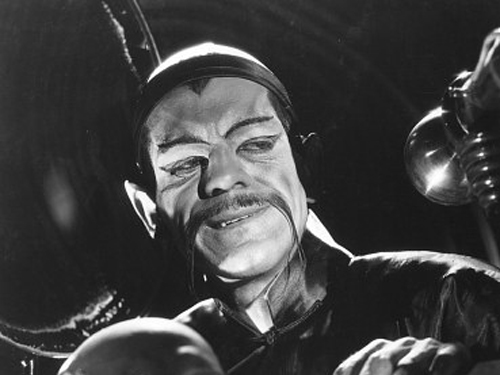 As if the preceding examples weren't evidence enough that 1912 was a critical year for science fiction, I feel compelled to mention three lesser works also worth checking out. Rudyard Kipling's As Easy as A.B.C. shows an anti-imperialistic side of the author of "The White Man's Burden"; it's set in a future world dominated by an international Aerial Board of Control that ruthlessly attempts to maintain law and order. Le Mystérieux Docteur Cornelius, by the always-thrilling French SF author Gustave Le Rouge, pits an alliance of heroes against the Red Hand, a mad-scientist-led criminal empire. And in Le Péril Bleu (1911?), by the French SF author Maurice Renard, invisible aliens who lived in the upper strata of the atmosphere fish for humans and keep them in a space zoo. Finally, British author Sax Rohmer's Chinese master criminal character, Fu Manchu, who would inspire racist depictions of SF's Asian villains from Ming the Merciless to Dr. No, first appeared in the 1912 story "The Zayat Kiss."
***
AT IO9: Marc Bernardin argues for 1999 and 1954. Charlie Jane Anders argues for 1977. Cyriaque Lamar argues for 1968. Annalee Newitz argues for 1931. Meredith Woerner argues for 1982.

***
In 2012–2013, HiLoBooks serialized and republished (in gorgeous paperback editions, with new Introductions) 10 forgotten Radium Age science fiction classics! For more info: HiLoBooks.
MORE RADIUM AGE SCI FI ON HILOBROW: HiLoBooks homepage! | What is Radium Age science fiction? |Radium Age 100: 100 Best Science Fiction Novels from 1904–33 | Radium Age Supermen | Radium Age Robots | Radium Age Apocalypses | Radium Age Telepaths | Radium Age Eco-Catastrophes | Radium Age Cover Art (1) | SF's Best Year Ever: 1912 | Radium Age Science Fiction Poetry | Enter Highbrowism | Bathybius! Primordial ooze in Radium Age sf | War and Peace Games (H.G. Wells's training manuals for supermen) | Radium Age: Context series | J.D. Beresford | Algernon Blackwood | Edgar Rice Burroughs | Karel Čapek | Buster Crabbe | August Derleth | Arthur Conan Doyle | Hugo Gernsback | Charlotte Perkins Gilman | Cicely Hamilton | Hermann Hesse | William Hope Hodgson | Aldous Huxley | Inez Haynes Irwin | Alfred Jarry | Jack Kirby (Radium Age sf's influence on) | Murray Leinster | Gustave Le Rouge | Gaston Leroux | David Lindsay | Jack London | H.P. Lovecraft | A. Merritt | Maureen O'Sullivan | Sax Rohmer | Paul Scheerbart | Upton Sinclair | Clark Ashton Smith | E.E. "Doc" Smith | Olaf Stapledon | John Taine | H.G. Wells | Jack Williamson | Stanisław Ignacy Witkiewicz | S. Fowler Wright | Philip Gordon Wylie | Yevgeny Zamyatin
READ MORE essays by Joshua Glenn, originally published in: THE BAFFLER | BOSTON GLOBE IDEAS | BRAINIAC | CABINET | FEED | HERMENAUT | HILOBROW | HILOBROW: GENERATIONS | HILOBROW: RADIUM AGE SCIENCE FICTION | HILOBROW: SHOCKING BLOCKING | THE IDLER | IO9 | N+1 | NEW YORK TIMES BOOK REVIEW | SEMIONAUT | SLATE