Best of Brainiac (8)
By: Joshua Glenn
May 21, 2010
In a recent review of Un Lun Dun, by China Miéville, for the New York Times' science fiction column "Across the Universe," Dave Itzkoff mused that riding the subway with Harry Potter-reading New Yorkers makes him wonder "how any self-respecting author of speculative fiction can find fulfillment in writing novels for young readers." Having set up this conflict between speculative and juvenile/YA fiction, Itzkoff goes on to claim that Un Lun Dun resolves it. Itzkoff's conflict is, however, a chimera.
[A slightly different version of this item originally appeared at the Boston Globe Ideas section's blog, Brainiac, in February 2008.]
Here's a list of terrific New Wave-era (1964-83) science fiction for — or, in some cases, about if not for — children and young adults. Please note that I've listed particularly enjoyable SF comics. However, I don't claim the movies and TV shows listed here are quality works of art; they're here for contrast and context.
TOP 450 ADVENTURES — BY SUBGENRE: 101 Science Fiction Adventures | 70 Crime Adventures | 65 Fantasy Adventures | 61 Espionage Adventures | 40 Atavistic & Historical Adventures | 25 Frontier & Western Adventures | 20 Avenger & Artful Dodger Adventures | 20 Apophenic & Treasure Hunt Adventures | 20 War & Ruritanian Adventures | 18 Picaresque Adventures | 10 Robinsonade & Survival Adventures |
OLDER KIDS' LIT on HILOBROW: Best of 1963 | Best of 1964 | Best of 1965 | Best of 1966 | Frances Hodgson Burnett's The Lost Prince (serialized) | YA Sci-Fi |
MORE LIT LISTS FROM THIS AUTHOR: 200 Greatest Adventure Novels of All Time | 100 Best Radium Age Sci-Fi Novels (1904–1933) | 75 Best Golden Age Sci-Fi Novels (1934–1963) | 75 Best New Wave Sci-Fi Novels (1964–1983) | 55 Best Scientific Romances (1864–1903) | Best 19th Century Adventure (1805–1903) | Best Nineteen-Oughts Adventure (1904–13) | Best Nineteen-Teens Adventure (1914–23) | Best Twenties Adventure (1924–33) | Best Thirties Adventure (1934–43) | Best Forties Adventure (1944–53) | Best Fifties Adventure (1954–63) | Best Sixties Adventure (1964–73) | Best Seventies Adventure (1974–83) | 101 Science Fiction Adventures | 70 Crime Adventures | 65 Fantasy Adventures | 61 Espionage Adventures | 40 Atavistic & Historical Adventures | 25 Frontier & Western Adventures | 20 Avenger & Artful Dodger Adventures | 20 Apophenic & Treasure Hunt Adventures | 20 War & Ruritanian Adventures | 18 Picaresque Adventures | 10 Robinsonade & Survival Adventures. ALSO: Best Older Kids' Lit 1963 | Best Older Kids' Lit 1964 | Best Older Kids' Lit 1965 | Best Older Kids' Lit 1966 | 1904–13: 1905 | 1906 | 1907 | 1910 | 1911 | 1912. 1914–23: 1915 | 1916 | 1917 | 1920 | 1921 | 1922. 1924–33: 1925 | 1926 | 1927 | 1930 | 1931 | 1932. 1934–43: 1935 | 1936 | 1937 | 1940 | 1941 | 1942. 1944–53: 1945 | 1946 | 1947 | 1950 | 1951 | 1952. 1954–63: 1955 | 1956 | 1957 | 1960 | 1961 | 1962. 1964–73: 1964 | 1965 | 1966 | 1967 | 1970 | 1971 | 1972. 1974–83: 1975 | 1976 | 1977 | 1980 | 1981 | 1982. | Best Scottish Fabulists | Radium-Age Telepath Lit | Radium Age Superman Lit | Radium Age Robot Lit | Radium Age Apocalypse Lit | Radium Age Eco-Catastrophe Lit | Radium Age Cover Art (1) | SF's Best Year Ever: 1912 | Cold War "X" Fic | Best YA Sci-Fi | Hooker Lit | No-Fault Eco-Catastrophe Lit | Scrabble Lit |
***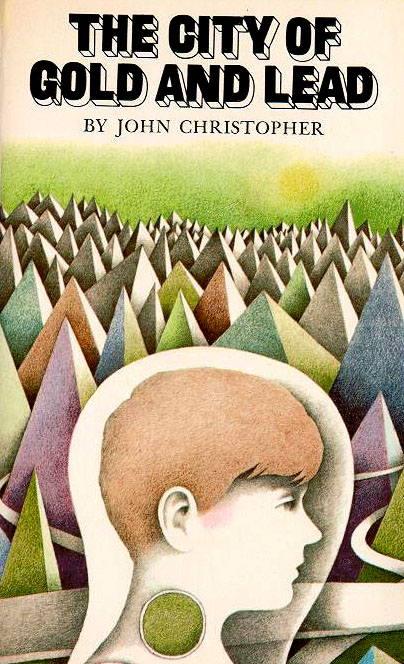 The Sixties (1964-73)

Cozy catastrophes for adults might be a little suspect, but for kids and young adults? Bring 'em on.
Frank Herbert's Dune (1965) has a teenage protagonist.
Star Trek (1966-69); just thought I'd mention it.
John Christopher's excellent 1967-68 Tripod series — White Mountains, City of Gold and Lead, and Pool of Fire
Peter Dickinson's top-notch 1968-70 Changes trilogy — The Weathermonger, Heartsease, The Devil's Children
Wild in the Streets (1968) is a terrific youthsploitation movie.
John Christopher's The Guardians (1970)
John Christopher's 1971-72 Sword of the Spirits or Winchester series: Prince in Waiting, Beyond the Burning Lands, Sword of the Spirits
Louise Lawrence's Andra (1971)
Adrien Stoutenberg's Out There (1971)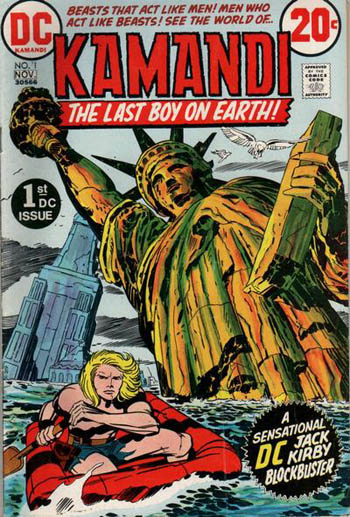 Cusp Years (1973-74)
Jack Kirby's Kamandi: The Last Boy on Earth, the 1972-78 DC comic book series
H.M. Hoover's Children of Morrow (1973)
Madeleine L'Engle, A Wind in the Door (1973)
The Six Million Dollar Man (1973-78); just wanted to mention it.
Jack Kirby's 1974-7? comic book series Omac: One Man Army
The 1974 TV version of Planet of the Apes — not as good as the book, or the first movie, but those action figures!
John Christopher's Wild Jack (1974)
Andre Norton's Outside (1974)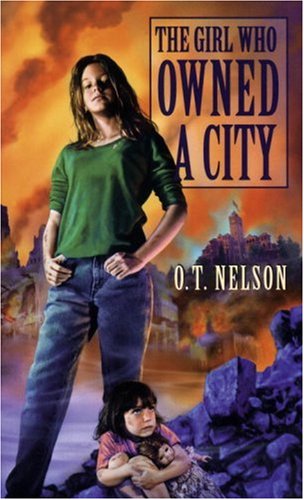 The Seventies (1974-83)
You can tell that the Seventies begin here, because suddenly the novels become cozy catastrophes with the emphasis on catastrophe. Science fiction movies and TV shows, meanwhile, become increasingly goofy and lame.
O.T. Nelson's The Girl Who Owned a City (1975) — libertarian claptrap, true, but exciting
Monica Hughes' Crisis on Conshelf Ten (1975)
Suzanne Martel's The City Under Ground (1975) — a prototype for City of Ember
Robert O'Brien's Z for Zachariah (1975), a scary book by the author of Mrs. Frisby and the Rats of NIMH
Louise Lawrence's Children of the Dust (1975)
John Rowe Townsend's Noah's Castle (1975)
Ben Bova's City of Darkness (1976)
John Christopher's Empty World (1977)
Star Wars (1977), FWIW
H.M. Hoover's The Delikon (1977)
Monica Hughes' Earthdark (1977)
Madeleine L'Engle's A Swiftly Tilting Planet (1978)
Mork and Mindy, Battlestar Galactica (1978), FWIW
Monica Hughes' Beyond the Dark river (1979)
Buck Rogers in the 25th Century (1979), FWIW
Russell Hoban's Riddley Walker (1980) — not really for kids, though it's by the author of the Frances the Badger books.
Flash Gordon, The Empire Strikes Back (1980), FWIW
Monica Hughes' 1980-82 Isis series — The Keeper of the Isis Light, The Guardian of Isis, The Isis Pedlar. [I've heard — I need to read these.]
Ian Macmillan's Blakely's Ark (1981) — dark stuff, explicit sex, don't let your 14-year-old read it.
H.M. Hoover's Another Heaven, Another Earth (1981)
Louise Lawrence's Calling B for Butterfly (1982)
Gary Panter's post-apocalyptic comic, Jimbo (1982; serialized 1978-80); not really for kids.
E.T. (1982), FWIW
My survey ends in 1983 not only because it's the end of an era (the Eighties; and also SF's New Wave era), but because, around the time that Neuromancer and Repo Man came out, I lost interest in new juvenile and YA science fiction. Readers, fill me in about what I've missed!
***
Postscript: My survey doesn't take flight until the Sixties because — except for Heinlein's juveniles, which I'm not sure I'm prepared to insist are "good" — I can't think of much juvenile SF from the Fifties or earlier of sufficient quality to disprove Itzkoff. Early 20th-century juvenile SF novels — a famous example being L. Frank Baum's The Master Key (1901) — were often little more than, as Baum's subtitle puts it, an "electrical fairy-tale." Philip Wylie's Gladiator (1930) and Olaf Stapledon's Odd John (1935) feature teenage protagonists, at least for a while, but neither book is juvenile or YA lit; neither are Brave New World, 1984, or Clockwork Orange, though they may teach them in high school.
Series like Frank Reade, the Airship Boys, the Radio Boys, the Boy Inventors, and, of course, Tom Swift; and other Edisonades about inventors, tinkerers, and hackers obsessed with radios, cars, airplanes and dirigibles, and electrical gadgets? They're no worse, but also no better than the Hardy Boys series. The Winston Science Fiction set? Meh. Danny Dunn — well-written and fun, but not exactly SF. Jack Kirby's SF work from the Fifties is fun — so are Superman comics (1938-on); Jon L. Blummer's Ultra-Man character, who debuted in All-American Comics in '39; and Hergé's 1941 Tintin adventure, The Shooting Star> But these are comics.
However, a few pre-New Wave juvenile SF novels and comics rate a mention: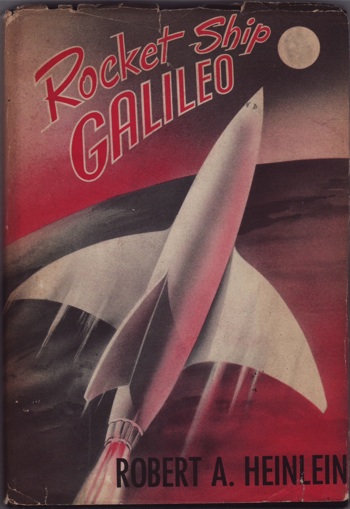 The Forties (1944-53)
Robert Heinlein's Rocket Ship Galileo (1947)
Heinlein's Space Cadet (1948)
Heinlein's Red Planet (1949)
Heinlein's Between Planets (1951)
Heinlein's The Rolling Stones aka Space Family Stone (1952)
Cusp Years (1953-54)
Heinlein's Starman Jones (1953)
Heinlein's The Star Beast (1954)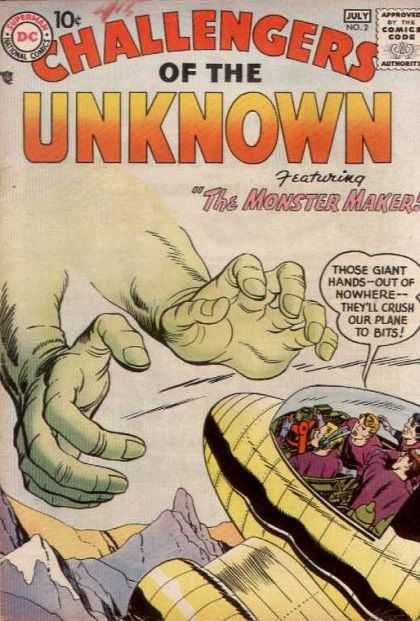 The Fifties (1954-63)
Heinlein's Tunnel in the Sky (1955)
Joe Samachson's John Jones, Manhunter from Mars first appears in a 1955 issue of DC's Detective Comics.
Heinlein's Time for the Stars (1956)
Heinlein's Citizen of the Galaxy (1957)
Heinlein's Have Space Suit — Will Travel (1958)
Jack Kirby's 1957-59 Challengers of the Unknown DC comic book series (inc. first appearances elsewhere)
DC's 1958-on Legion of Super-Heroes series was a favorite of mine; it's not really "good," though.
Ditto DC's Adam Strange, created by Gardner Fox and Mike Sekowsky; he first appeared in a 1958 issue of Showcase.
Jack Kirby's 1958-62ish SF stories for Marvel's Strange Worlds, Amazing Adventures, Journey into Mystery, Strange Tales, Tales to Astonish, etc.
Jerome Beatty Jr.'s Matthew Looney's Voyage to the Earth (1961) — plus six more. Fun to read to young children, and Gahan Wilson did the illustrations for the editions I own.
Stan Lee and Jack Kirby's SF comics Fantastic Four (1961-on) and The Incredible Hulk (1962-on).
Robert Kanigher's Metal Men first appear in DC's Showcase #37-40 in 1962.
Stan Lee and Steve Ditko's Spider-Man first appeared in a 1962 issue of Amazing Fantasy.
Madeleine L'Engle's A Wrinkle in Time (1962) — fantasy masquerading as SF?
Robert Heinlein's Podkayne of Mars (serialized 1962-63)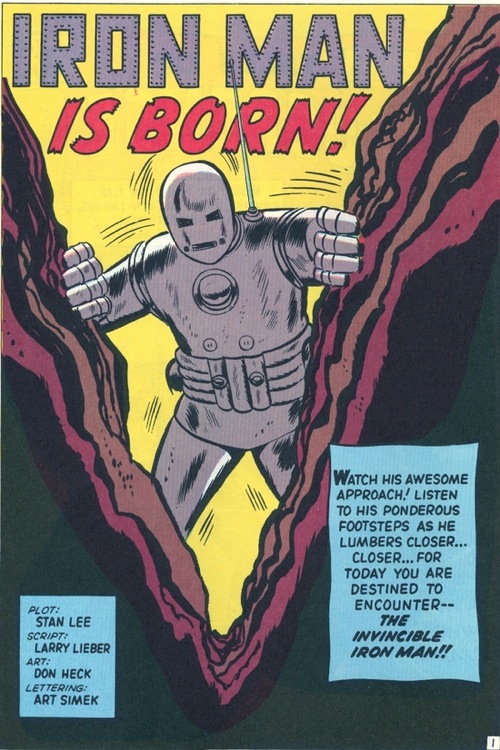 Cusp Years (1963-64)
Stan Lee and Jack Kirby's Iron Man (1963)
Stan Lee and Jack Kirby's The Avengers (1963)
Stan Lee and Jack Kirby's The X-Men (1963)
***
READ MORE about Jack Kirby on HiLobrow.
READ about pre-WALL-E/City of Ember post-apocalyptic kiddie movies.
In September 2006, Joshua Glenn launched Brainiac, a blog published by the Boston Globe's Ideas section. He retired from Brainiac in June '08, to pursue new projects; in February '09, he cofounded HiLobrow.com. This post is the eighth in a series of ten commemorating Glenn's brief tenure as a professional blogger.