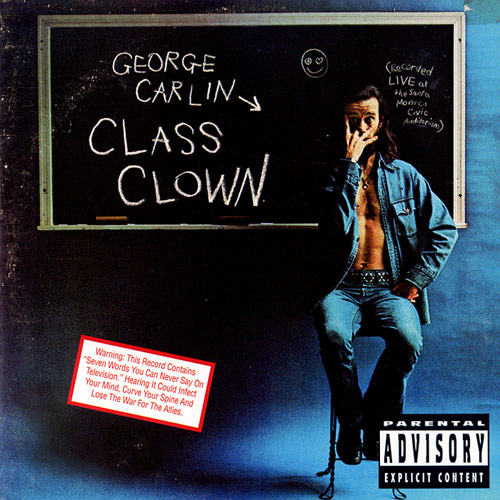 His voice would later narrate teen movies, car commercials, and children's cartoons, but GEORGE CARLIN (1937-2008) cut his teeth nailing impressions of his neighbors in Morningside Heights, voices of characters that reappeared in his stand-up 25 years later. The history of Carlin's comedy can be read as a kind of media criticism. Part of the tail end of a generation raised on radio, Carlin worked as a DJ for the Air Force and regional stations before he broke into television (on Steve Allen's The Tonight Show) with his radio and nightclub partner Jack Burns. His solo comedy albums from the 70s turned on his TV-friendly impressions, offering a more personal and infinitely more obscene counterculture persona, beginning with his "Seven Words You Can't Say On Television"; the dozens of comedy specials for cable that followed treat all forms of official and unofficial language to a melodic but merciless drubbing. The best place for a newcomer to Carlin to begin may be 1997′s 40 Years of Comedy, which features a montage of hits in every one of his mode, a Jon Stewart interview with a look at Carlin's biography, and an intimate club performance at the height of his powers. "Don't forget that what we do is oratory; it's rhetoric," says Carlin, after moving seamlessly from a knockout pastiche of advertising language to warm-but-filthy jokes about the sex habits of his pets. His angry-man fireworks were easy for younger comics to imitate; the range of his instrument and intelligence eluded nearly every one who tried.
ALSO BORN THIS DATE: Edward Lear | Katharine Hepburn | Joseph Beuys | Ian Dury
***
Each day, HiLobrow.com pays tribute to one of our favorite high-, low-, no-, or hilobrow heroes on that person's birthday.
READ MORE about the Anti-Anti-Utopian Generation (1934-43).
READ MORE HiLo Hero shout-outs.
SUBSCRIBE to HiLo Hero updates via Facebook.
SHARE this post, by clicking on the toolbar below.