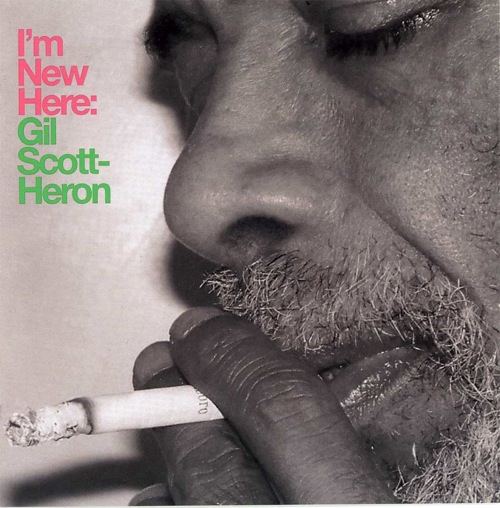 Had GIL SCOTT-HERON's (born 1949) superb I'm New Here not come out recently, this might have been a threnody. Sixteen years had passed since his previous album, 1994's invigorating Spirits; more than a decade lay between that and its predecessor, Moving Target. In the interim he'd been adduced "proto-rap" — reductive praise for America's greatest living blues singer but that doesn't get it all either; Scott-Heron's brilliance is too vast to summarize. His 1970 debut, Small Talk at 125th and Lenox, set the lyrical tone, a black Phil Ochs via Langston Hughes, "Whitey On The Moon" with spare percussion grooves. His 1971 follow-up, Pieces Of a Man, was the musical future, with pianist/composer Brian Jackson's avant soul-jazz arrangements allowing Scott-Heron to speak and increasingly sing of everything: "The Revolution Will Not Be Televised," "Home Is Where The Hatred Is," "Who'll Pay Reparations On My Soul," "We Almost Lost Detroit," "B-Movie," an epic evisceration of Ronald Reagan and more. Then darkness veiled his eyes. In November 2001, as New York State prisoner number 01R5191, Scott-Heron began serving eighteen months for "Crim Poss Contr Substance 5th." In July 2006, as 06R3165, twenty-six months more; again, possession of cocaine. Which travails make I'm New Here all the more staggering. He stares down Robert Johnson and Bobby "Blue" Bland, tries to write a letter but can't get past "Dear Baby, How are you?" He triumphs anyway. Welcome back, brother.
***
HIP HOP ON HILOBROW: HERC YOUR ENTHUSIASM series (25 posts about old-school hip hop) | DJ Kool Herc as HiLo Hero | Gil Scott-Heron as HiLo Hero | Slick Rick as HiLo Hero | Darryl "D.M.C." McDaniels as HiLo Hero | Afrika Bambaataa as HiLo Hero | Biz Markie as HiLo Hero | Eric B as HiLo Hero (forthcoming in November) | U-God as HiLo Hero | Slug as HiLo Hero | Adam Yauch as HiLo Hero | Ghostface Killah as HiLo Hero | DJ Run as HiLo Hero | Flavor Flav as HiLo Hero | Scott La Rock as HiLo Hero | GZA as HiLo Hero | Schoolly D as HiLo Hero | Aesop Rock as HiLo Hero | Notorious B.I.G. as HiLo Hero | Melle Mel as HiLo Hero | Rick Rubin as HiLo Hero | Rakim as HiLo Hero | Ol' Dirty Bastard as HiLo Hero | Madlib as HiLo Hero | Talib Kweli as HiLo Hero | Danger Mouse as HiLo Hero | Kool Moe Dee as HiLo Hero | Chuck D as HiLo Hero | Dizzee Rascal as HiLo Hero | RZA as HiLo Hero | Cee-Lo Green as HiLo Hero | Best Ever Clean Hip Hop
READ MORE about members of the Blank Generation.
Each day, HiLobrow.com pays tribute to one of our favorite high-, low-, no-, or hilobrow heroes on that person's birthday. Click here for more HiLo Hero shout-outs. To get HiLo Heroes updates via Facebook, click here.