Eric Idle
Posted by: Patrick Cates In: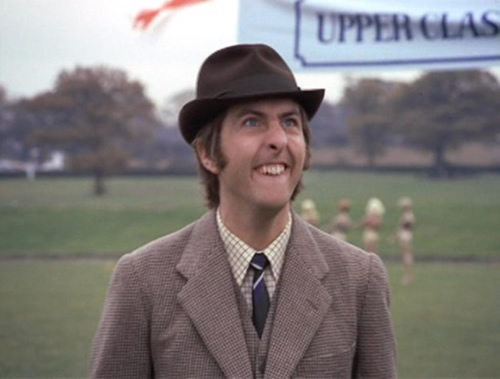 While Michael Palin, John Cleese, and Terry Gilliam moved on to bigger, if not always better, things when the sextet of silliness disbanded, ERIC IDLE (born 1943), like Graham Chapman and Terry Jones, had a harder time of it. He hopped from flop to flop to "that bloke from Monty Python" bit-part, squeezing the long-dead goofy goose in the hope of it laying a last few golden eggs. Mention of Idle now, in a world irreversibly tainted by his authoring of the embarrassingly unnecessary Spamalot musical, will often elicit little more than a roll of the eyes. But Idle could remake every Mr. Bean film and I'd still forgive him. In my teens, I identified closely with his role in the Python team — that of the linguistically obsessed solo writer who, caught between his lowly roots and his high-class education, loved punctuating the dull, constricted paragraphs of class-centric British life with absurd question marks. And back then, I could think of no better way of honouring our socially schizoid kinship than by performing "The man who was alternately rude and polite" at a school revue: "GENT: Good morning, I'd care to purchase a chicken, please. BUTCHER: Don't come here with that posh talk you nasty, stuck-up twit. GENT: I beg your pardon? BUTCHER: A chicken, sir. Certainly."
***
HUMORISTS at HILOBROW: Michael O'Donoghue | Jemaine Clement | Andy Kaufman | Danny Kaye | George Ade | Jimmy Durante | Jack Benny | Aziz Ansari | Don Rickles | Godfrey Cambridge | Eric Idle | David Cross | Stewart Lee | Samuel Beckett | Jerry Lewis | Joanna Lumley | Jerome K. Jerome | Phil Silvers | Edward Lear | Tony Hancock | George Carlin | Stephen Colbert | Tina Fey | Keith Allen | Russell Brand | Michael Cera | Stan Laurel | Ricky Gervais | Gilda Radner | Larry David | Chris Pontius | Dave Chappelle | Jimmy Finlayson | Paul Reubens | Peter Sellers | Buster Keaton | Flann O'Brien | Lenny Bruce | Sacha Baron Cohen | Steve Coogan | PG Wodehouse | A.J. Liebling | Curly Howard | Fran Lebowitz | Charlie Kaufman | Stephen Merchant | Richard Pryor | James Thurber | Bill Hicks | ALSO: Comedy and the Death of God
READ MORE about those born on the cusp between two generations. Eric Idle was born between the Anti-Anti-Utopians and the Blank Generation.
Each day, HiLobrow.com pays tribute to one of our favorite high-, low-, no-, or hilobrow heroes on that person's birthday. Click here for more HiLo Hero shout-outs. To get HiLo Heroes updates via Facebook, click here.