Captain Beefheart
Posted by: Luc Sante In: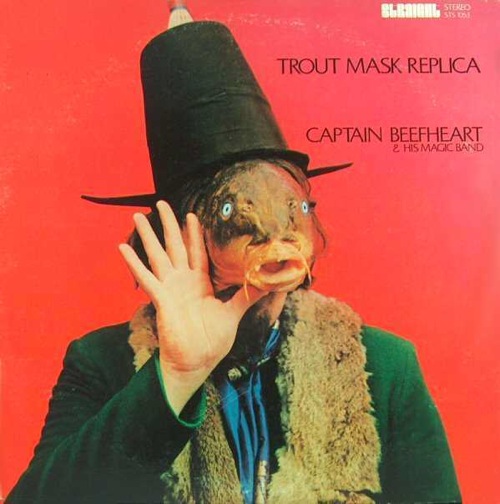 CAPTAIN BEEFHEART (Don Van Vliet, born 1941) is — like Thelonious Monk or Alfred Jarry — an artist who describes a world a few clicks away from the one that pedestrian sorts like you or me believe we inhabit. Faithful to that world, their works may initially appear all wrong; such artists may likewise be considered insane until they are rebranded, with equal fatuity, as geniuses. Van Vliet came to prominence as leader of several successive Magic Bands which cubistically reconfigured rhythm & blues. Safe as Milk (1967), Trout Mask Replica (1969), and Lick My Decals Off, Baby (1970) are raw and sophisticated, strange and visceral, and so fanatically perfected they've much more often inspired than been imitated. They accomplish with apparent ease what Van Vliet's high-school pal and would-be svengali, Frank Zappa, spent a lifetime ponderously failing to achieve. Zappa was calculating and earthbound; Van Vliet said things like "God's doing the jerk and it's the jerk's fault for letting him do it." In the 1980s Van Vliet stopped performing in favor of making strong, loud paintings. Nowadays he is a recluse and apparently ill. "The way I touch the world is very gingerly, because the world touches too hard," he said.
***
Each day, HiLobrow.com pays tribute to one of our favorite high-, low-, no-, or hilobrow heroes on that person's birthday. Click here for more HiLo Hero shout-outs.
HILO HERO ITEMS by LUC SANTE: Dashiell Hammett | Pancho Villa | James M. Cain | Georges Bataille | Félix Fénéon | Émile Henry | A.J. Liebling | Jim Thompson | Joe Hill | Nestor Makhno | Hans Magnus Enzensberger | Captain Beefheart | William Burroughs | Ring Lardner | Lee "Scratch" Perry | Serge Gainsbourg | Kathy Acker | Arthur Cravan | Weegee | Alexander Trocchi | Ronnie Biggs | George Ade | Georges Darien | Zo d'Axa | Petrus Borel | Blaise Cendrars | Alexandre Jacob | Constance Rourke | Damia | J-P Manchette | Jean-Paul Clebert | Pierre Mac Orlan | Comte De Lautreamont | André Breton | Robert Desnos | Arthur Rimbaud |