Forget the Fembot
By: Joshua Glenn
January 11, 2010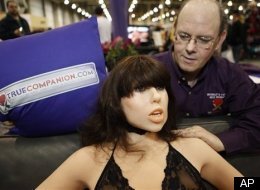 According to an AP story today, "the world's first sex robot" is now for sale from True Companion, a Lincoln Park, N.J.-based company. For $7,000 to $9,000, you can take home the Roxxxy, a high-end silicone sex doll that features touch sensors at strategic locations. Touch her sensors, and Roxxxy will parrot prearranged phrases via an internal speaker; particular bundles of phrases can be purchased, thus giving Roxxxy a "personality": e.g., "Wild Wendy," "Mature Martha," or "Frigid Farrah."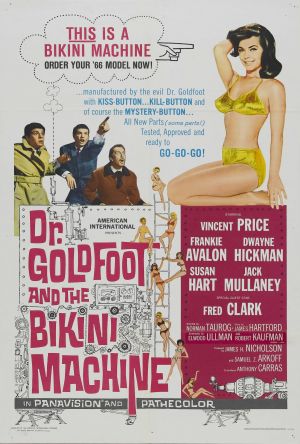 If True Companion eventually trains its sex doll to move its lips (while "speaking," that is), and otherwise more perfectly mimic human behavior, perhaps some day we'll end up with creepy-sexy gynoids like those portrayed in the Sixties (1964-73), e.g., Susan Hart as Robot #11 in Dr. Goldfoot and the Bikini Machine (1965, d. Norman Taurog), Francesca in Mad Monster Party (1967, d. Jules Bass), Bobbie Markowitz in Ira Levin's 1972 novel The Stepford Wives (1972), Arlette in Westworld (1973, d. Michael Crichton), and in scores of copycat movies, not to mention TV shows, animations, novels, and video games since then.
Do we really want the fembot? No, we don't. I'm not making a feminist, or even a humanist argument, here. What I'm saying is: if the world's first fictional fembots are any indication, these gizmos are hazardous.
Futura/Maria, the dynamo-virgin Maschinenmensch in Thea von Harbou's 1926 novel Metropolis, for example, is an agent provocateuse invented at the behest of Metropolis's pharaonic master, in order to lure the workers into a suicidal revolt. In Fritz Lang's 1927 movie version (the novel and movie were developed simultaneously, from the same treatment), the robot single-handedly brings about the ruin of Metropolis.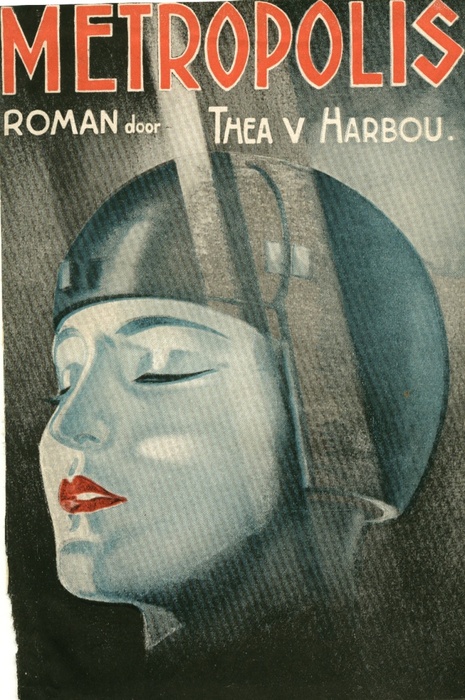 As I wrote for io9.com last year, Futura/Maria was not the first fictional female robot designed for romance and/or sex. That honor most likely goes to Olimpia, the clockwork "daughter" of the physics professor Spalanzani, in E.T.A. Hoffman's 1816 story, "Der Sandmann." When he witnesses Olimpia's inventors tearing her to pieces, the student Nathanel — who'd fallen in love with the girl who only said, "Ah, ah!" — goes mad.
Charles Dickens' Great Expectations (serialized 1860-61) features a fembot of sorts — Estella Havisham, who's been raised from childhood (by her adopted mother, Miss Havisham) as a weapon to entice and destroy men. There, I've just given a would-be Jane Austen + zombies novelist a free idea. You're welcome!
Auguste Villiers de l'Isle-Adam's 1886 novel, L'Ève future, features a fembot named Hadaly, who was invented by none other than Thomas Edison; the novel popularized the term "android." Ironically, Edison created Hadaly because real woman — with their cosmetics and wigs — are too artificial! Hadaly and her owner/husband go down with the ship as they head off on their honeymoon; if you ask me, we're supposed to read between the lines and figure out that she exploded in the ship's cargo hold.
And then there's Sola, a gorgeous female android invented by Dr. Franz Dietrich in W.K. Mashburn's 1930 story, "Sola" (Weird Tales, April of that year). Sola sounds and awful lot like Roxxxy, if you ask me. Allow me to quote from my io9 post:
Having wired Sola with complex responses — the apparatus is supposed to react in particular ways, immediately upon perceiving his telepathically projected emotions — the mad scientist invites a group of colleagues over to dinner. Growing tipsy, Dietrich flies into an embarrassed fury, because he thinks Sola is unresponsive, and tries to destroy it. But his colleagues — and eventually, the entire town — pitch in to raise his self-esteem by treating Sola as a member of the community. Oh wait, I'm thinking of Lars and the Real Girl. What actually happens is that Sola's emotion receptors are activated by the professor's rage, and his own creation crushes him to death.
A classic example of what McLuhan — in The Mechanical Bride (1951) — would call "the curious fusion of sex, technology, and death."
PS: The term "fembot" was introduced by a 1976 episode of The Bionic Woman. See clip below.
***
Click here for more science fiction on HiLobrow.com.