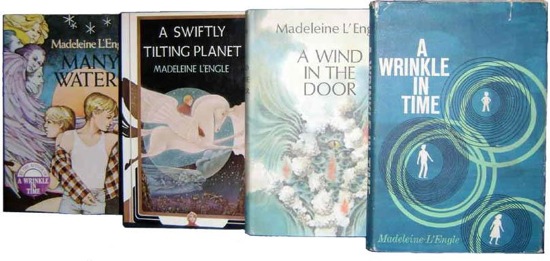 If there were to be a patron saint for misfit smart kids who do poorly in school, it would have to be MADELEINE L'ENGLE (1918-2007). A gifted writer from the age of 5, she was shy and clumsy, and branded as stupid by insensitive teachers. Revenge (or at least justice) would be hers in the form of Meg Murry, the gawky but intrepid heroine of A Wrinkle In Time (1962) and its sequels. Best known for her lauded and cherished YA books, L'Engle also wrote extensively on religion, and provided a living demonstration that it and science needn't be adversaries. An ardent Episcopalian who believed in universal salvation, she nonetheless provided countless children (including this one) with their first introductions to scientific notions like tesseracts and mitochondria.
***
MORE FANTASY ON HILOBROW: CROM YOUR ENTHUSIASM series | 65 Fantasy Adventures | Mervyn Peake | Lord Dunsany | H.P. Lovecraft | Edgar Rice Burroughs | Ursula K. LeGuin | Michael Moorcock | Gary Gygax | Clark Ashton Smith | Frank Frazetta | George MacDonald | John Bellairs | T.H. White | Wilkie Collins | M.R. James | Edgar Allan Poe | Lewis Carroll | Mikhail Bulgakov | Guy Endore | Alasdair Gray | Maurice Sendak | Tove Jansson | L. Frank Baum | Roald Dahl | Abraham Merritt | August Derleth | William Hope Hodgson | Madeleine L'Engle
Each day, HiLobrow.com pays tribute to one of our favorite high-, low-, no-, or hilobrow heroes on that person's birthday.
READ MORE about the New Gods Generation.