Chester Gould
Posted by: Douglas Wolk In: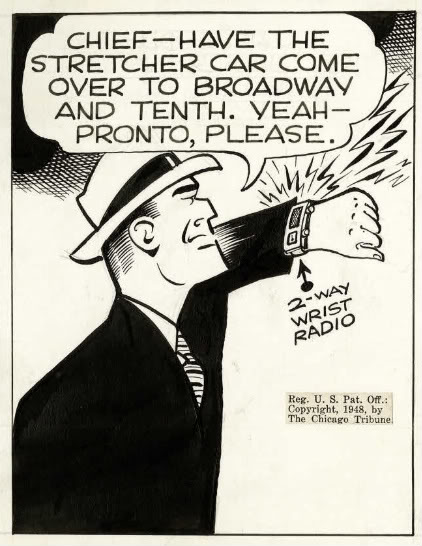 CHESTER GOULD (1900-85) missed his calling as a professional designer of deathtraps. In the middle of one 1943 Dick Tracy sequence Gould wrote and drew, the villainous Mrs. Pruneface chains the valiant detective to the kitchen floor, sandwiches him between two big vertical slabs of ice, positions a board with a stake driven through it on top of them, sticks a refrigerator on top of that so that as the ice melts the stake will slowly pierce Tracy's heart, and turns the oven on full blast with the door open. (Then, foolishly, she runs off to do some errand or other.) Gould's greatest gift, though, was his sense of character design — he created more than 200 characters for Dick Tracy, almost all of whom are not only instantly recognizable but have a look about them that tells half their story at a glance, from Flattop to Tarter Soss. They're masterstrokes of cartooning shorthand, too: in a 1947 Life magazine feature, Gould managed to execute an entirely passable rendition of his pointy-chinned, squinty-eyed hero while blindfolded.
***
Each day, HiLobrow.com pays tribute to one of our favorite high-, low-, no-, or hilobrow heroes on that person's birthday. Click here for more HiLo Hero shout-outs.