Brigitte Bardot
Posted by: Peggy Nelson In: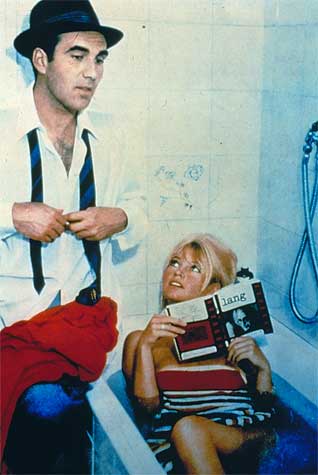 Blonde bombshell BRIGITTE BARDOT (born 1934) exploded onto the world stage in the 1950s. A woman with the neotenic features of a child, Bardot's Bézier curves measured pure sex appeal, and have been templatized by generations of heat-seeking starlets since. It was no coincidence when in 1953 she caused a sensation at Cannes by wearing a bikini: named for the barely there Pacific atoll destroyed by nuclear testing, the bikini represented the sartorial id, and Bardot's appearance caused a corresponding eruption of libido in a buttoned-down world. But she was not merely the passive recipient of all this energy; Bardot played with and against her image. Cast, in Godard's critically acclaimed Contempt (1963), as the trophy wife of a screenwriter pimping her up the food chain, Bardot's character rebelled against the naked power dynamics and would not play to lose. Especially in film, Bardot reminds us, we become what we project.
***
Each day, HiLobrow.com pays tribute to one of our favorite high-, low-, no-, or hilobrow heroes on that person's birthday. Click here for more HiLo Hero shout-outs.