Ian Dury
Posted by: Tor Aarestad In: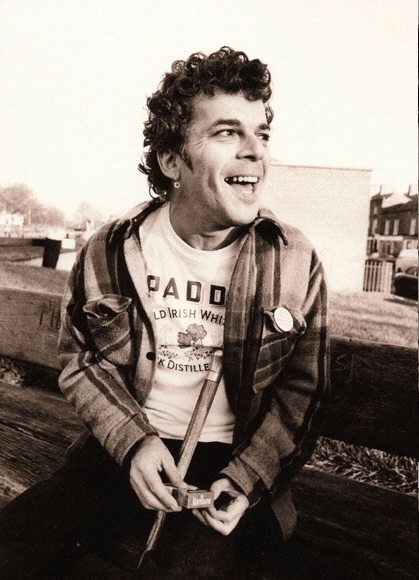 IAN DURY (1942–2000) is often identified with the original wave of British punk, but it's hard to see much similarity between Dury and Johnny Rotten or Sid Vicious. Bawdy and sensual where they were aggressive and anarchic, Dury always seemed like he was enjoying every ounce of his life. After growling the chorus to "Sex & Drugs & Rock & Roll" he sings mincingly, "Every bit of clothing ought to make you pretty." It's easy to imagine this song inspiring all those child aesthetes who became the hair-metal heroes of the 1980s. But I like him best, perhaps, for his thumb to the middlebrow's eye shortly before his death. Andrew Lloyd Webber asked Dury to adapt the lyrics for Cats: "But I said no straight off. I hate Andrew Lloyd Webber. He's a wanker, isn't he?"
*
PUNK, POST-PUNK & ALTERNATIVE on HILOBROW: Joey Ramone | Dez Cadena | Jello Biafra | HR | Mike Watt | Vivienne Westwood | Iggy Pop | D. Boon | John Lydon | Henry Rollins | Palmolive | Plastic Bertrand | Kira Roessler | Lisa Carver | Frank Black | Ari Up | Gary Panter | Mike Watt | Ian Curtis | Paul Simonon | Darby Crash | Penelope Houston | Exene Cervenka | Sid Vicious | Andrew Eldritch | Kate Pierson | Richard Hell | Paul Westerberg | Lux Interior | Ian Dury | Stiv Bators | Tom Verlaine | Colin Newman | Johnny Thunders | Poison Ivy | Green Gartside | Lydia Lunch | Mark E. Smith | David Byrne | Debbie Harry | Captain Sensible | Mark Mothersbaugh | Kim Gordon | ALSO: The Original Generation X (1954–63) and the birth of DIY | The Original Stooge | Origin of the Pogo | Shocking Blocking: Rock'n'Roll High School | Punk fanzines from the 1970s | Post-Punk and New Wave on HiLobrow
On his or her birthday, HiLobrow irregularly pays tribute to one of our high-, low-, no-, or hilobrow heroes. Also born this date: Tony Hancock, Edward Lear, Philip Gordon Wylie, Katharine Hepburn, Joseph Beuys, George Carlin, Bernadette Mayer, Lorine Niedecker.
READ MORE about members of the Anti-Anti-Utopian Generation (1934-43).